When Mary Therese Perez Hattori came to Hawaii from Guam in 1983, she expected the aloha spirit to embrace her. Hattori, who attended the University of Hawaii at Manoa, was part of an early wave of Micronesians coming here for greater opportunity. She quickly realized a level of misunderstanding and lack of awareness of Micronesians.
"Since 'micro' means 'small,' people assume our worldview is as small as our islands," says Hattori, acting director of the Pacific Islands Development program at the East-West Center. "But there's nothing micro about our attitudes and spirit. As the late great Epeli Hauofa said, 'We shouldn't be defined by the smallness of our islands, but the greatness of our oceans.'"
Faced with a language barrier and desire to hold on to their own culture and customs, Micronesians struggle to deal with misconceptions. "We have a saying, 'Our heritage gives life to our spirit,'" says Hattori. "But that spirit is endangered in light of discrimination and racism."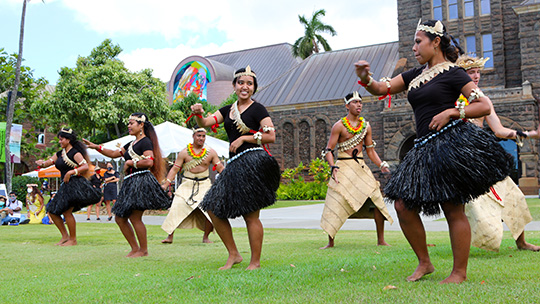 Members of the Micronesian community demonstrate a traditional Pacific Island dance at the festival.
Micronesians are Hawaii's newest, fastest growing immigrant population with about 18,000 so far. The 1986 Compact of Free Association (COFA) gives Micronesians migration privileges to come to the U.S. for work, school, and health care. Despite a growing presence, more public awareness of the Micronesian population is needed.
Borden "Mino" Bolkeim is part of a generation of emerging Marshallese leaders. He was 9 years old when he arrived in Hawai'i with his family. His dad, a former mayor of Kwajalein, needed dialysis treatment. "We didn't speak English," Bolkeim remembers. "I only knew how to say 'hi' and 'bye.' My classmates would tease me and call me names that I didn't understand."
Micronesians are often stereotyped among other Pacific Island groups and targeted in the media. Hattori notes a report by the American Civil Liberties Union of Hawai'i that shows police are 30 times more likely to target Micronesians. "The sense of aloha for us is diminishing," she says. "We need inafamaolek – to make things right or pono."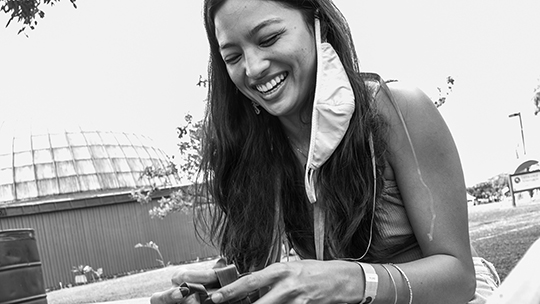 Arisa Barcinas demonstrates the art of weaving at the annual Celebrate Micronesia Festival at the Bishop Museum.
Now, a voice of Micronesians is emerging to help make positive impacts in the community. They're organizing beach cleanups, food drives, and other activities. They're getting involved in organizations such as We Are Oceania to help Micronesians become more self-sufficient in education, housing, and health care. They've been working to stop the spread of the pandemic with translation and interpreter services at COVID-19 test and vaccine sites. Although Pacific Islanders make up only 4% of Hawaii's population, they account for 30% of Hawaii's coronavirus cases.
Bolkeim, who's vice president of the nonprofit Marshallese Community Organization of Hawaii, reaches out to Micronesians in low-income areas statewide such as Kuhio Park Terrace in Kalihi. "I want to help them so they don't struggle the same way I did," he says. Bolkeim is active in church, sports, and theater, serving as a positive role model for Marshallese youths. "Us Micronesians are part of the Hawaii family," he says. "We're in the community and here to stay."
"We don't come to Hawaii with empty baskets looking for a handout," says Hattori. "Our baskets are full of life-affirming values like love of land, ocean, family; values that can help make the world a better place. By sharing this, we can better understand each other."
Black and white photos: Philippe L Gross
Color photos: Melissa and Jessica Lum