You're seeing it everywhere but it's not new.
Turmeric has been used in India as food and medicine for more than 4,500 years and is considered auspicious and sacred in the Hindu religion. Polynesian voyaging canoes brought olena ("yellow" in Hawaiian) to the Islands, where it was used for similar purposes.
Studies have shown numerous health benefits of turmeric have been attributed to its key component called curcumin, which gives the rhizome (i.e., underground stem — not a root!) its vibrant golden-orange color. It's been found that curcumin can help:
Reduce chronic inflammation, which can cause heart disease, cancer, osteoarthritis, and more.
Protect the brain from age-related decline or damage.
Reduce fasting blood sugar level.
Reduce triglycerides (blood fat).
Improve "good" HDL cholesterol.
Be sure to pair turmeric with black pepper and a healthy fat to improve your body's ability to absorb the curcumin.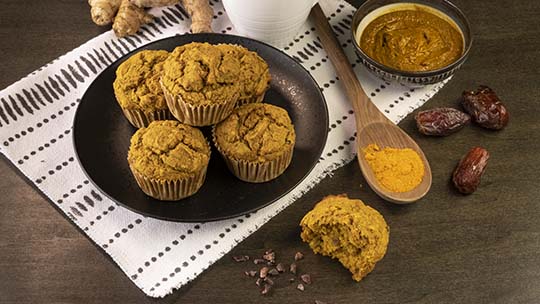 VEGAN BANANA TURMERIC MUFFINS
Ingredients
1 cup oat flour
2 tsp. turmeric
1/2 tsp. ginger
1/4 tsp. pepper
1 tsp. baking powder
1/4 tsp. baking soda
1/4 tsp. salt
3/4 cup pitted and halved Medjool dates, lightly packed
3/4 cup mashed ripe banana
1/2 cup unsweetened almond milk
1 1/2 tsp. apple cider vinegar
1 tsp. vanilla extract
2 Tbsp. cacao nibs
Cooking spray
Instructions
Preheat oven to 375 F. In a medium bowl, stir together oat flour, turmeric, ginger, pepper, baking powder, baking soda, and salt. Set aside. In a food processor, pulse dates and banana until dates are chopped. Add almond milk, vinegar, and vanilla and pulse until combined. Pour mixture onto dry ingredients, add cacao nibs, and mix just until combined. Fill six paper-lined muffin cups with batter. Bake 20 to 25 minutes until a toothpick inserted into the center of one muffin comes out clean. Makes 6 servings.