Twin sisters Cady and Camryn Chiu have a special bond. Cady is older ("By one minute!" Camryn says), but Camryn is taller ("She's four inches taller than me," Cady says). They're both easygoing with infectious smiles as they tease each other. They're also highly supportive of each other.
The support especially shines through in the gym. The 17-year-olds are Level 10 gymnasts, the highest level in the USA Gymnastics Development Program. They started their gymnastics journey when they were just 3 years old.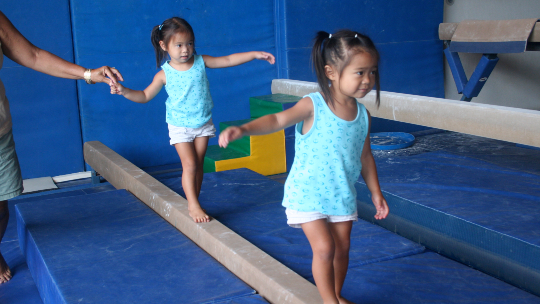 The beginning of the Chiu sisters' gymnastics journey.
Developing their passion
"We went to a birthday party at a gym and we were climbing all over the couches and walls, so our mom thought it was a good idea to put us in gymnastics," explains Cady.
"We loved it right off the bat. We had a bunch of fun running around and flipping," says Camryn.
The sisters got serious about gymnastics around the time they were 6, putting in more training and hours at the gym. Since then, they've built impressive resumes. Camryn was the all-around regional champion in 2022 and Hawaii State Champion in 2019. Cady earned that title last year. Both girls have also attended nationals several times, which is a Level 10 gymnast's main goal.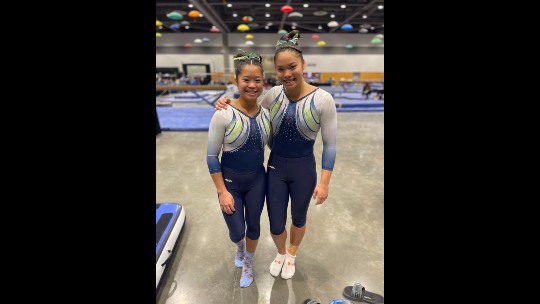 Cady (left) and Camryn (right) at a recent competition.
Thirty seconds to victory
It took a lot of hard work, determination, and perseverance to get where they are today. Camryn and Cady train year-round, doing strength and conditioning exercises, practicing their skills, and polishing their routines for competition season. It can be a lot of pressure – they have just 30 seconds to show off what they practiced all year.
"When we're up there, everything gets tuned out. It's just you and the event," says Camryn. "You feel so relieved after your routine is done. And if you hit your routine, it's super exciting to see your high score on the scoreboard."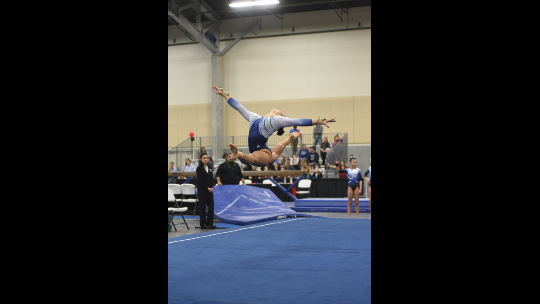 Camryn's floor routine.
Spirited competition
Since Cady and Camryn are in the same age group, they compete against each other. They admit their competitive spirit comes out during competition season, though it's all just friendly banter.
"We're happy when the other person does well because it's like a win for both of us, just because we're happy for each other," says Cady.
"We always support each other; we have each other's back. It's nice to know that I have a friend with me going through the same thing," Camryn says.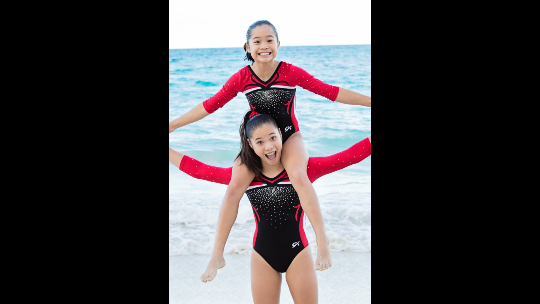 Besides gymnastics, Cady and Camryn enjoy going to the beach, surfing, pottery, and reading.
Time to recover
That's true outside of the gym, too. Both girls' gymnastics training is currently on pause as they each recover from injuries. Camryn had surgery on her elbow in April; Cady had surgery on her shoulder exactly one week later.
"The good thing is that our timeline is pretty much the same, so our recovery is similar. We're both like, 'I can do a plank now!'" says Cady.
As they enter their senior year at Punahou School, the sisters are doing everything they can to get the all-clear from their doctors to return to gymnastics. They're doing physical therapy twice a week, staying in shape by running, and going to practice every day to support their teammates.
They're looking forward to returning to the mats, beam, vault, and especially their favorite, the uneven bars. There's nothing quite like swinging on the bars, switching grips as they turn, and twisting into flips as they dismount.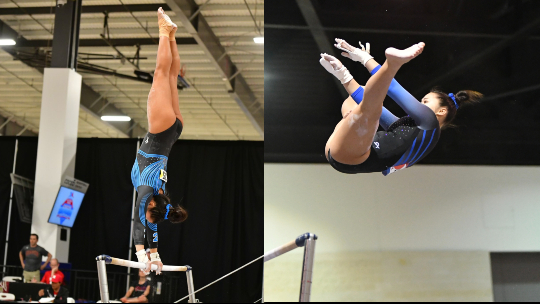 Cady's routine on bars (left); Camryn performing a trick on bars (right)
"Beam is a little more stressful; floor is a little more tiring. Bars are so quick and the most exhilarating to me," says Camryn.
Bright futures ahead
The girls are also looking toward their future as they begin applying to college. Both are interested in STEM careers. They would love to attend an NCAA Division 1 gymnastics college. Even if that doesn't happen, they'll take gymnastics with them wherever they go.
"Gymnastics pushes us to take risks. It teaches us to be hard-working, good teammates, and good communicators," says Camryn. "We've learned the meaning of hard work and perseverance."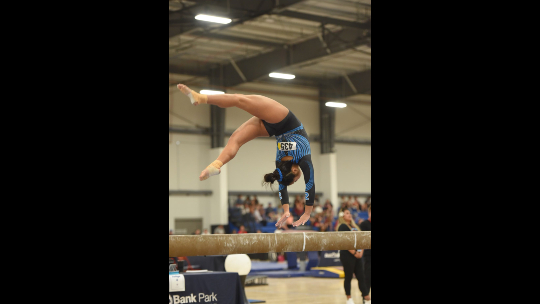 Cady performing a trick on beam.
"The feeling you get after you've fallen 500 times on a skill and then you make it – you don't really get that anywhere else," says Cady. "You fall and fail constantly, so once you finally learn how to do it right, you feel accomplished."
Another bonus to doing gymnastics? "It's fun to know that you can flip around upside down and move your bodies in ways most people can't!" says Camryn.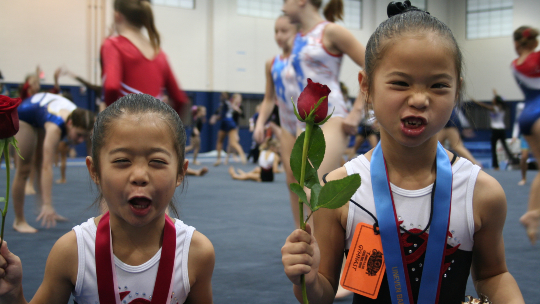 Early days: a silly moment in the gym. They still have this much fun doing gymnastics!
Photos courtesy Camryn and Cady Chiu