I make great sandwiches.
OK, maybe I should clarify that. If you compare me to all the sandwich makers in the world, I'm a tiny flake on the crust of life. But in my house, my sandwiches are gold.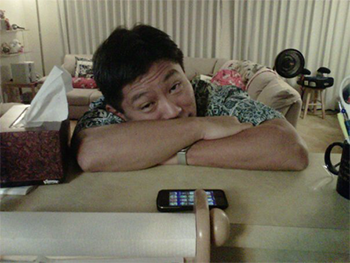 I don't have kids, and the cat isn't allowed to eat sandwiches, so my only "customer" is my husband, Irwin. And he loves my sandwiches. (That's him at right with his "please make me a sandwich" begging face.)
Up until now, Irwin hasn't been able to fully explain why he loves my sandwiches. In the past, when asked, he'd shrug and say, "I just do." Typical man. But since I'm the typical woman, I recently pressed him for a better answer.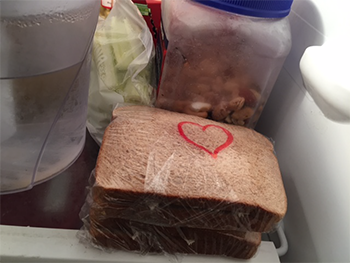 He said that when I make a sandwich for him, he sees it as a gesture of love and caring. Since a sandwich isn't really a shareable food, I wouldn't derive any benefit from making it, other than making him happy and feeding him. Can you tell he's the romantic one in this marriage?
My husband's opinion aside, my sandwiches really aren't anything special. However, I am my mother's daughter, so I do try to make a tidy and tasty sandwich every time, whether it's for me or someone else.
Some people think sandwiches are boring, but nothing can be further from the truth. We're in a sandwich renaissance, people. Today, there are more fillings, spreads, breads, styles, shapes, and sizes than you can shake a carrot stick at. If your sandwiches are lacking, you may not be trying hard enough.
Today is National Sandwich Day, so I'm here to help those of you who've been living in the barren lands of hum-drum sandwiches. You don't have to do anything fancy and you don't have to empty your wallet for gourmet ingredients (unless you want to). Sometimes the difference between an S.O.S. (Same Ol' Sandwich) and "hey, this is good… what did you do?" can be changing up just one ingredient.
For 'salad' sandwiches

Sometimes adding a different texture to your egg salad, chicken salad, or tuna salad sandwiches goes a long way. Throw some chopped walnuts or chopped celery into your salad mix. For a flavor twist, try mixing in some horseradish, a dash of curry powder, or a sprinkle of dill.
For 'cold cut' or veggie sandwiches
Texture can play a big part in boosting your turkey or ham sandwich. Play with different kinds of greens, like buttercrunch lettuce, thin slices of cucumber, or some sprouts. You can get away from traditional mayo by substituting healthier alternative spreads, like avocado, hummus, pesto, or plain yogurt.
For peanut butter sandwiches
If you're like me, you've been biting into this old standard ever since you've had teeth. As traditional as it is, there's still some room for reinvention. But again, it only takes one little tweak to change your PB sandwich experience for the better. My current favorite way to snazz up a PB sandwich is to add a drizzle of honey. You can also put aside the usual grape or strawberry jam and go with some chutney or slices of fresh fruit, like banana (uh, thank you, thank you verra much). Crunchy peanut butter adds a little fun texture. And, of course, you can always grill or toast it.
Be adventurous
The key to finding your next favorite sandwich or becoming a more accomplished sandwich maker is to not be afraid to try something new. You'd be surprised at the kinds of flavor and texture combinations that might work for you or your loved ones who eat the finished product.
Let me illustrate this point. Many years ago, I was reading a book about a character who happened to love crunchy peanut butter and egg salad sandwiches. So I tried it and thought it was pretty tasty, until about ten minutes later when I ran for the bathroom. But the moral of that story is that, although my digestive system was a little too delicate for it, I tried it and I'm glad I did.
So in honor of National Sandwich Day, make one up for your lunch or stop by your favorite sandwich shop. And if you have a special sandwich-making tip, share it with us below or on our Facebook page.