Hawaii is once again packed with visitors swimming, shopping, and taking in the sights, but it was a much different scene three years ago.
The state shut down for months in 2020 to help prevent the spread of COVID-19 and keep everyone safe. Roads, beaches, and parks sat empty; businesses deemed nonessential were forced to close their doors; a 14-day quarantine for travelers deterred many from visiting the Islands.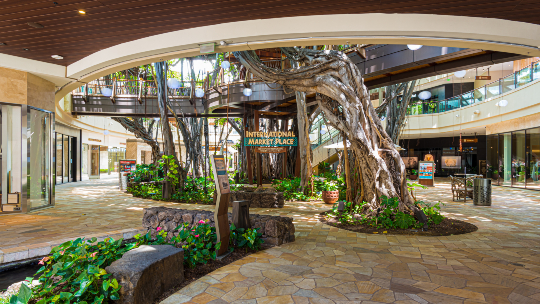 Stores at International Marketplace forced to close during the height of the pandemic in 2020.
As a result of the shutdown, the Hawaii Tourism Authority reports fewer than 3 million people visited the Hawaiian Islands in 2020 compared with more than 10 million visitors in 2019. It was a major blow to the state's economy that supports hundreds of thousands of jobs and many local businesses.
"It wasn't just a matter of tourists not showing up, but even locals weren't able to shop or walk around," says Michael Tam, CEO of Martin & MacArthur.
Martin & MacArthur is known for its handcrafted koa furniture, art, and gift items. Their brick-and-mortar stores across Oahu and Maui are all in visitor-friendly areas that locals also patronize.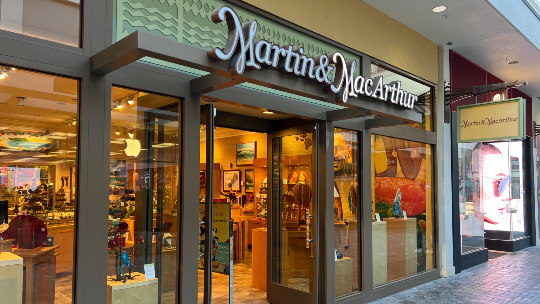 Martin & MacArthur storefront at Ala Moana.
"We worked with HMSA to understand what we could do together to support our craftsmen and employees. This is an ohana, so when times are tough, we rally around each other," Tam says. To support the company and many other small businesses, HMSA deferred premiums and created a year-long payment plan.
Ilihia Gionson, the public affairs officer at the Hawaii Tourism Authority, says that the spirit of ohana is helping the state recover from the economic blow.
"Tourism is a delicate ecosystem of businesses and organizations and it's the kamaaina who show up to work every day who bring that ecosystem to life," Gionson says. "The pandemic shutdown and reopening reminded us that the people who make up tourism's workforce can't be taken for granted."
Today, visitors are returning to the Islands to enjoy our beautiful beaches, soak up the warm weather, explore lush rainforests, and learn about our unique culture. Data from the state Department of Business, Economic Development, and Tourism show 9.2 million visitors arrived in 2022, which represents an 89% recovery from pre-pandemic 2019. Overall spending is up – visitors spent $19.29 billion last year, up 8.9% from $17.72 billion in 2019.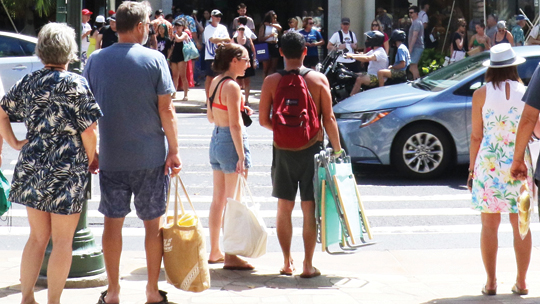 Visitors are once again shopping in Waikiki.
While Hawaii Tourism Authority wants visitors to enjoy everything the state offers, Gionson notes it's important to balance tourism's economic benefits with its impact on natural resources, culture, and community
"We're educating visitors about the unique aspects of Hawaii – swim at beaches with lifeguards, give marine animals their space, and hike only on marked trails," says Gionson. "Hawaii isn't just a vacation destination. It's our home."