Taylor Cozloff thinks she knows what she wants to be when she grows up.
She worked on her campus newspaper at Kamehameha Schools and now writes for her college publication at The New School in New York City. But to help her decide if journalism was the career path for her, she applied for a summer internship through the Society of Professional Journalists Hawaii Chapter.
"I want to learn by doing instead of just sitting in a classroom," says Cozloff, a journalism major. "College teaches you a lot, but not everything. It's good to get out in the field."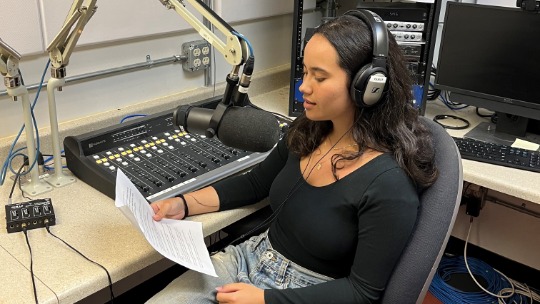 Cozloff hopes to have a journalism career when she graduates from college.
Contributing to the workforce
Cozloff was awarded a summer job at Hawaii Public Radio. She contributed to editorial meetings, attended press conferences, conducted interviews, and produced daily stories for newscasts. "I thought an internship would be grunt work – copy editing and fetching coffee for your boss. But as soon as I started, I jumped right into being part of the newsroom. I definitely got a taste of what it's like to be a journalist. This is what I want to do."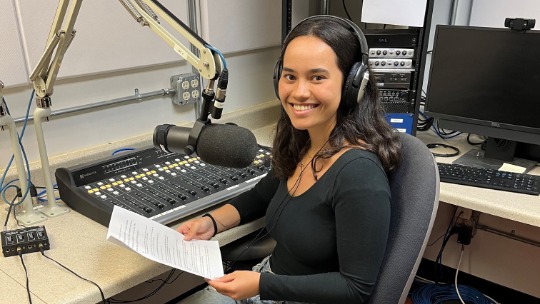 Preparing for the future
While summertime is fun time for many college students, it's also an opportunity to enter the workforce to develop skills, get a foot in the door, and build a resume for a career.
Last summer, Taylor Fukunaga did an internship in the communications office at the Hawaii Department of Education. This summer, she worked as a tutor for Waipahu High School's early college program, which she also participated in as a student.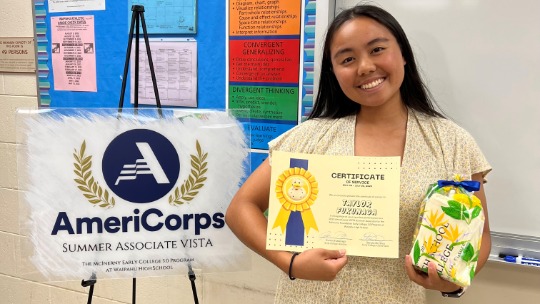 Fukunaga worked as a tutor this summer at her alma mater, Waipahu High School.
"Coming back to serve my alma mater that helped build me up was important to me," she says. "Since I went through the same program, I can relate to the students to help prepare them for college."
Fukunaga, a communications major at La Verne University in California, isn't planning a career in education. Still, she gained skills that will last her a lifetime. "It was a rewarding, valuable work experience," she says. "And the money I earned goes toward paying for my college tuition."

Photo courtesy Taylor Fukunaga
Hard work pays off
Stanford University student Logan Lau had an opportunity to work at a large tech firm in the Bay Area. But when that position fell through, the computer science major came home to work at Pearl Harbor's Pacific Fleet Submarine Museum.
Although being a museum docent isn't related to his career goal, the job provided opportunities to grow. He helped create displays and conducted presentations about the mechanics and history of submarines. "It's a supportive workplace that allowed me creative freedom to develop content that interests me and that I'm passionate about," he says.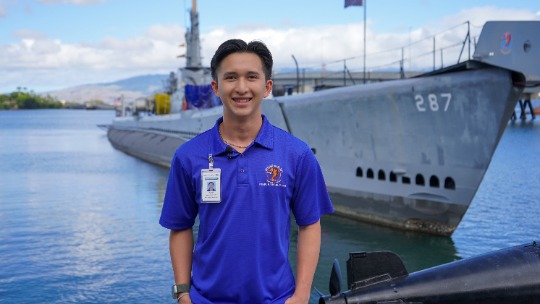 Lau at his summer job at the Pacific Fleet Submarine Museum.
Lau worked at the museum as a summer intern when he was at Kamehameha Schools. He's grateful that they hired him again this summer. "It shows that if you prove your worth during an internship, it could lead to another summer hire," he says.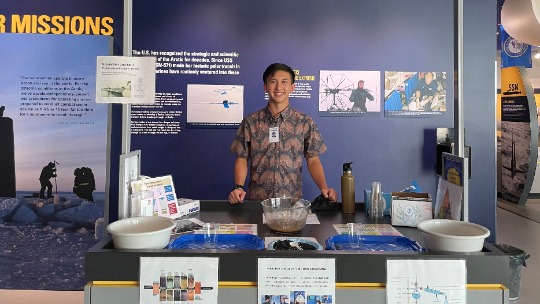 Photo courtesy Logan Lau.
Although Lau enjoys coming home during the summer, he's hoping to land a tech job next summer on the Mainland where there's a greater job market in his career field.
"I eventually would like to move back home, but for now I'm trying to get as much experience as I can," he says.
Summer workin'
Here are some tips for college students entering the workforce.
Get a head start. Don't wait until summer to look for jobs. Companies usually start advertising and recruiting months in advance.
Ask around. In addition to looking online, check with your school's career counseling office. Ask teachers, administrative assistants, and other students. Word of mouth is a valuable tool.
Keep your options open. If you're attending college on the Mainland, look for jobs near you. Although it's good to keep local connections, Mainland cities can have a bigger job market.
Look for remote, online work. This may allow you to work for a company abroad without having to move there.
Build good work habits and relations. Summer internship could lead to a full-time, permanent job when you graduate if employers notice that you do good work and work well with others. It also helps when listing references on your resume.
Look at the bigger picture. Don't take the highest-paying job. Look for jobs that will help you in your career goals. It's not all about the salary. It's the experience that counts.
Put yourself out there. Don't think you're not qualified for a position just because you don't have experience. Everyone started somewhere. You may feel intimidated working with seasoned professionals, but it's an opportunity to learn from them. Don't be too hard on yourself if you make a mistake. Nobody's perfect.
Stay balanced. Remember to not make work your entire life. Make time for family, friends, and activities you enjoy, such as hobbies, traveling, and sports.