I'm a shameless fan of pesto. My uncle is a vegetarian and when I was younger, he would always make "green spaghetti" (pesto with spaghetti noodles) when he would visit. Since then I've been addicted to its smell, taste, and deliciousness.
I whipped up this quick summer pasta for dinner the other night and it's the perfect dish for busy couples. You can also eat it hot or cold – perfect for a summer potluck!
Ingredients
2 boneless, skinless chicken breasts
1 tsp. salt
1 tsp. pepper
Nonstick spray
2 Tbsp.milk
1 box (16 oz.) of Farfalle pasta or bow tie noodles
1 cup pesto – homemade or store bought.
Grape tomatoes (halved)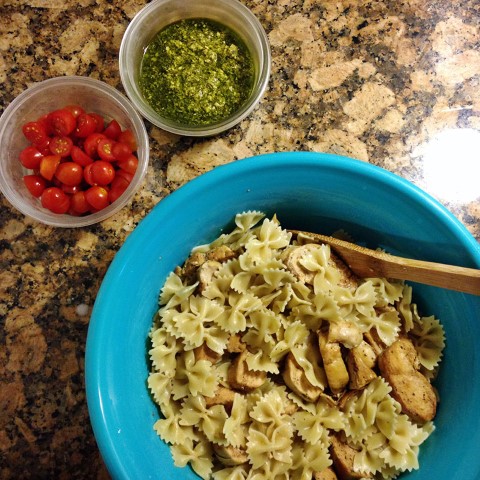 Instructions
Season chicken with salt and pepper.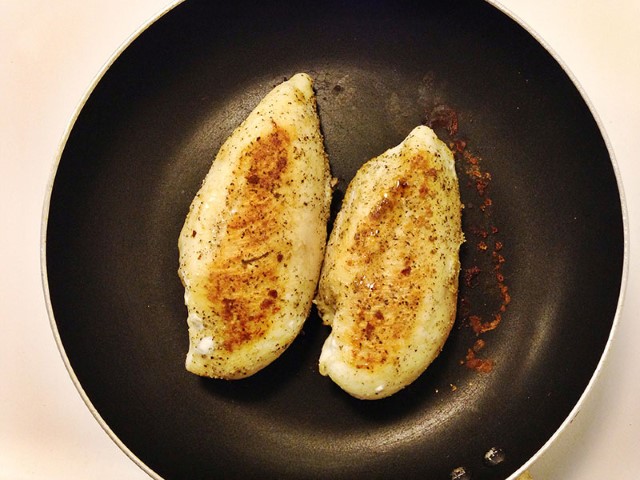 Spray a pan with non-stick spray and cook on each side for 7 to 8 minutes on medium heat. Remove chicken from pan and let it rest on a plate. Bring water for pasta to a boil. Add pasta to boiling water and cook according to directions. Drain pasta when al dente (cooked, but still a little firm). Add pasta to a large mixing bowl. To avoid pasta sticking together, toss with milk. Add 1 cup of pesto and toss. Cut chicken into strips and toss with pasta. Add tomatoes.
What's your favorite summer recipe to whip up for dinner or a party?