In this world, connections are a great thing to have. It's who you know, you know? But what's even better is who you're related to. Case in point, what a cool coincidence it is that I write for a health and wellness blog AND my cousin Sean Higuchi owns a gym in Maui.
So when I had an opportunity to travel to Maui, I dropped in on Sean at his gym, Anytime Fitness, in Pukalani. I don't get out to Maui that often and this was the first time I actually got to see his fitness facility. His story of realizing his dream is pretty inspiring, so I wanted to highlight it for our readers.
(Pictured below: the author and her cousin Sean Higuchi (on the right) at his Pukalani gym.)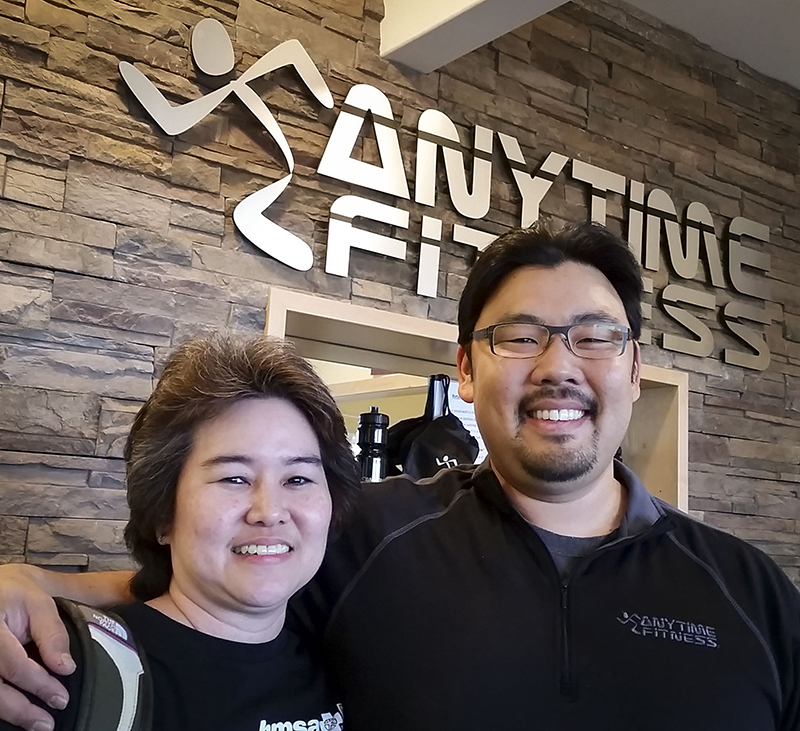 Sean got the idea to open a gym in his hometown while he was still in college in Washington, getting his degree in exercise science. "My father sent me an article from the Pacific Business News that listed the top 10 health clubs in the state of Hawaii. It was at that point that I had the aspiration to open a gym in Pukalani," he said.
With that goal firm in mind, Sean set about to gaining the experience he needed. During the next several years, he worked at health clubs as a personal trainer and in management to learn as much as he could about running a gym.
"Since my father was a small business owner, I have always had a drive to also be an entrepreneur. I always told the general manager of the gyms I worked at to give me the opportunity to learn everything from budgeting to fixing exercise equipment to doing laundry," he said.
During his time in Washington, Sean met and married Katie, who is a dance teacher. They opened a successful dance studio there, which gave them more valuable experience running a small business.
When they finally decided to move back to Maui, they started researching and putting a business plan together. His mentor and friend recommended that he look into the Anytime Fitness franchise. Sean really liked what he saw about the franchise, and the company's values matched his own personal and professional beliefs.
He explained, "Anytime Fitness believes that fitness is for everyone and that every individual should define his/her own fitness levels and goals. When I was researching, I noticed that everyone who was in their videos were normal-looking people. Not bodybuilders or fitness models. I also liked that they believe that the value in a gym is in the members and staff and not just fancy equipment. Most Anytime Fitness members will tell you that the 'vibe' in the gym is more comfortable and not as intimidating."
The journey wasn't without some hurdles, however. He initially had trouble with financing. Pukalani is a small rural town on the slopes of Haleakala, and some people he met with told him his idea wasn't going to work. "One person told me that I should just run fitness classes at the park because the investment in the gym was too risky."
But Sean wasn't discouraged.
"I knew Pukalani was a great community to start a business in. I knew I was the right person to do it. I pushed through despite their warnings because I believed in my idea and my home town. Luckily I found investors who believed in my plan as well."
Sean and I come from a fairly large family. Our grandparents raised five kids in upcountry Maui; my mother is the oldest and Sean's father is the youngest. Growing up, Sean and I weren't exactly playmates, since I'm 10 years older and lived on another island. But he's certainly come a long way from being that little boy sucking on his fingers in Grandma's kitchen.
Yes, my cousin is doing very well in his life. He and his wife now have two beautiful children – a son and a daughter. My uncle (Sean's father) is an architect, and Sean's sister, Carlys, is an optometrist. As a family effort, they put up a new building (designed by my uncle and owned by Carlys and her husband) in Pukalani called Healani Hui, named after the street where our grandparents raised their family. The building will house Carlys and her husband's practice and Sean's gym, with space for other businesses. The eye clinic will open first, with Anytime Fitness scheduled to move in by the end of the year.
I concluded my talk with Sean by asking him what he thinks enabled him to reach this point in his life.
"Ultimately I give credit to the support I've had from family and friends throughout my life," he said. "My parents, my sister and my wife have always believed in me, my ideas and my ability to work smart to make it happen."