Allan Wang, M.D., starts his morning surveying rows of coffee trees on his farm. Dew on the grass sparkles with the first rays of sunlight.
Dr. Wang looks at the trees covered with tiny, fragrant flowers. "When there is a big bloom, this is what's called 'Kona snow,'" he says about the flush of white blossoms that perfume the air. The flowers soon drop and the fertilized ones develop into red cherries that'll be harvested in late summer through fall.
Nestled on the slopes of Holualoa, the coffee plantation overlooks Kailua-Kona and the vast blue Pacific. With its expansive views and rolling green hills scattered with ohia trees, the plantation is in the northern heart of Kona's coffee farming community that's been producing some of the world's best-tasting coffee for nearly 200 years.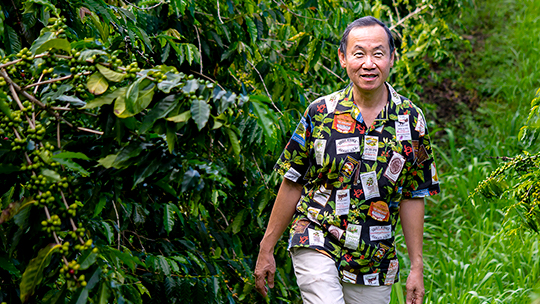 Dr. Wang bought the property in 1997 because it's conveniently located up the hill from his medical office in town. He intended to garden, but his partner, Tom Humphreys, a University of Hawaii scientist, had grander plans.
"We learned that the farm sits on one of the oldest lava flows on Hualalai," says Dr. Wang, an allergist/immunologist who practices in Kailua-Kona and Honolulu. "Rich organic nutrients and material have been building up in the soil for 5,000 years, a perfect setting for the finest terroir. So farming was a natural thing to do."
The couple's backgrounds were also a good fit. Humphreys grew up farming in Tennessee before being recruited to Hawaii to continue a career in molecular biology. Dr. Wang cultivated a love of coffee during his college and residency years in Berkeley and Seattle during the 1970s-80s coffee culture flowering.
They spent the next year digging up the lava bed with bulldozers, preparing the orchard bed and soil, and learning coffee horticulture. In 2001, they harvested their first batch. "We hand-picked and roasted the beans ourselves in our kitchen using a popcorn popper and cast-iron skillet," Dr. Wang remembers. After taking their first sip, they knew their coffee would be a winner.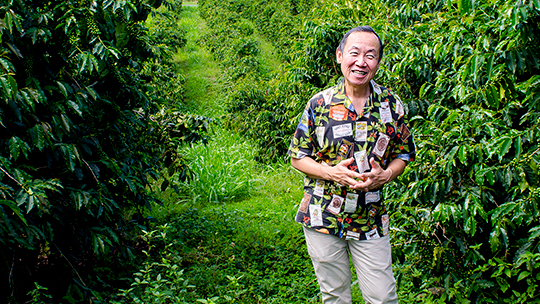 Over the years, Aikane Kona Coffee has grown from 60 trees on 6 acres to almost 4,000 trees on 11 acres. The coffee has won top awards at the annual Kona Coffee Cultural Festival, most recently winning first place in 2015, and is sold worldwide.
In 2014, Humphreys died of cancer, leaving Dr. Wang to run the farm on his own. The business barely breaks even. And like other Kona coffee farmers, he constantly contends with warding off the dangerous new leaf rust fungus and the twig and beetle borers that have wreaked havoc on Hawaii's coffee industry. Despite the challenges, it's been a grateful labor of love. "We coffee farmers take pride in caring for the land and keeping Kona green," he says. "And it's satisfying to carry on the Kona tradition of producing one of the world's finest coffees from Kona's soil, sun, and rain."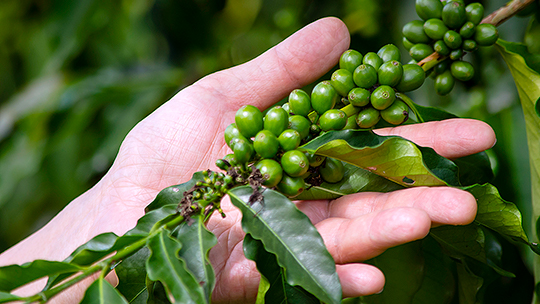 After tending to patients at his office all day, Dr. Wang returns home to tend to the farm. He likes being in the fresh air, sunlight, and rain and getting his hands into the rich soil. And although his two professions are different, they are complementary, and resonant, in purpose. "It's meaningful to carefully promote good health and blossoming – both in patients and the orchard," he says.
Now that's worth its weight in beans.
Photos: Tami Kauakea Winston