When the COVID-19 pandemic hit Hawaii earlier this year, it was just the beginning of endless days for front-line workers in our health care industry.
But for thousands of providers who don't work for hospitals or in emergency departments, there was another challenge – how to keep their patients and staff safe and isolated while continuing to deliver care that couldn't be postponed.
For patient and staff safety, doctors began closing their doors to patients in March. "We stopped seeing routine-check patients in the office," says John Houk, M.D., a Honolulu internist. "That would be people who come in for a diabetes check every three to six months or people who come in once a year for a physical exam."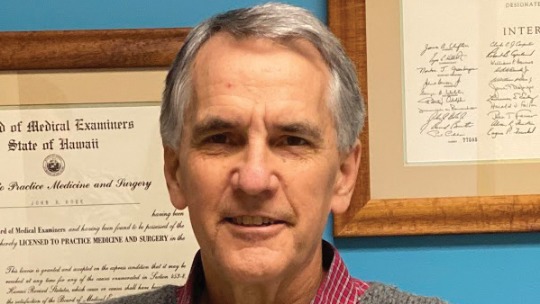 Dr. John Houk, M.D.
Doctors adapted to the challenge and continued to care for patients by providing services through telehealth – phone, text, email, and other technologies such as Skype and FaceTime. Even so, care requests not related to COVID-19 dropped considerably, causing physician practices to furlough staff while the physicians themselves saw a noticeable drop in income.
However, Dr. Houk and other HMSA participating providers avoided staff furloughs and a big loss of revenue thanks to an innovative physician payment program. The HMSA Payment Transformation Program, launched in 2016, gives doctors more flexibility in deciding how to care for patients. It pays them for the number of active patients they have on their panel and how healthy their patients are.
Doctors can focus their efforts on patients who need the most help while continuing to get paid for patients who didn't need an office visit and are monitored through telehealth. Under the old fee-for-service payment system, doctors were paid for each service they performed.
Because of payment transformation, HMSA doctors continued to receive their regular payments during the pandemic, giving them financial security. Dr. Houk saw patients remotely and provided almost all of his staff with full pay, including those who had been sent home when the office closed.
"The paycheck that comes every month is like a salary based on the number of patients you have in your practice," he says. "It's taken the pressure off of needing to bring patients into the office and that's been very good."