Though one in five adults in the U.S. live with a mental illness, there still tends to be a stigma about it. The American Psychiatric Association estimates that more than half of those who have a mental illness don't get help. Some avoid treatment because they're worried they'll be judged or treated differently.
In observance of Mental Health Awareness Month in May, we talked with James Westphal, M.D., psychiatrist and consulting mental health medical director to HMSA from Carelon Behavioral HealthSM. He answered our questions about mental health, combating the stigma, and available resources.
How prevalent are mental health issues in today's society?
The World Health Organization studied mental health across the world. They found that in the past three years, depression in adults increased by 25% and anxiety disorders increased by 25% not just in Hawaii or the U.S., but worldwide. When you have a world affected by stress, the stress affects the world's mental health. That's why it's so important to take care of your mental health especially in trying circumstances.
So what can we do if we're feeling overwhelmed by stress?
It's completely normal to experience stress. Everyone gets stressed. But if you feel like stress is affecting you, talk to a friend or someone you trust. If you feel better, great. If you're still feeling overwhelmed, it's a good idea to talk to a therapist. They can get an understanding of your situation and provide strategies or suggestions for next steps.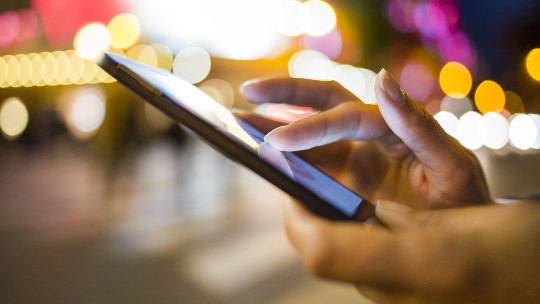 When you're feeling stressed, talking to a friend can help you feel better.
What can we do about the stigma surrounding mental illness?
There's a movement called Mental Health First Aid. In one training session, you can learn how to identify, understand, and respond to signs of mental illnesses and substance use disorders. This training is for everyone, not just health care professionals. It gives participants the skills to help and support someone who could be developing a mental health or substance problem.
If more people could get this kind of training, they'd know how to talk to others about their health issues and what to do in an emergency. Just getting a basic understanding of how to develop empathy toward others is a great way to start in terms of reducing stigma and increasing acceptance.
Research has shown that social support can affect health disorders. For example, if someone feels supported by those around them, they tend to be less symptomatic, can function better, and are less likely to be violent or attempt suicide. Social support is very important and since it can be taught relatively easily in one day, programs like Mental Health First Aid are a good investment. We never know what a family member, friend, or co-worker might be going through. You could make a big difference in their life by allowing them to talk about their feelings and responding in a helpful, empathetic way.
What are some strategies for reducing stress?
Other than talking to someone, there are a few strategies I like to recommend to decrease stress. But of course, if you feel like the strategies aren't working, it's important to seek professional help. The three strategies I recommend are:
Breathing exercises
Breathing is very important. Slow breathing can stop the stress response and help your body relax and repair itself. All it takes is a couple of minutes of slow, deep breathing. If you experience an intense situation, walking away, taking a few deep breaths, and coming back are good ideas. Or, you can practice deep breathing at night. It's become an important part of my evening routine. Stress can affect your health only if it's chronic. The better you are at dealing with stress, the better you'll feel.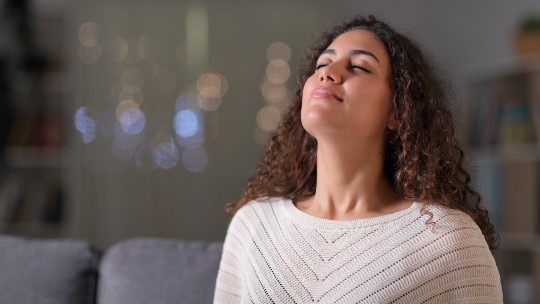 There are many free online resources for deep breathing exercises.
Increase physical activity
Moving more and aerobic exercise are key to all kinds of physical health and it's also key to mental health. Exercise has been shown to be an effective treatment for anxiety and depression symptoms and it increases well-being. It's recommended that you get 150 minutes of moderate exercise a week. It can be as simple as 25 minutes a day of walking, climbing stairs, or parking your car a little farther away to get some extra steps.
Moving more will help your body resist the physical effects of stress. I have an activity tracker to help make sure I get my steps in. It keeps me accountable to doing 30 minutes of activity every day.
Keep a gratitude journal
A gratitude journal is an excellent way to track positive experiences so we can remember and savor them later on. I keep a gratitude journal and find it very helpful. All you have to do is remember positive experiences from the past day, write them down, and re-experience those feelings. The more you do it, the more likely you are to experience positive emotions. And the more positive emotions you feel, the better you'll feel in general.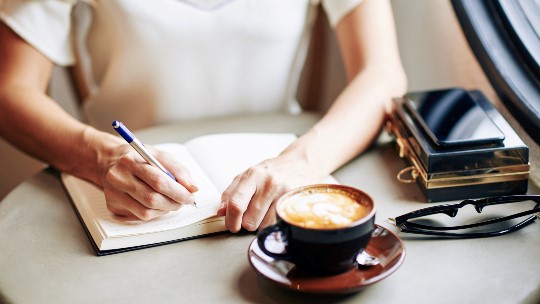 Being able to look back and see everything you were grateful for is truly a gift.
I use a wellness scale to track how I'm feeling. And over the four or five months that I've been keeping a gratitude journal, my wellness scale has increased significantly. It's something that I want to continue to do for the rest of my life because it's important to savor and remember positive things.
I got a great idea that's similar to a gratitude journal from an HMSA member I met while giving a wellness talk. They have a "Great Day Jar." Every time they have a great day, they write about it on a slip of paper and put it in the jar. And when they're having a not-so-great day, they choose a memory from the jar and read it and they usually feel better. It's a creative way to store and savor positive experiences. Having reminders like a gratitude journal or Great Day Jar sets a baseline that helps keep your well-being in a positive place.
What kind of mental health resources are available for HMSA members?
A good place to start would be to call HMSA's Behavioral Health Program at 808-695-7700. The program is managed by Carelon Behavioral Health. After you share your situation and preferences, they match you with the right person for your needs, whether it's an outpatient therapist or a doctor who might prescribe medication. You can also try HMSA's Online Care® to speak to a social worker, marriage and family therapist, psychologist, or psychiatrist from the privacy of home.
Any last thoughts?
Mental health issues are common and they aren't going away. These issues only become difficult situations if they're ignored. So it's important for everyone to be aware of their own mental health and take care of issues before they become problems.
More tips
Watch as Dr. Westphal discusses mental health awareness, strategies to reduce stress, resources for information and support, and more.
Carelon Behavioral HealthSM is an independent company providing behavioral health utilization management and quality improvement services on behalf of HMSA.
Amwell is an independent company providing hosting and software services for HMSA's Online Care platform on behalf of HMSA.