The scenes from Maui are devastating. Charred cars abandoned on the streets. Thousands of buildings and homes reduced to ash and rubble. The historic town of Lahaina decimated.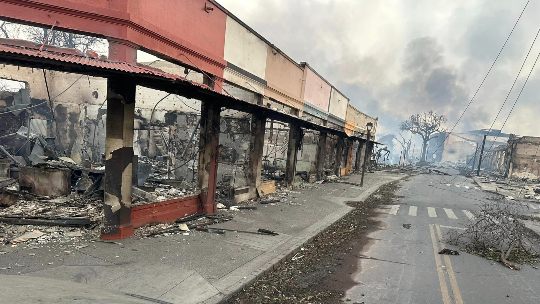 A tragic scene in downtown Lahaina. Photo courtesy Rae Enzo
More than 100 people have been confirmed dead and more are missing, making this the worst natural disaster in state history and the deadliest U.S. wildfire in more than a century.
Survivors are left with nothing. Their homes and possessions were destroyed as they rushed to flee the fires, driving through walls of flames and jumping into the ocean to escape. They need our help with shelter, food, water, and other necessities.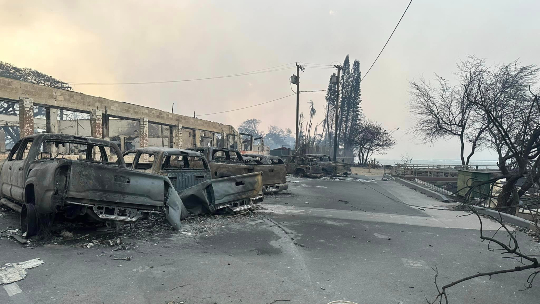 Vehicles burnt by the wildfires. Photo courtesy Rae Enzo
Recovery underway
Relief efforts are ongoing. The Maui United Way and newly created Maui Strong Fund are accepting financial donations that directly help survivors. Local food banks, cooks, and the Salvation Army have all worked together to distribute meals. The American Red Cross provided emergency shelter and is helping move survivors into hotels.
While relief organizations are working together to meet survivors' basic needs, health organizations are prioritizing ways to care for their physical and mental well-being. So far, the HMSA Maui Wildfires Taskforce has:
Set up a premium deferral program so employers can continue to provide health care coverage for their employees despite the disruption to businesses.
Provided early prescription refills for people to ensure an adequate supply of medications.
Coordinated with HMSA's pharmacy benefit manager to set up medication delivery to shelters.
Rearranged dialysis access for those who need life-saving dialysis in facilities destroyed in the fires.
Waived prior authorizations to allow quick access to care.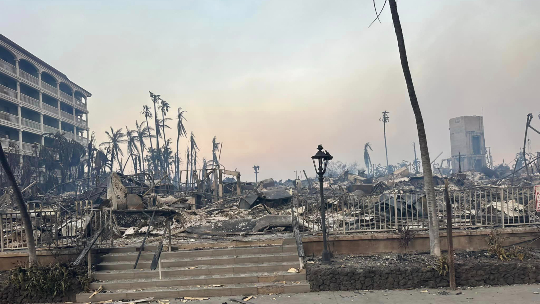 Buildings reduced to rubble. Photo courtesy Rae Enzo
Caring for mental health
Survivors feared for their lives as they rushed to safety and watched their homes and community burn. In the aftermath of the fires, they're grieving loved ones, neighbors, and their livelihoods. It can be overwhelming to deal with all this loss after such a traumatic event.
Mental health resources are available. HMSA's partner, Carelon Behavioral Health, is offering free counseling services to anyone affected by the fires.
"One of the top requests we received from our health care partners was a need for more behavioral health resources for those who are offering support," says Stefanie Park, M.D., vice president, chief medical officer, HMSA.
People can call the dedicated support line at 1-800-580-6934. Counselors are available 24/7 to listen to concerns, help callers manage stress, and work with them to determine how to take care for themselves and their families.
"Our partners at Carelon are standing by to support the people of Maui with a listening ear and guidance," says Dr. Park.
How you can help
Emergency management officials on Maui say monetary donations are the best way to help with relief efforts. Donate to verified organizations such as: