Is cold brew really worth the a few extra dollars? If you're a serious coffee drinker like roastmaster Charles Asselbaye, owner of Local Joe in Downtown Honolulu, then yes. The good news is you can save a few bucks by making cold brew at home. But if you think cold brew is simply pouring hot coffee over ice or refrigerating brewed coffee for tomorrow morning, think again. Cold brew requires a totally different method.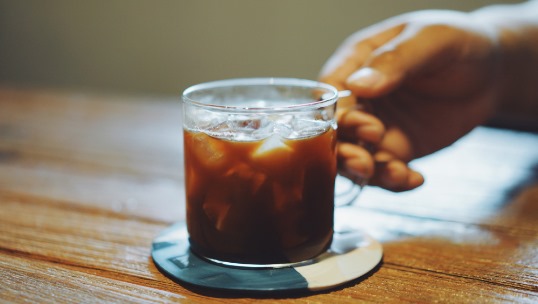 Don't worry, it's not as hard as you may think. Here are some easy tips to making homemade cold brew. And it doesn't require much effort or fancy equipment.
It's all in the grind. The texture and the freshness of the coffee grounds play a big role in how the cold brew will taste. Asselbaye recommends a course grind similar to what you'd use in a French press. If you're grinding the beans yourself, make sure to air it out for at least 12 hours before you use it. "If you like smooth flavor, let it sit," he says. "Grind today, brew tomorrow."
Don't use a coffee machine. Cold brew requires time. Without the heat from near-boiling water, it will take several hours to extract flavor from the coffee grounds. Purchase an inexpensive cold brewer online and follow the simple directions. Or watch our video on how to upcycle and reuse a 2-liter soda bottle, a coffee filter, and a funnel.
Agitate often. Asselbaye has a special Kyoto-style slow drip coffee tower that allows him to let it sit and forget. But he says anyone who can wait the recommended eight to 10 hours can brew it in a homemade container. "Agitation is the key. You want the water to have a lot of contact with the coffee grounds, so mix it up every time you walk by."
Experiment to find the taste you like best. Use a 1:3 coffee-water ratio if you like a strong taste, a 1:4 ratio if you prefer it mild. Remember, when you serve your cold brew over ice, the melting of the ice will act as a mild watering down process. Try out different roasts and ratios to find the one that works best for you.
Watch this video to see how to upcycle a two 2-liter bottle to make your own cold brew.