The Yee sisters are thousands of miles apart, but that doesn't stop them from coming together to help local people who menstruate get access period products. Brandy-Lee and Nikki-Ann Yee and their sister Jamie-Lee Kapana are the founders of Ma'i Movement Hawai'i, a grassroots organization working to end period poverty in Hawaii and remove the shame and stigma around menstruation.
The nonprofit was Nikki's dream. She was living abroad when she read an article about people who struggled to get to school or work because they couldn't afford the products they needed during menstruation.
"When I read that article, it was the first time I learned of period poverty and I thought about menstrual inequity in a defined way," says Nikki. "And as a woman myself, as the mother to an 11-year-old daughter, that really sparked a passion to do something."
The idea stuck with her. In October of 2020, she finally had the opportunity to make her dream a reality.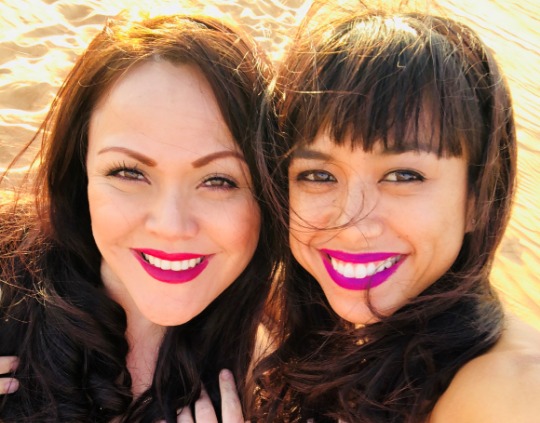 Brandy-Lee and Nikki-Ann Yee
The Mission
Ma'i Movement Hawai'i began through a phone call with Brandy. She's a Native Hawaiian health patient navigator at Queen's North Hawaii Community Hospital. Brandy saw the founder of a local diaper bank speak about collecting diapers during the pandemic and it sparked a memory ― Niki's desire to do the same with period products.
Since then, the sisters have been doing everything they can to make period products more accessible statewide. Brandy is the operations lead on the Big Island, Jamie handles Oahu and all other islands, and Nikki leads the organization from her home in Maryland.
In less than a year, they've been able to reach every major island, even Niihau. "As Native Hawaiians, we were raised that it's our kuleana to take care of our land and everybody on it, so that's what we're doing." Says Brandy.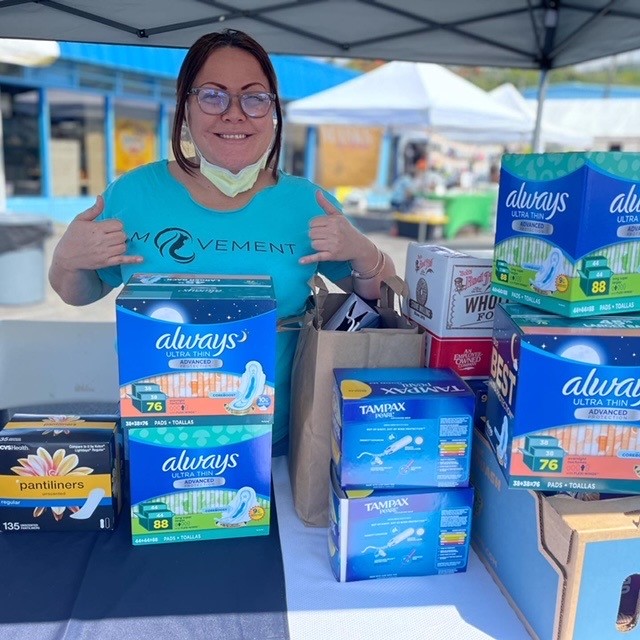 Brandy at Haleki'i Market during a donation drive
The Movement
Ma'i Movement Hawai'i partners with community organizations, clinics, schools, and correctional facilities to collect and distribute period products to those in need. Each monthly pack includes a variety of products. They also offer sustainable and gender-neutral options like period underwear and boxers, cloth pads, and menstrual cups.
But the organization has grown into much more than donations and distribution. "Periods aren't stopping for pandemics or for state budgets. It keeps coming every month," says Nikki. "The immediate need is important, but so is long-lasting change and our mission is to end period poverty. To do that, you do need systemic change."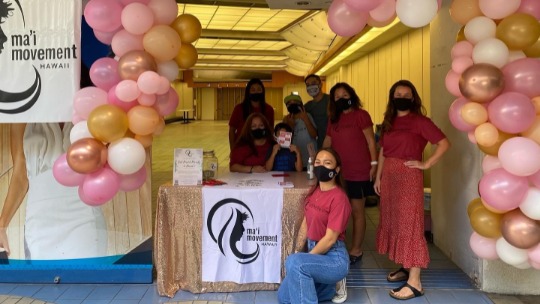 Brandy and Jamie with volunteers at their Ala Moana collection drive.
With that in mind, the sisters advocated for several policy initiatives in 2020 that would have improved menstrual equity. One bill would remove the Hawaii state general excise tax on period products. Another would make period products available for free in public secondary school restrooms. Some bills have stalled, but there's interest from lawmakers and the Yee sisters aren't slowing down anytime soon.
In May, they rolled out their statewide Mālama Your Ma'i campaign. It raised awareness leading up to Period Poverty Awareness week, which began on May 25. They also got proclamations from Governor Ige and mayors across the state to recognize the week.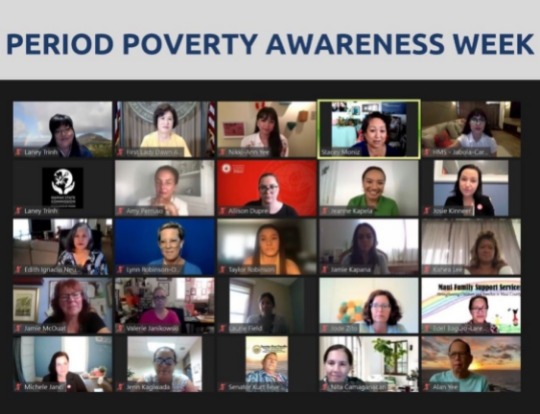 Proclamation ceremony hosted by the Hawai'i State Commission on the Status of Women and read by the first lady, Dawn Ige, for Period Poverty Awareness Week (May 24-30)
They're doing a lot, but their greatest hope is to inspire action in others. "It makes me happy that we're indigenous, Native Hawaiians, and we're at the forefront of this. We can be an inspiration for other people, other Native Hawaiians or just anyone," says Brandy. "You want to start something, go for it. If we can do it, you can do it."
Learn more about how you can join Ma'i Movement Hawai'i and other organizations in their work to end period poverty in Hawaii.
Facts about period poverty in Hawaii
Download