The University of Hawai'i–West O'ahu was established in 1976 to provide accessible, affordable higher education to Leeward Coast residents and beyond. But for Kealani Cook, Ph.D.; Robyn Tasaka, Ph.D.; and Jesse Mikasobe-Kealiinohomoku, UH West O'ahu is so much more than a school. It's a place where they can do what they love, help others, and make a difference.
The relatable professor
A common perception of a college professor, especially for local kids, is someone who's much older, probably not local, and most of all, out of touch. Cook, associate professor of history at UH West O'ahu, is none of these things. He's in his 40s, originally from Waimea on the Big Island, and can relate to his students. He's passionate about his job, focusing mostly on Hawaiian and Pacific history. "I get to tell stories and read for a living," Cook says.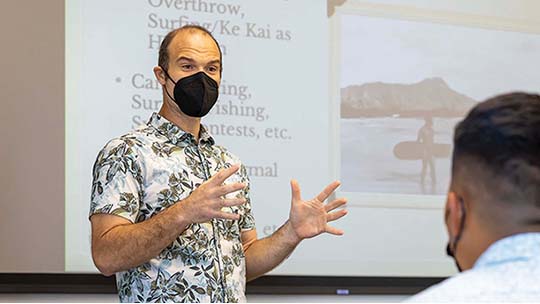 Working at UH West O'ahu, Cook appreciates the flexibility he has with his work schedule. "I do what I love, have time for my family, and can take care of my health," he says. "It's a good work-life balance." When Cook compares stories with colleagues on the Mainland, it becomes clear that he has a lot to be grateful for at UH West O'ahu.
"Our students are here to learn, as opposed to some kids on the continent who basically treat their professors like customer service," he says. He also appreciates that the university was proactive at the beginning of the pandemic. "They supported us and kept everyone safe by moving classes online and shutting down the campus." To Cook, UH West O'ahu didn't just say that safety was a priority, they acted on it.
Student-centric support
Robyn Tasaka also appreciates the way the university handled the pandemic. "The flexibility they gave us was crucial in keeping everyone safe," she says. As the tutor coordinator in No'eau Center, the learning center on campus, Tasaka works with a variety of students throughout the university.
"I suppose it's a cliché, but I really do love our students," she says. "They're very down-to-earth." She's also grateful for her co-workers in the student affairs department. "I've spent most of my life thinking academics is the most important thing in life," Tasaka says. "Since coming to West O'ahu, my colleagues have helped me to think more holistically, to understand the value of emotional connections and relationships with one another and with students."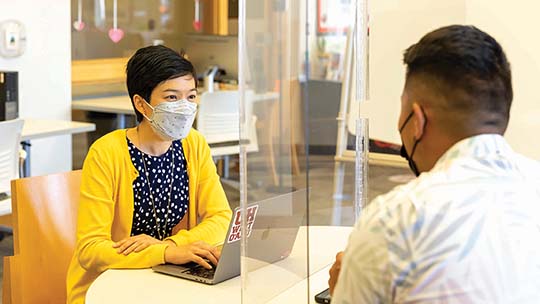 Since the university is relatively small compared with schools on the Mainland or even UH Manoa, Tasaka is able to get to know the students in different capacities. "They may come in for tutoring, work on campus, or I may see them at campus events," Tasaka says. "There are students I've met during their freshman orientation or on a campus tour and then I see them all the way through until they're walking across the stage at commencement!" It's rewarding for Tasaka to see the students grow during their time at UH West O'ahu.
A leader in the making
Jesse Mikasobe-Kealiinohomoku decided to attend UH West O'ahu because they offered a major in sustainable community food systems. "Ecological well-being is so important and so vital for the people of Hawai'i and the land," he says. "I want to create systemic change and, through my education at West O'ahu, I can make it happen."
Mikasobe-Kealiinohomoku is also majoring in political science and while a double major means double the work, he sees it as double the value. "The SCFS and poly sci majors complement each other," he says. "Bigger change happens on a political level and that's where I want to be."Mikasobe-Kealiinohomoku has the opportunity to practice his leadership skills and nurture his passion for sustainability in his role as president of the UH West O'ahu Aloha 'A-ina Student Service Club. The club helps to maintain the organic garden on campus. "We grow fresh, chemical-free produce for students and faculty," he says. "The garden is also a place where I can unwind after my classes. It provides a space to apply what I learned in the classroom."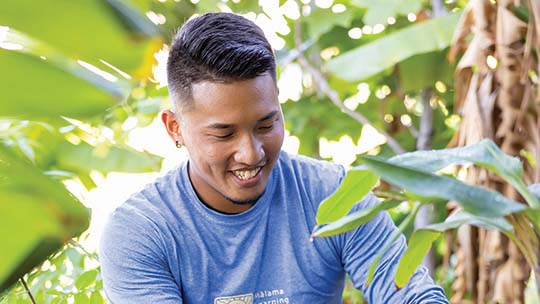 As club president, Mikasobe-Kealiinohomoku leads members in creating a culture of civic engagement, generating positive social change, and encouraging a lifelong dedication to the land. His favorite aspect of serving as club president is bringing people together to support each other and appreciate everyone's individual qualities. "I'm so thankful for the opportunities that UH West O'ahu offers," Mikasobe-Kealiinohomoku says. "And I appreciate the school's 'ohana vibe."
For more information about UH West O'ahu, visit westoahu.hawaii.edu or call (808) 689-2800.
Photos: Rae Kuo