We've all taken a cat nap, but how about a nap among more than 650 cats?
That's just another day at Lanai Cat Sanctuary. "It's very common for people to come and spend the entire day at the cat sanctuary. Some of them even fall asleep," says LCS executive director Keoni Vaughn.
It's hard to imagine, but the sanctuary encompasses 3.5 acres of open space. The cats are free to run and play or relax in shaded areas. "I get teased a lot because I call our sanctuary the Furrr Seasons. It's really a calming place," says Vaughn.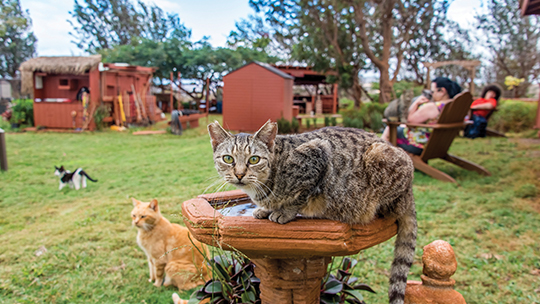 LCS provides a healthy home for cats, and it's peaceful for visitors, too. "We all know that there are benefits to having pets and to being around animals," says Vaughn. "Having a cat around you can trigger release of calming chemicals in your body, which lowers your stress and anxiety. Cats are known to be super low maintenance animals. A simple petting session makes both the cat and the human happy."
The sanctuary has become an attraction for tourists and residents alike. They welcomed 15,000 visitors each year before the COVID-19 pandemic. Visitors pet and play with the cats and about 50 felines per year go home with their purrfect match.
For the birds
On an island with no animal shelter, rescue group, or veterinarian, the sanctuary is a respite for animal lovers who want to spend time with the cats. But its mission is much larger – to protect Lanai's ecosystem, LCS provides a safe, caring home for the island's free-roaming cats. Rehoming the cats allows the sanctuary to help conservationists in their work to preserve marine life and protected birds.
It's almost unheard of for free-roaming cat advocates and conservationists to work together like this. Animal rescuers typically trap cats, neuter or spay them, and release them back into the wild. It's common practice for conservationists to trap and kill free-roaming cats who could be passing on diseases or preying on birds and marine life. The LCS model of trapping and rehoming cats is uniquely suited for Lani's temperate weather and abundance of open space.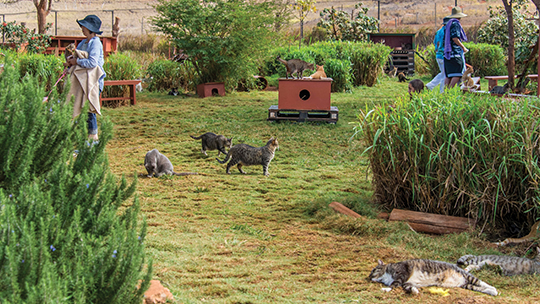 "People thought this sanctuary model wasn't sustainable and wasn't practical," says Vaughn. "I love the challenge and I think we're doing a good job at breaking that mold. Instead of saying it's not going to work, why can't we all work together to make it work? That's what we're doing here."
For the people
In addition to their animal rescue work, the sanctuary flies a veterinarian to Lanai several times a month. The vet visits LCS to care for their cats then takes a mobile veterinary van to town to care for pets throughout the community.
Without this essential service, pet owners would have to take a ferry to Lahaina, rent a car to drive to a veterinarian's office, and possibly find accommodations to stay overnight. It's a lot to go through for a pet's routine physical and vaccines.
Caring for these animals creates a healthier environment for Lanai residents. The sanctuary's 12 employees are no exception. Getting to bond with and care for the cats is a dream job for any animal lover, but Vaughn also provides generous benefits to make sure employees are in good physical and mental health.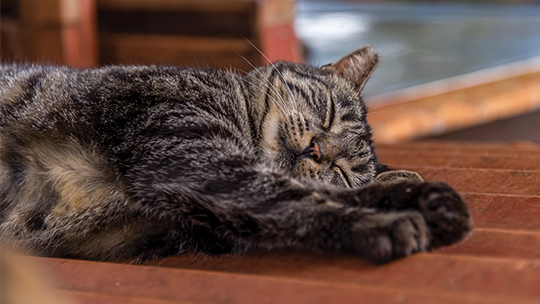 "I've been in the animal welfare world for 20 years now and I'm a firm believer in people care," says Vaughn. "Always animal care, that's a given. But the people care has really been my focus and I am a firm believer in keeping our staff healthy, keeping them as stress-free as possible."
Joe Adarna, LCS's manager, agrees. "I love the job every day I go in to work. They give me time off when I need it and it's a good balance for a lot of the staff," he says. "I get a lot of time to spend with my dog and to travel to Oahu to see friends and family. They've always been very supportive."
Photos: Lanai Cat Sanctuary