An 11-year-old Jennifer Wong knew her career path after watching doctors treat her father for liver cancer. "I saw how the doctors helped my dad and I wanted to take on that role," she says. "From then on, I was very inspired."
After graduating from Kapolei High School and earning her undergraduate degree at the University of Washington in Seattle, Jennifer began her medical training at the University of Hawaii John A. Burns School of Medicine (JABSOM) last summer, joining the Class of 2024.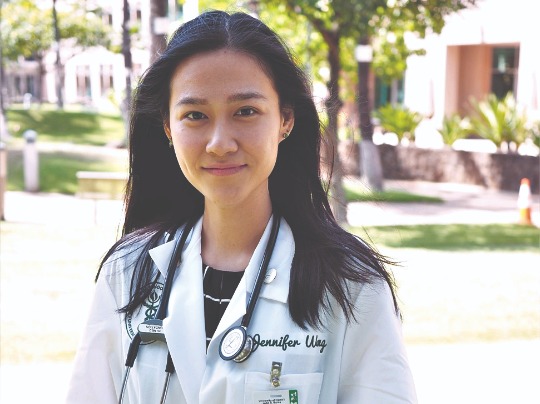 Jennifer Wong (photo by Joseph Hu)
It wasn't the start that Jennifer or anyone else was expecting. The COVID-19 pandemic began earlier in the year and created a challenge for students and the JABSOM administration.
"The huge factor was ensuring the students' safety," says Kyra Len, M.D., JABSOM assistant professor and co-director of the Learning Community Program," as well as ensuring that they were getting the curriculum they needed during their first year of medical school. It was a matter of making sure that they were still learning the things they need to learn but in a setting that would be safe."
Another aspect of the curriculum that would prove to be challenging involved the community." They have to spend a lot of time in the community, getting to learn about it and provide service," says Vanessa Wong, M.D., JABSOM assistant professor and co-associate director of the Learning Community Program. "Obviously, that wasn't going to happen.
"What we did instead, at least for the first few months, was focus on other components of the curriculum. We would have small group discussions led by faculty facilitators, so we were able to focus those discussions on topics we wanted to explore a little further," such as how to communicate well with patients and ethical issues in medicine.
Those small group settings came from a concept that was new to JABSOM − learning communities.
"A learning community is a small group of students assigned to a faculty mentor that will learn together over a long period of time," says Dr. Len. "It's a group of six or seven students who are together for all four years of their medical school training. The curriculum that the learning community focuses on are really topics that are best taught in a small group setting, such as medical ethics, communication, empathy, and professionalism."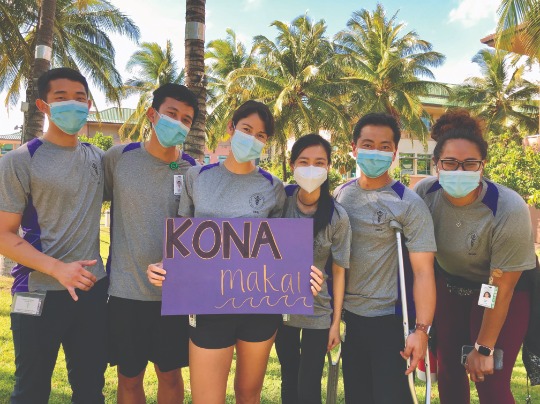 Jennifer Wong with her learning community (photo by Laurie Tam)
Dr. Vanessa Wong says the learning community concept has been in the planning stages for about two years. The plan was to roll out the new concept for the Class of 2024.
"And then the pandemic hit and we were thinking, 'Is this a good time to launch a new program?'" she says. "There were so many unknowns. The community piece was going to be a big part of our program and was going to be very challenging to do during this time. But we decided to forge ahead with it. Looking back, we're all really thrilled that we did."
Jennifer Wong loves the learning community concept.
"What's great about having learning communities is that our mentor can tailor the lessons to the individual group," she says. "There are more opportunities for students like me to be assessed on the spot and we get that spontaneous feedback during each session compared with our normal class size, which would be more than 70 of us, where it would be difficult for instructors to give individualized assessment in class."
Dr. Vanessa Wong says the challenge of integrating the community was partially addressed by including virtual guest speakers and having students learn online about the communities they were assigned to.
Jennifer Wong says the online curriculum has given her a good foundation for future work in telemedicine. And as the school year progressed, some pre-pandemic aspects of JABSOM education returned with safety guidelines in place. More activities were held on campus instead of online. Clinical skills classes, where students role-play as patients so their fellow students can evaluate them, were done in person.
But the JABSOM Class of 2024 did miss out on one thing − getting to know their classmates, outside of those in their learning communities, in this four-year journey.
"As incoming students, we try to get to know our classmates at the beginning of the school year and we would probably know each other pretty well by now" Jennifer Wong says. "Because we had mostly online classes and not as many on-campus activities, I didn't see my classmates as often. So, it's very different than the start of a traditional school year, when we're so excited and we just want to meet people and connect. That was a challenge due to COVID."
Learning communities helped by HMSA Foundation grant
The HMSA Foundation gave a boost to the JABSOM Class of 2024 by making an endowed gift to support the learning community program.
The Foundation donated $5 million to establish the HMSA Learning Innovations Endowment to support innovative medical education. Because of the grant, JABSOM is now calling its learning center in the Office of Medical Education the HMSA Learning Innovations Center.
"HMSA supports this initiative because we need our physician workforce to be prepared for new ways of viewing health, looking to the community as partners in the health of our families," says HMSA President and CEO Mark M. Mugiishi, M.D., F.A.C.S. "With constant changes in delivery of health care and advances in technology, the HMSA Learning Innovations Center will be critically important."
"The HMSA Foundation is showing tremendous vision and commitment to advance the health of Hawaii with this strategic philanthropic investment, especially during these tumultuous times," says UH President David Lassner. "With this endowment as a resource, JABSOM will now have the long-term funding needed to continue to innovate and evolve our medical education delivery with the needs of our people and our islands."