West Oahu has more wagging tails, wet noses, and fluffy fur coats that need forever homes. Hawaiian Humane Society has expanded its outreach to the Leeward Coast with the opening of its Kosasa Family Campus in Ewa Beach. HHS celebrated the grand opening of the campus with tours of the five-acre property, meeting with local leaders, and adoptions of a new family member.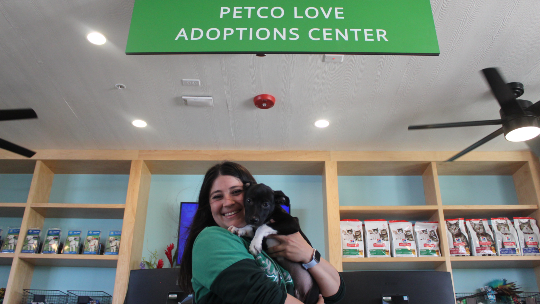 First adoption at the Kosasa Family Campus.
"We couldn't have been more grateful and honored that everyone came out in full force to celebrate with us," says Brandy Shimabukuro, manager of communications at HHS. "We had so many people come up and tell us how happy they were to have this new campus. It's a greatly needed resource on the west side."
That's because more than 60% of West Oahu residents have pets. And since animals can help reduce loneliness, decrease stress, and overall boost a person's mental health, that percentage is expected to rise over the years.
"People told us that driving to our Moiliili campus can be difficult," Shimabukuro explains. "The Kosasa Family Campus will fill that need for people out here. This campus isn't just going to be a resource for the community. It will make the resources that we offer so much more accessible."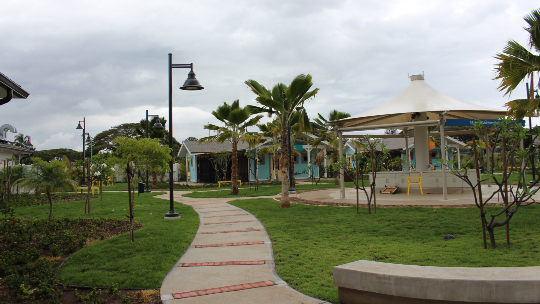 Path leading to small animals pavilion and dog pavilions.
Programs and services will include spay and neuter services, education, outreach, rescue response, a pet food bank for families experiencing food insecurity, and adoptions.
The space is twice the size of the Moiliili location. It includes a 27,000-square-foot, state-of-the-art "new generation" shelter with three dog pavilions, two cat pavilions, and a pavilion for small animals like birds, turtles, chinchillas, and guinea pigs. It's all more spaced out and less congested. The shelter was designed to minimize the animals' stress and the risk of disease transmission.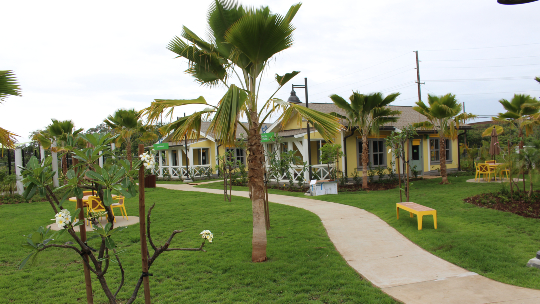 The two cat pavilions.
"The reality is that we're an open admission shelter. Our field services teams may be called to pick up a stray that can have any number of diseases. We help them as best as we can, but we also want to protect our shelter population," says Shimabukuro. "This campus is built to contain and mitigate any disease risk."
Features include open-air circulation and individual drainage for kennels and play yards. There are also "soft-close" kennels, which can help with animals' mental health.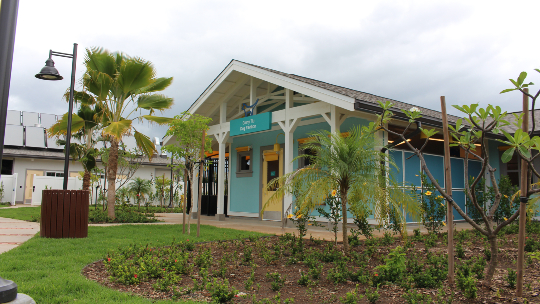 Outside one of the three dog pavilions.
"A congregate living situation can be stressful with loud noises, dogs barking, guests coming and going. But these soft-close kennels eliminate some of the sound that happens every time a kennel door closes," says Shimabukuro.
The dog pavilions were also designed to minimize the amount of face-to-face interaction the dogs have with each other to minimize stress. Dogs and cats have a lot more space to exercise with larger, more-dedicated enrichment areas.
Later this fall, the Kosasa Family Campus community dog park will open to the public. Dogs staying at the shelter will also be allowed to play and romp in the grass.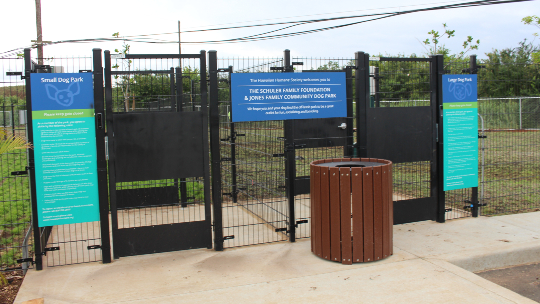 The community dog park, which will open this fall.
From the larger kennels to the adoption lanai, all this space was created with the animals in mind. But as with any shelter, Shimabukuro hopes their stays are short.
"We have a lot of loving animals looking for loving homes," Shimabukuro says. "At the end of the day, that's what matters most."
Photos courtesy Hawaiian Humane Society