Gone are the days of workplace longevity, where employees took a job with a company and stayed there until retirement. Today, it's more common for workers to job hop as opportunities arise. According to a LinkedIn survey, millennials job hop more than any other generation. This isn't the case for 25-year-old Jayson Tambaoan. He's been at his company, Servco Toyota Honolulu, for nearly eight years. What's his secret? "Work for a great company."
Follow your interests, do your research
For as long as he can remember, Tambaoan was interested in cars. "Especially Japanese import cars like Toyota," he says. "They run well and look good." With this mind, he looked for a company that was known for treating employees well. When he saw that Servco was hiring, he took a chance and applied. "I knew I'd fit right in," Tambaoan says. He was right.
Play to your strengths
Tambaoan is friendly, outgoing, and likes helping others. These qualities combined with his knowledge and genuine passion for cars makes him a perfect fit as a sales consultant at the Servco dealership.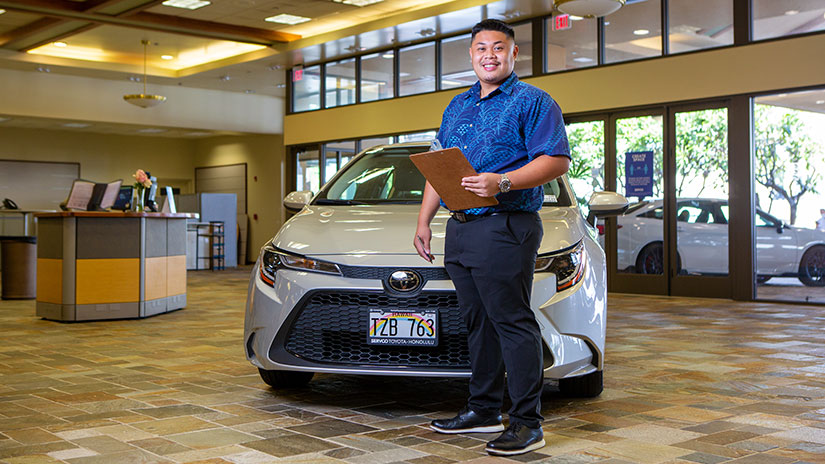 Instead of focusing on selling cars to meet a quota or make money, Tambaoan sees his job as supporting customers through their vehicle-purchasing journey. "My goal is to help customers explore their options and find the right vehicle," Tambaoan says. Plus, his job is never boring. "I'm able to meet new people every day, which keeps my job entertaining. It's more than selling cars. It's about building new relationships."
Get support
For Tambaoan, one of the best parts of his workplace is that it cares about its employees. "Servco has always made the health and well-being of our team members a priority," he says. The company has a wellness center that offers weekly workout classes. Tambaoan also participates in friendly competitions between departments such as the Step Challenge to keep active.
And in light of the pandemic, Servco launched a disaster relief program for employees who encountered financial hardships. "During the tough times," Tambaoan says, "the company has continued to provide ongoing resources to support us physically, emotionally, and financially."
Adjust accordingly
As the world changed due to the COVID-19 pandemic, so did Servco, making adjustments to ensure the safety of customers, employees, and the community. "All team members have to complete a daily wellness screening, which includes a temperature check and questionnaire, before each work shift," Tambaoan says.
To help keep customers safe, Servco asks that anyone interested in visiting the dealership make an appointment and take the wellness screening. Groups are limited to a maximum of four guests. "Our dealerships are physically spaced out to allow for social distancing," says Tambaoan. "We also sanitize our vehicles before and after a customer goes into them."
To minimize in-person browsing, customers can visit Servco's Express Car Buying websites. "They can buy a vehicle without having to physically visit the dealership," Tambaoan says. And anyone bringing in their vehicle for servicing need not worry. "We use disposable wheel, seat, gear shift, and floor covers," Tambaoan says. "Our customers' health and safety are definitely our priorities."
Look ahead and plan
Even though he's only in his mid-20s, Tambaoan is already thinking about the future. "My goals include marrying my fiancée, buying a home, and starting a family." He's able to work toward achieving these goals thanks to a job he loves at a company that values all he has to offer. "I hope to continually learn and grow, advance my career at Servco, and stay with the company until I'm ready to retire."
In the journey of life, Tambaoan is making excellent progress and enjoying every minute.
Photos: Romeo Collado