As we celebrate 30 years of keeping health front and center for HMSA members, we wanted to take a trip down memory lane. We asked some of our readers to share their fond memories of life in Hawaii. Here's what they said.
I remember working at Dole Cannery as a pineapple trimmer and then going with my friends to the beach and falling asleep on the sand only to wake up with sunburn. In those days, we didn't use protection. Just tanning oil or, if you're like me, baby oil to get a nice tan. And lightening spray to get nice color for your hair. As an adult, I can't imagine letting my daughter go out into the sun without applying 50+ SPF, wearing a sun shirt, and when she was really young, a hat.
: Janet Murayama, Mililani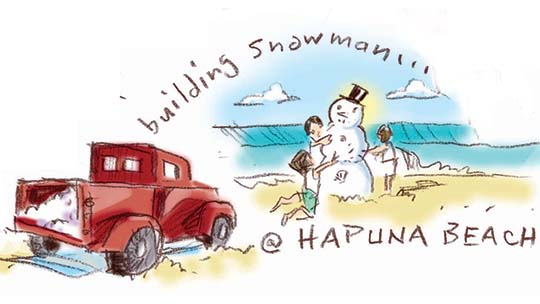 We used to do this in high school and in college. When it snowed on Mauna Kea, we would go up and play in the snow. Then we would shovel some snow into the back of a pickup truck, drive it down to Hapuna Beach, and build a snowman on the sand and have snowball fights before it melted.
: Brenda Salgado, Salt Lake
Going to Kam Drive-In with a van full of people and only paying for three. (Uh ... that's a story from a friend.) Back then, you could bring your own food and you had to mount that big silver speaker box on your roll-down window so that you could hear the movie. My kids were sitting in a friend's car once and pointed to the window crank and asked, "Uncle, what's that for?" They thought it was so cool to roll the window up and down. They sat and entertained themselves for a good 30 minutes.
: Hollis Okamura, Nuuanu
The good old days .... I always think about our younger days at the Nuuanu YMCA. Our kumu would send us outside with brown paper bags and instruct us to pick mock orange leaves from the huge bush at Kamamalu Playground near Central Intermediate School's PE building. We had so much fun picking the leaves and mostly playing! In those days, we used mock orange leaves for our adornments. Nowadays, we don't use those leaves or type of lei anymore.
: Wanda Akiu, Kailua
On Friday nights, my mother would take me to KC Drive Inn at the edge of Waikiki where the Waikiki Landmark now stands. Waffle dogs! Peanut butter shakes! We never went into the restaurant. It was always the car hop for us. My mom would leave the car lights on to call the waitress, who'd come on roller skates to take our order and come back with a tray of food that clipped onto our car window. My mom would order hot fudge sundaes that were served in paper cups. Before we'd leave, she'd always order an extra one to throw in the freezer when we got home.
: Nalani Keale, Nuuanu