During the pandemic, many companies were impacted by the decrease in visitors to Hawaii, including Keith Uehara. His photography business was hit hard since he primarily focused on weddings. However, always one to find the positive in challenging situations, Uehara decided that for the first time in 25 years, he was going to relax. He spent his days going to the beach, fishing, and diving.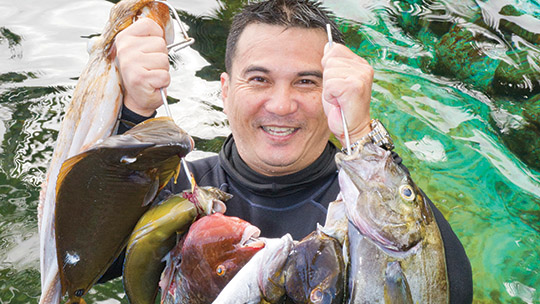 Uehara's fresh catch!
"Maybe I was having too much fun," Uehara says. "And I thought, what if I could holoholo professionally?" And that's how Barefoot Adventures was born.
Promise to be pono
More than a tour guide, Uehara takes his role as a cultural ambassador seriously. "At the beginning of each tour, I talk about safety and respect," he says. "Don't endanger yourself or others. Respect Hawaii, the people, the culture, and the aina." Each person on the tour makes a promise to be pono. "It's a good reminder to be respectful," Uehara says. "And if footprints are the only thing they leave in Hawaii, I've done my job."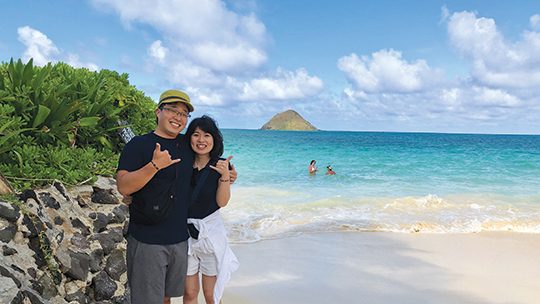 Visitors from Tokyo enjoying their honeymoon
Photographer turned tour guide
Uehara has always been the go-to person for locals and visitors in search of the best of Hawaii. "As a fisherman, diver, and photographer, I know the islands well," he says. "I'll take you to an uncrowded beach to watch the most beautiful sunset while eating an incredible meal at a hole-in-the-wall restaurant."
Plus, as a seasoned photographer, Uehara can take pictures while his clients relax and have fun. "They don't have to worry about capturing everything," he says. "That's my job. Their job is to enjoy the adventure." And once they part ways, the tour lives on. "I create a website with professional-quality photos and a video recap of their tour," Uehara says. "Their experience is forever memorialized."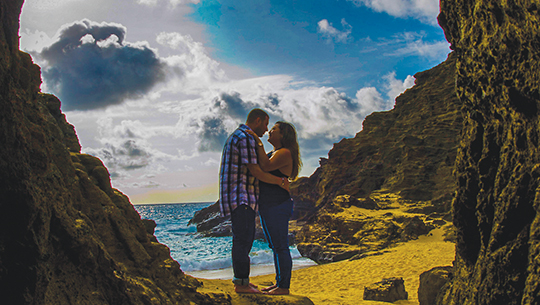 Romantic adventure at Eternity Beach
A variety of destinations
Uehara's favorite type of tour is the holoholo tour. "We meet up in the morning and we don't know what the day has in store for us," he says. "It depends on the weather, what my clients feel like eating, or if there's a special event." This spontaneity separates Barefoot Adventures from other tour companies. "If you want to fish, I'll take you to my favorite spots," he says. "If you want to surf, I'll hop on a surfboard and take photos of your set."
His clients appreciate this customized approach. "The last thing visitors want is to be crammed into a crowded bus going to touristy places you'd find in a Hawaii guide book," Uehara says. Plus, locals looking to do something different are never disappointed. "They have fun seeing a side of their home they don't usually get to experience."
For more information about Barefoot Adventures, call 808-256-3397 or visit their website.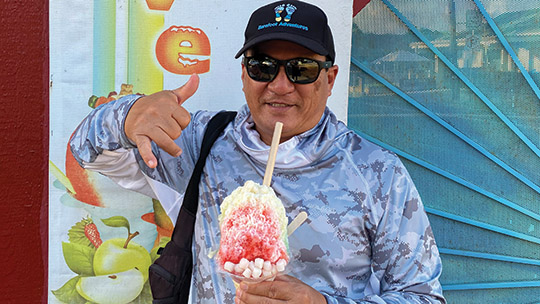 Uehara conducting shave ice research.
Photos courtesy Keith Uehara