At HMSA, meeting the health needs of kupuna throughout the state continues to be a top priority. This includes partnering with local health professionals and organizations to share valuable information and resources with seniors to help them lead healthier lives.
Workshops to help education
"Typically, on the Neighbor Islands and rural communities, we struggle with access to care," says Tony Gonzales, CVS Pharmacy district leader on Hawaii Island. "Sometimes, it's not easy to get an appointment or get health information, so it's important that we take the time to organize events to give the public information so they can make the best decisions about their health."
HMSA and CVS Caremark teamed up to host a series of workshops designed to educate the Hilo community. A two-part Healthy Heart, Healthy You workshop taught kupuna about the benefits of heart-healthy living.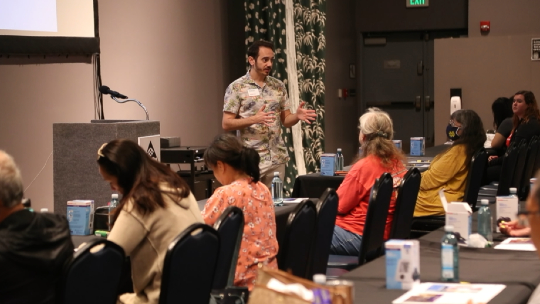 Gonzalez leading the workshop.
Partners helping the community
"It's a partnership between HMSA and CVS but it's open to the public," explains Jaylin Grace, manager of the HMSA Center in Hilo. "You don't need to be an HMSA member or go to Longs Drugs because the core of it is bettering the community."
Workshop educators showed kupuna how to read nutrition facts labels and explained how saturated fat can contribute to a higher risk of heart disease. Each participant received a blood pressure monitor and were taught how to use it.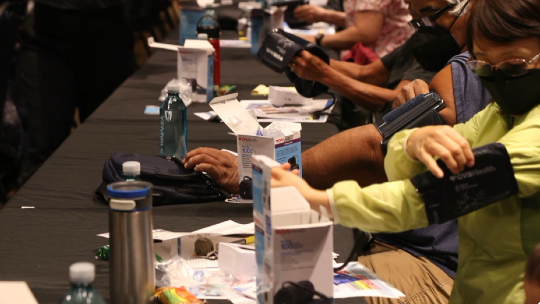 Participants try out the blood pressure monitor.
A positive experience
"I've been diagnosed with high blood pressure for a number of years and this has given me another tool that I can use to monitor how I'm performing," says Mike Miyahira, a Hilo resident and HMSA member. "It's a good reminder that I should look at the things that I need to do to adjust my lifestyle, like exercise more."
Have a question? Educators have answers!
Educators are always happy to answer any questions the public may have. Their goal is to share knowledge on a variety of health-related topics.
"We have a lot of HMSA members who are patrons of Longs Drugs and we've identified that health literacy and awareness and knowledge around immunizations and health topics in general is a big opportunity," says Gonzales. "To be able to impact someone's life and even educate them to the point where they get a vaccine that can prevent them from ending up in the hospital with pneumonia or spreading whooping cough to their grandchild is really fulfilling, important work that we need to be doing."
For information on upcoming workshops in your community, be sure to visit an HMSA Center and ask our health advisers for updates.
Learn more
This workshop was held at the Imiola Astronomy Center in Hilo. Discover how it helped people make better health decisions.
Discover more
HMSA has a variety of programs and resources to help you maintain or improve your health and well-being.
Diabetes Prevention Program
If you're at risk for type 2 diabetes, this 24-month program can help you change your lifestyle so you can prevent it.
A Guide to After-hours Care
Not sure if you should seek care through telehealth, urgent care, or the emergency room? It depends on your needs! This handy guide will help you decide.
Health Coaching
Take control of your well-being with the help of a certified health coach! They can help you create a plan and offer support as you work toward your goals.
Health Education Workshops
Attend workshops on a variety of well-being topics, like nutrition, physical activity and exercise, stress management, and more. Workshops are held in person and online!
HMSA Pregnancy and Postpartum Support Program
Get personalized prenatal care support for a healthy pregnancy.
HMSA's Online Care
With HMSA's Online Care®, you can talk with a doctor 24/7, 365 days a year without leaving home. Online Care providers are Hawaii licensed and HMSA credentialed. Get professional advice, diagnoses, and prescriptions sent right to your pharmacy.
Member discounts
Saving money is easy for HMSA members! We've partnered with local businesses so you can get discounts on activities, services, and more.
Newsroom
Visit our digital newsroom to see how HMSA supports members and the community through programs, events, and initiatives.