You've likely heard the phrase, "You are what you eat." Well, there's truth behind this adage, according to experts.
Dermatologists say the first line of treatment for common skin issues like dryness, acne, and uneven skin tone starts with nutrition.
"To help with overall skin appearance, I believe staying well-hydrated is important," says Miki S. Garcia, M.D., an American Board of Dermatology-certified dermatologist with Oahu Dermatology.
Water and water-rich foods help carry nutrients through the bloodstream and to cells throughout our bodies. Dr. Garcia recommends reaching for foods rich in antioxidants and healthy fats for an added skin-boosting bonus.
"I like foods such as blueberries, spinach, and avocados," she says. "I also like foods rich in omega-3 fatty acids such as wild fish and walnuts."
Just as some foods are good for your health, others can cause premature damage to your skin and hair.
"Foods that can be damaging are foods fried in vegetable oil. Vegetable oils are high in omega-6 fatty acids and cause free radical damage. I prefer using olive oil, avocado oil, or coconut oil when cooking or dressing my meals," Dr. Garcia says.
Refined sugars also cause inflammation in the body, creating the appearance of dull, tired skin.
The next time you're at the market, remember to reach for skin-friendly foods like:
Berries
Melon
Papaya
Tomatoes
Leafy greens
Sweet potatoes
Avocadoes
Walnuts
Salmon
Eggs
Greek yogurt
Sunflower seeds
Olive oil
Dark chocolate
Many of these foods can pull double duty and often can be found in the ingredients list of skin and hair care products.
"Coconut or sunflower oil is good for skin hydration. Sunflower or olive oil can be used on your scalp," Dr. Garcia says.
Below are three at-home masks made from ingredients you likely have in your kitchen.
REPAIR AND HYDRATE FACE MASK
Ingredients
1/2 avocado
1 Tbsp. raw honey
1 handful of oats or oat bran
Instructions
Mix ingredients together in a bowl. Massage gently over any dry areas or entire face to slough away dead skin cells and aid tissue regeneration. Leave on for 15 minutes. Wipe off excess mixture with a clean, damp face towel.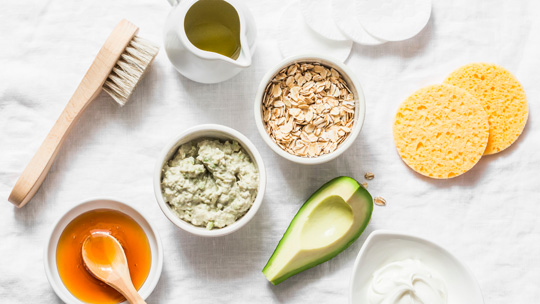 GET GLOWING FACE MASK
Ingredients
1/4 ripe papaya
1 Tbsp. cacao powder
1 Tbsp. aloe vera gel
Instructions
Mix ingredients together in a bowl. Apply a thin layer over entire face and neck. Leave on for 10 minutes. Gently wipe off using a clean, damp face towel.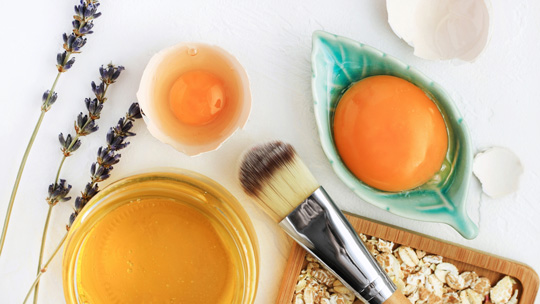 SHINE-ENHANCING HAIR MASK
Ingredients
1 egg yolk
1 Tbsp. olive oil
Instructions
Use a fork or a whisk to gently mix together the egg and oil in a bowl. Part dry hair into five sections and apply the mixture, starting at the scalp and working your way down the hair to the ends. Use a wide-toothed comb to evenly distribute the treatment. Leave in for 30 minutes, then rinse out.