Searching for a quiet break from a hectic day or a scenic nature walk?
Awapuhi Labyrinth outside Hilo is a hidden gem for both residents and visitors looking to slow down in a busy world.
At the entrance, look for the smooth stone engraved with the words solvitur ambulando, which is Latin for "it's solved by walking." Follow the labyrinth's circular grassy path lined with bromeliads and other tropical plants and flowers. Sit and contemplate at the fishpond. Enjoy the quiet surroundings, the beauty of the towering trees, and little statues and other objects that visitors leave as offerings.
"This place helps bring closer attention to your breathing and can relieve pain, hurt, frustration, and stress," says Deborah Masterson, the labyrinth's owner and caretaker. "Unlike a maze, which is meant to confuse us with dead ends, the labyrinth is a source of meditation and enlightenment."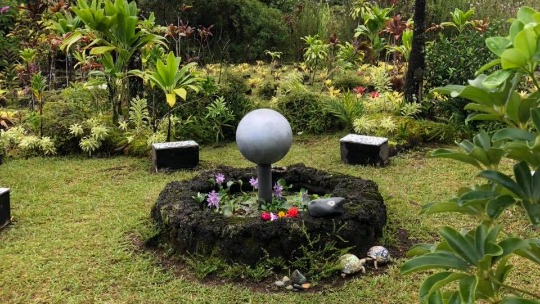 Created in 1999, Awapuhi was designed after a labyrinth built during the 13th century in Chartres Cathedral near Paris. From the 5th century B.C., labyrinths were used for religious and astrological experiences. "People found meaning in them – whether for meditation or prayer," Masterson says. "It's whatever you want it to be based on your individual needs."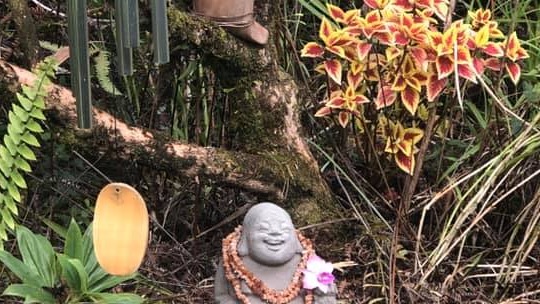 Awapuhi Labyrinth has also become a place of gathering for the community. Special events in the gazebo include arts and crafts days, poetry and song writing workshops, and music recitals. Special torchlit night walks are held during summer and winter solstices and spring and autumn equinoxes. These activities were put on hold for the past two years because of the pandemic, but Masterson hopes to revive them this year.
The labyrinth is open any day, any time at no charge. Volunteers are welcome to help with weeding and gardening. And check out the Little Free Library in front where you can take and donate books.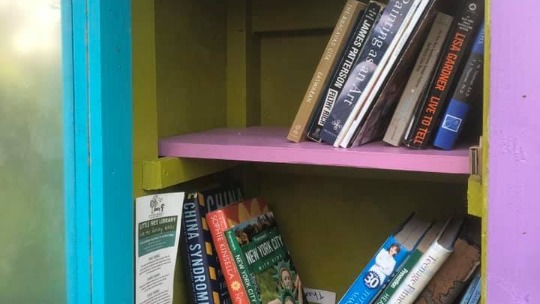 Masterson is hoping someone will one day want to acquire the land to keep the labyrinth going. Until then, she's happy to manage it as a resource for the community and visitors.
"I want it to continue being a place where people can find purpose and meaning," she says.
Photos: Deborah Masterson