The new Punawai Medical Respite and Interim Clinic is indeed a blessing. The nonprofit Hawaii Homeless Healthcare Hui — known as H4 — established the much-needed facility to serve Oahu's homeless population.
"For the homeless patients, the street is their home," says H4 Executive Director Andy Mounthongdy. "They don't have a home like you and me, and that's what a medical respite is. It's to provide this place, a safe place that offers quality medical care, 24/7, for these individuals."
This safe place has basic needs for the island's homeless medical, nutritional, and housing essentials that most of us take for granted.
"Homelessness is a health care condition. The average age of a person who's on the street and chronically homeless and dies is 53," says Hawaii Lt. Governor Josh Green. "That cycle, when you break it, will save thousands of lives, millions of dollars, and it's really meant to save the soul of Hawaii."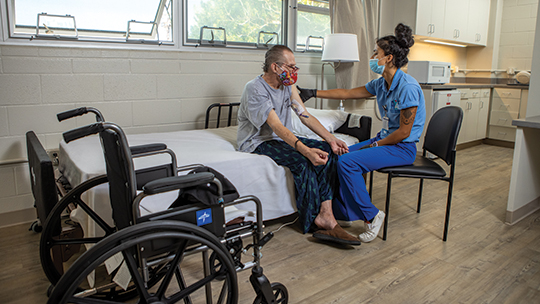 H4 features 18 studio units, laundry area, two medical exam rooms, and more.
The facility is inside the City and County of Honolulu's Punawai Building in Iwilei. It features 18 studio units, a common living room, two full kitchens, laundry area, and two medical exam rooms.
"I give homage to former Mayor Caldwell for all he did and the City Council to help make this happen," says Honolulu Mayor Rick Blangiardi. "But, we're not done."
This effort is also made possible through strong financial support from various members of the health care community, including HMSA.
Thanks to the leaders at HMSA, Islands Hospice, and The Queen's Health Systems, Green says that the community now has a place for those who are suffering from chronic homelessness. "We have a home for them," says Green. "It's amazing."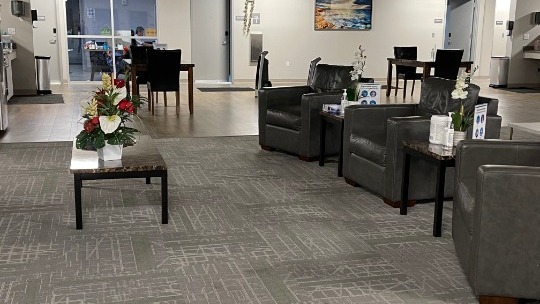 The common living room is furnished with armchairs and television
Green co-founded H4 in 2017. The Lt. Governor recalls HMSA's early involvement with his project of passion.
"I got a call from the people at Queen's and they said we have to bring people together. I immediately called Mike Gold, who brought in Mike Stollar, who brought then, of course, Mark Mugiishi, who are our leaders tracing back to the present to the immediate past and these gentlemen who are pillars of our community said, 'Whatever you need to help stop the suffering, we will give you.' They brought millions of dollars to the project, they brought expertise, personnel, and for a long time, people thought an insurance company only did that… insurance. This is healing. This is healing from HMSA and our other partners," says Green.