Have you had shakshuka? It's a North African and Middle Eastern dish of eggs poached in a chunky tomato and red bell pepper sauce. Green shakshuka riffs on the traditional and goes green with tender Swiss chard and zucchini, which are easily swapped out with other greens and vegetables. Like its traditional cousin, green shakshuka can be eaten at breakfast, lunch, or dinner with warm pita or crusty whole-grain bread.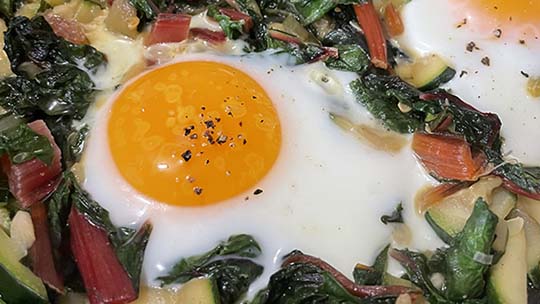 GREEN SHAKSHUKA
Ingredients
1 bunch Swiss chard
1 Tbsp. olive oil
1 zucchini
3 garlic cloves, minced
Salt and pepper to taste
1/4 tsp. dried chili flakes
4 eggs
Chopped green onion for garnish
Instructions
Rinse Swiss chard and remove stems. Chop stems and set aside. Coarsely chop leaves. Slice zucchini into small pieces about 1/4-inch thick. Heat oil in skillet over medium heat. Sauté stems and zucchini until stems are tender, about 5 minutes. Add chard leaves, garlic, and salt and pepper. Cook and stir about 5 minutes or until leaves are wilted. Make four wells in the mixture and crack an egg in each one. Reduce heat slightly, cover skillet, and cook until eggs are set, about 3 minutes. Sprinkle with chili flakes, additional pepper, and green onion. Makes 4 servings.