Blood Bank of Hawaii is Hawaii's community blood center. Their mission is to provide a safe and adequate supply of blood, blood products, and related transfusion services to the patients throughout Hawaii.
BBH opened its doors in February 1941 on the grounds of what is now The Queen's Medical Center. Known then as Honolulu Blood-Plasma Bank, the blood bank served as a wartime agency under the Office of Civilian Defense, returning to its nonprofit civilian status in 1943. Honolulu Blood-Plasma Bank officially changed its name to Blood Bank of Hawaii in 1946.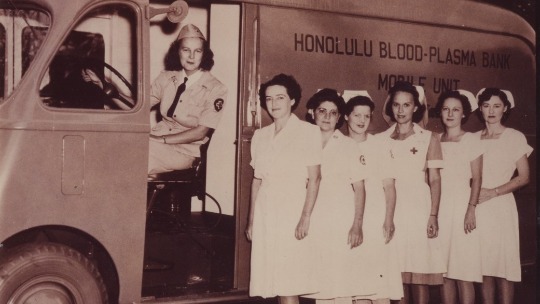 The early days of Blood Bank Hawaii.

In the early years, blood was collected in glass bottles, hemoglobin checks were done via the earlobe, and a single van went around the island to collect blood. Services were expanded to included Neighbor Island blood drives and Hawaii's unique ethnic population became nationally recognized as a source for many types of rare blood.

Today, state-of-the-art blood bags are used for collections, adequate iron levels are verified through technology, and blood is collected at two fixed centers, along with three bloodmobiles that serve Oahu's neighborhoods. BBH adheres to the highest standards of safety and quality and continues its long commitment to providing a safe and adequate blood supply for Hawaii's patients.

BBH is accredited by the Association for the Advancement of Blood and Biotherapies and is a member of America's Blood Centers, the nation's largest network of community-based blood programs. BBH is licensed and regulated by the U.S. Food and Drug Administration.

BBH Officers
Kenric M. Murayama, M.D., M.B.A. – Chair
Chair & Program Director of the Department of Surgery
University of Hawaii, John A. Burns School of Medicine

Tyler M. Tokioka – Vice Chair
Chairman
Island Insurance Companies

Susan K. Eichor – Treasurer
President & Chief Operating Officer
aio

James S. Wataru – Secretary
President
United Public Workers

Kim-Anh T. Nguyen, M.D., Ph.D. – President
President & Chief Executive Officer
Blood Bank of Hawaii

Jason C. Chang – Vice President
Executive Vice President & Chief Operating Officer, The Queen's Health Systems
President, The Queen's Medical Center

Timothy R. Cottrell, Ph.D. – Vice President
Head of School
'Iolani School

Avi Mannis – Vice President
Senior Vice President of Marketing
Hawaiian Airlines

Community Volunteers
Every day, BBH volunteers play a critical role in supplying blood for patients who need it and providing support in a variety of ways.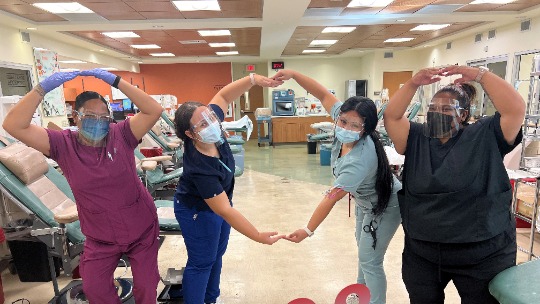 BBH in the 808 state.
As a volunteer, you could:
Monitor donors after they have given blood.
Provide administrative and clerical support.
Help with special projects.
Call donors to confirm their blood donation appointment.
Host the donor refreshment area.
If you see other opportunities to help, just ask.
You can work on a schedule that fits your needs in a fun, friendly environment with caring staff members. To learn more or to sign up, visit bbh.org. Download the Volunteer Application form and submit it to volunteer@bbh.org. You can make an impact in the lives of Hawaii's patients.
Donors Needed!
Every day, 150 to 200 donors are needed to roll up their sleeve and give blood. All blood types are needed to make successful matches with blood recipients. In fact, Hawaii's diverse population makes for ideal donors who can make a big difference with just a little time – usually about one hour.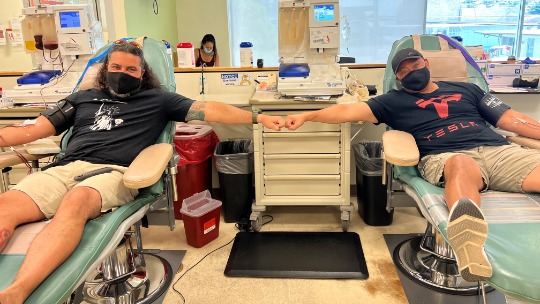 Bring a friend to make donating blood fun!
Donating blood is simple and easy. When you get to the donation site, you'll complete a questionnaire and have a mini health pre-check, including blood pressure and hemoglobin level. The actual donation takes just a few minutes and when that's done, it's time to enjoy juice and snacks. Learn more about becoming a donor.
Ready to make a life-saving difference? Call 808-848-4770 or visit www.bbh.org to make an appointment online.
Photos courtesy of Blood Bank Hawaii.