Anna Koethe had one goal heading into the Waikiki Roughwater Swim: "I just wanted to finish!" says Koethe, HMSA director of strategic communications.
Koethe, a paddler and marathoner, can now check "swimming in an open water race" off her bucket list. She completed the nearly 2.4-mile swim in just 1 hour and 47 minutes.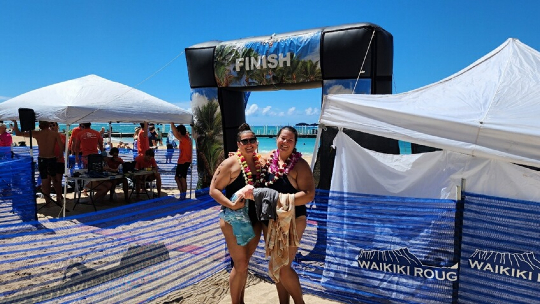 Koethe (left) and her sister at the finish line.
Mermaid beginning
Koethe has always loved being in the water. She was 3 years old when she declared she was a mermaid, took off her life vest, snuck out of the kiddie splash zone, and hopped straight into the deep end of the adult pool.
"I slowly sank to the bottom and I vividly remember thinking, 'This is fine,'" Koethe recalls. "My dad dove in and grabbed me. I was more worried that his sunglasses and hat came off."
Her parents put her in swimming lessons, where she flourished. Being in the water felt natural to her.
"The water is where I'm comfortable," says Koethe. "There's a certain sense of comfort, clarity, and peace."
She grew up swimming in swim clubs and then competitively on her high school swim team. Her first job out of high school was teaching kids to swim at Leahi Swim School. But Koethe wanted to branch out of the pool and challenge herself. So she signed up for this year's Waikiki Roughwater Swim.
Open water race
The race isn't for novice swimmers. The course starts on Sans Souci Beach, goes out into the Kapua Channel, across Waikiki, and then into the Hilton Hawaiian Village Hotel Channel to finish.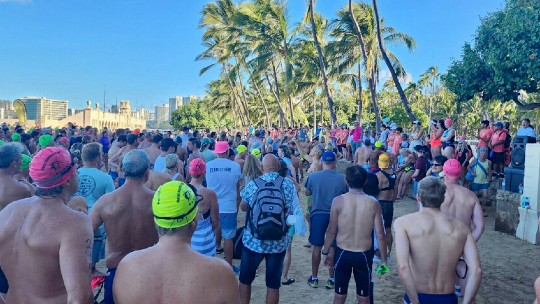 The crowd of swimmers and spectators on race day.
Koethe spent months training alongside her sister, who also participated in the race. They practiced swimming for hours at Ala Moana Beach Park, based on a regimen that Koethe created.
"When we started training, we had to take breaks at each buoy," says Koethe. "But we kept going. We did our homework, put in the training time, and got our water hours in."
The sisters also participated in the Roughwater Swim Clinics, where instructors gave them tips on ocean swimming and race techniques.
"All I ever had to worry about before was the black line on the bottom of a pool. You're in a controlled environment and there aren't many outside factors," explains Koethe. "But when you're in the ocean, you deal with surf, tide, currents, critters, and other people. I was nervous since conditions can go any which way."
Koethe leaned on the wisdom of her many swimming and paddling coaches and mentors, who taught her about the water, how to read waves and sets, and the importance of respecting the ocean.
"The ocean doesn't discriminate. You never know what the surf will do," says Koethe. "But we were lucky on race day. The conditions were beautiful. It was a little bumpy, but you could almost always see the next checkpoint and the course was well-marked."
The game plan
On the morning of Sept. 4, Koethe was nervous, but felt comforted with her sister beside her. They took a buddy system approach at the start of the race since it can be intense; hundreds of swimmers enter the ocean at the same time and swim in the same direction.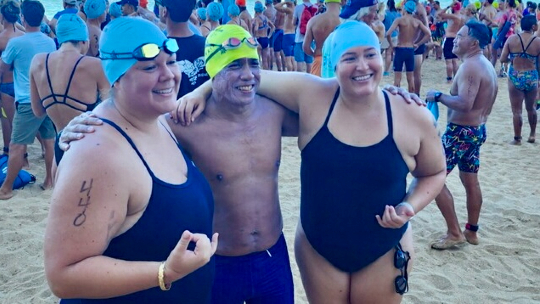 Koethe (far right) with her sister and friend getting ready to swim.
"There was no way to avoid getting kicked in the face or elbowed," says Koethe. "You have to just go with it and be OK with many people in your space."
Things changed after turning at the first buoy. Koethe got into a rhythm and settled in, taking in some unique sights as she took breaths between strokes.
"We saw manta rays from a distance and you have a beautiful view of the coastline," says Koethe.
While she swam along the buoys, she had a running playlist going in her head. It's part of her routine: start with some songs by Maoli, sprinkle in a few country tunes, and finish strong with "Seven Nation Army" by The White Stripes.
"That's my hype song!" Koethe says. "It has been since middle school and that's what I always end with because I need it."
She played it in her head during the race's last leg, which was the most challenging since Kaiser's surf break was surging.
"At one point, I felt like I was going backward," says Koethe. "Psychologically, you've been moving forward and suddenly you're not. That was a struggle. But I kept my eyes on my sister and knew we were safe. I just put my head down, stayed calm, and kept swimming."
Koethe and her sister emerged from the water at the same time and then, arm-in-arm, crossed the finish line together. As they greeted their wide support system of family and friends, Koethe felt a rush of excitement that she completed her main goal along with a bonus.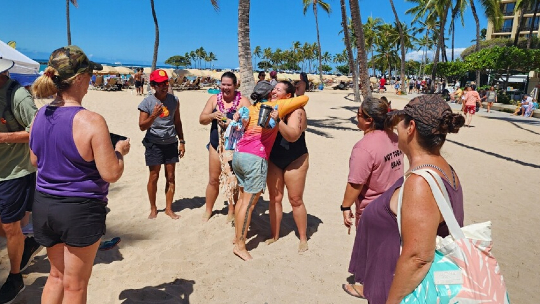 Koethe receiving congratulatory hugs from her friends and family.
"I wasn't in pain!" says Koethe. "I wasn't exhausted and I didn't have any injuries. I'm so grateful that I'm healthy enough and my body let me cross the finish line. I felt good and my body felt good. And to have done this together with my partner-in-crime-best-friend-sister just made it that much more special and meaningful."
Just keep swimming
Before the race, Koethe thought her swimming journey was over. But she's now looking forward to next year's Roughwater Swim.
"It's a unique undertaking and I loved it. I can't wait to do it next year and train harder and improve," says Koethe. "You just can't beat being out in the open water."
Photos courtesy Anna Koethe