It's like magic. As soon as you turn the calendar past September and come face-to-face with October, pumpkins pop up. In supermarkets, on farms, on TV, and in drugstores (plastic ones).
Pumpkins. Jack-o-Lanterns. Halloween. Thanksgiving. Pie. That's how my brain works.
If you want the flavor of pumpkin pie but don't want all of its calories, try Pumpkin Fluff.
I got the recipe for Pumpkin Fluff when I was in Weight Watchers. I think we may have called it "Pumpkin Whip." Made with sugar-free pudding mix and fat-free frozen whipped topping, one serving of Pumpkin Fluff gave you a fraction of the calories (or PointsPlus, as WWers would say) in a slice of pie. For WW members, Pumpkin Fluff was a godsend.
When I googled it recently, however, I was surprised that people were calling it a dip. "Serve it with gingersnaps, vanilla wafers, or cinnamon graham crackers," suggested one recipe.
Whoa. In WW, we never, ever considered those added-calorie options. I didn't specify those "free" items in this recipe, however, because it's up to you – fat-free, low-fat, or full-fat and no sugar or artificial sugar.
Actually, I'm thinking about how I could use Pumpkin Fluff to create an enticing dessert. What if I put a generous dollop between two thin oatmeal cookies and froze it? What about some sort of trifle? Any ideas? I'm open to suggestions!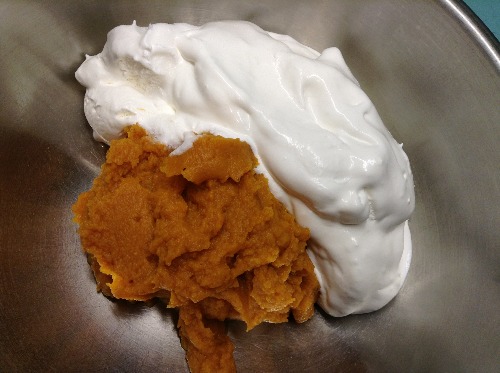 Here's the pumpkin and whipped topping. Make sure you use "solid pack" pumpkin and not "pumpkin pie mix." The latter has sugar and spices already in it. We don't want that.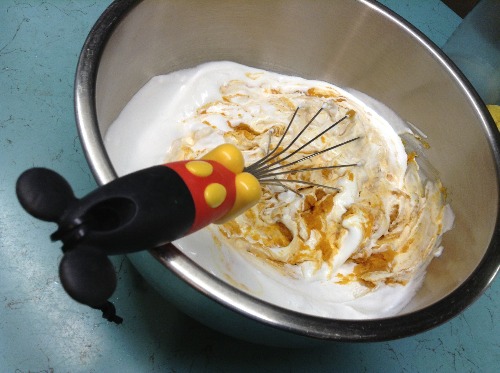 Mix pumpkin and whipped topping until well blended. I used a whisk, but a rubber spatula came in handy to reach the unmixed pumpkin at the bottom of the bowl.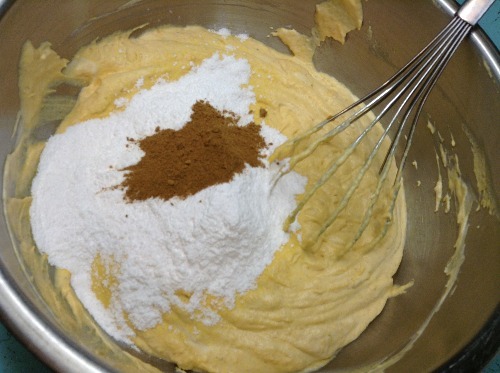 Add dry pudding mix (I used French vanilla) and pumpkin pie spice. Pumpkin pie spice is a blend of cinnamon, ginger, nutmeg, cloves, and maybe allspice. The blend is a good investment if you don't have the four or five spices on hand.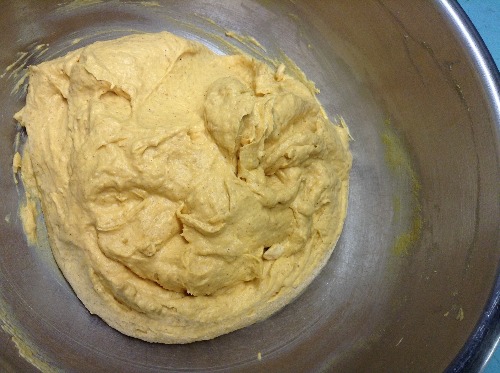 Mix well. It comes together quickly.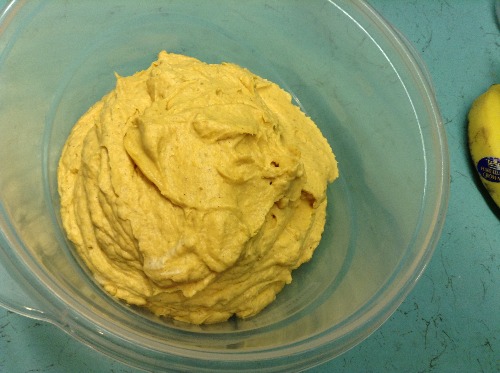 I transferred the fluff to a plastic container with a lid because it takes up less room in the fridge than the mixing bowl. Chill until chilled through and through. You can chill, too.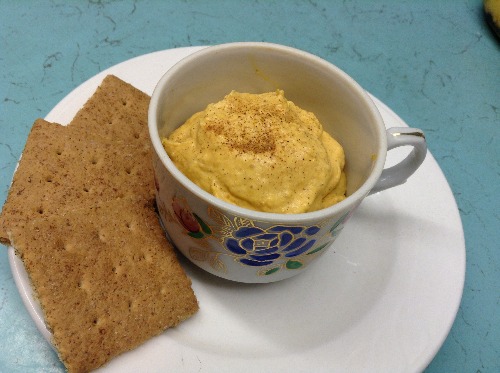 Serve it up. Preferably in a pretty stemmed dessert glass, not a pretty old teacup. The fluff doesn't get much firmer or thicker when chilled. It just gets … cold.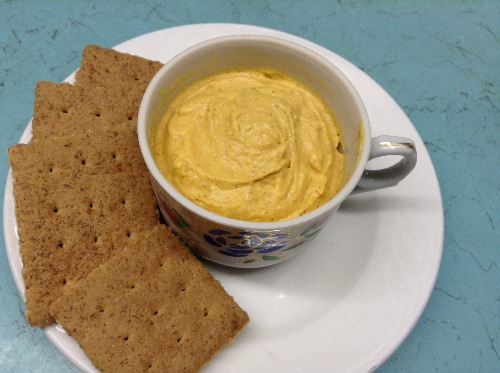 Add two more crackers, if you like.
Pumpkin Fluff
15 oz. can solid pack pumpkin
8 oz. container frozen whipped topping, thawed
3 1/2 oz. instant pudding mix – vanilla, French vanilla, butterscotch, cheesecake, or white chocolate
1 tsp. pumpkin pie spice
In a medium bowl, combine pumpkin and whipped topping. Stir in pudding mix and pumpkin pie spice. Cover and refrigerate at least 2 hours. Makes 6 servings.