Maui resident Relle Lum is using both her medical and cooking expertise to help with relief efforts.
Like many people, Lum was heartbroken to see the devastation and loss of life in west Maui. "I just want to make a difference," she says.
So Lum started volunteering at Hale Makua senior center in Kahului and walked door-to-door in west Maui to deliver meals to fire survivors. "A lot of the older and immigrant population don't like to ask for help. A lot of the aunties would say, 'I'm fine. I've just been eating bread for the past few days.' They don't want to be a burden."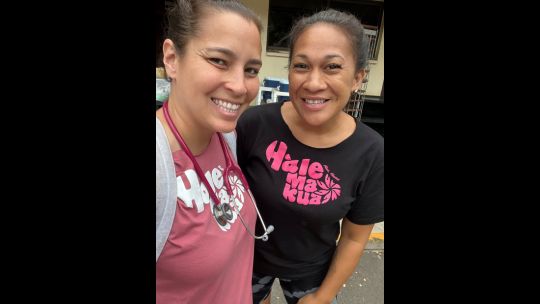 Lum (left) volunteering with Teana Kahoohanohano at Hale Makua.
Double duty
After working her full-time job as a nurse practitioner at Maui Medical Group, she volunteers at the evacuation shelters to treat survivors. "Since they lost everything, we got them medication refills," she says. "We also treated them for wounds and asthma from smoke inhalation."
Lum also uses her cooking skills to feed displaced residents. The home cook runs a food blog Keeping it Relle. Earlier this year, she was a contestant on The Great American Recipe on PBS. She joined the grassroots nonprofit organization Chef Hui, which is partnering with the University of Hawaii Maui College Culinary Arts Program to cook thousands of meals.
"It's a lot of prep work, chopping hundreds of carrots, onions, and tomatoes. I'm used to cooking with a little pot on the stove for my husband and two kids. We're filling huge stock pots to the brim with stew," she says.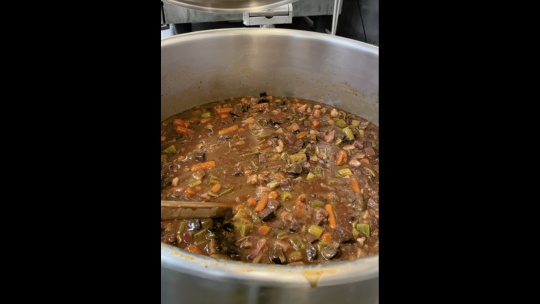 Making a large pot of stew at Chef Hui.
Local chefs cook local comfort
The Chef Hui includes dozens of volunteer cooks and chefs on the Valley Isle, including Perry Bateman of Mama's Fish House and Sheldon Simeon of Tiffany's. They cook local comfort foods like lau lau, chili, stew, and breakfast bentos.
"It's been a learning experience cooking on such a large scale and figuring out what to cook using ingredients that are being donated from all over the island," says Lum. "It inspires me when I'm at home to figure out how to use what's in my pantry and refrigerator to whip up a meal for my family."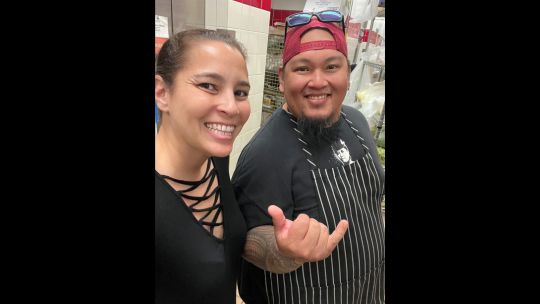 Lum with Chef Alvin Savella of Duckine with the Chef Hui.
Spreading aloha
Although Lum's upcountry Maui neighborhood was engulfed in smoke, she's thankful that her house was spared from damage. Some of her friends lost their homes. Despite the tragedy, she finds comfort in the outpouring of aloha. "It's awesome to see the support from Maui, all of Hawaii, and the rest of the world, whether they're volunteering their time or donating money. There's a lot of good coming out of such a tragic experience."
One of the biggest challenges has been balancing her day job as a nurse with taking care of her family and volunteering at night and on weekends. She hopes that other volunteers won't lose sight of self-care. "You can only pour from a full cup," she says. "It's what I tell my patients. You have to take care of you and your family before you can take care of others."
Lum says a lot of people want to help but don't know how. She knows that sharing any skills and talents can go a long way to comfort those who lost loved ones and property. "If you play music, go and sing. Music is healing," she says.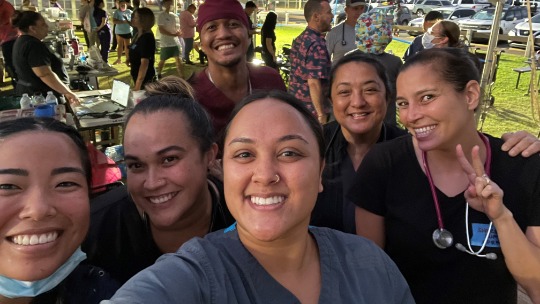 Lum (right) with fellow Maui Medical staff volunteering at War Memorial shelter.
Maui strong
The road to recovery will be long. But Lum believes the Maui community will endure. "Jobs, food, and housing are the most immediate needs. People will be struggling for a while. Like they say. It's not a race. This is a marathon," she says.
But Lum believes Maui will bounce back better than ever.
"Lahaina is a strong, proud, tight-knit community," she says. "Will it be the same as it was before? No, probably not. But the hope is that they can rebuild and flourish in what was a beautiful, historical place."
Photos courtesy Relle Lum