Imagine this: it's been a long day at school. You're tired after taking tests, reading aloud, and answering complicated questions. You drag yourself up the front steps of your home. And once you open the door, the sweet aroma of freshly baked chocolate chip cookies hits you.
It's a scent and taste that can transport you back in time. Celebrate National Chocolate Chip Cookie Day with this gooey, warm, chewy, and chocolatey treat with a healthy twist.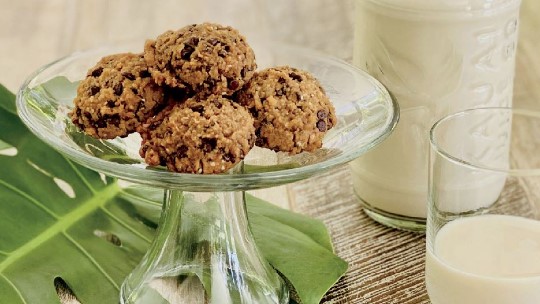 Eat Pono's chickpea chocolate chip cookies.
This recipe features the dynamic duo of chickpeas and chocolate.
Chickpeas are a good source of fiber and protein. They've been used as a plant-based alternative to animal protein for centuries. Chickpeas have almost 40 grams of protein per cup, which can help keep you satiated.
Chocolate was once touted as the "drink of gods" by the Mayans. It's a source of antioxidants and contains many minerals that protect your cells from inflammation. Studies have shown that dark chocolate can also improve brain function and boost immunity and cardiovascular health.
At Eat Pono, we focus on the principles of sourcing locally, eating nutritiously, and living sustainably. In our cookbook, we've combined these two ingredients in our Chickpea Chocolate Chip Cookies, which is one of Poet's favorite after-school treats. If you're looking to increase your protein intake, these cookies are an irresistible, guilt-free dessert and perfect for a pre- or post-workout snack.
Eat Pono's Chickpea Chocolate Chip Cookies
Ingredients

1 can organic chickpeas, drained and rinsed
1/2 cup peanut butter
1/3 cup maple syrup
2 tsp. vanilla extract
1/2 tsp. baking soda
1/2 cup mini dark chocolate chips or chocolate chunks (no sugar added)
Instructions
Preheat oven to 350 F and line a baking sheet with parchment paper. Mix all ingredients, except the chocolate chips, in a high-speed blender until combined. Pour mixture into bowl and mix in the chocolate chips.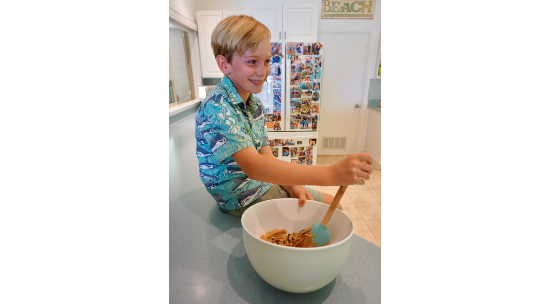 Poet helping out in the kitchen and mixing in the chocolate chips. Photo courtesy Tara Young
Use a small scoop to place evenly sized dough balls on the parchment. Bake 20 minutes, then enjoy with a cold glass of unsweetened almond milk.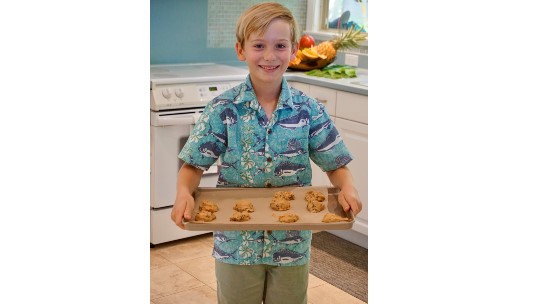 Time to enjoy! Photo courtesy Tara Young
This recipe is Blue Zones Project®approved. Blue Zones Project® is a well-being initiative that encourages change in our community that leads to healthier choices. These changes include improving well-being through policy, building design, and social networks. It all contributes to benefits for everyone including lowered healthcare costs, improved productivity, and a higher quality of life.
Blue Zones Project® is a trademark of Blue Zones LLC and Sharecare Inc. All rights reserved.
Food Story Activity
After you've eaten the chickpea chocolate chip cookies, maybe you'd like to relax with this food story activity.
Food is a universal language. Much like music and love, food connects us with one another and allows us to develop bonds between friends, family, and loved ones. We can learn so much about a culture, a family and even ourselves by sharing our food preferences, our local farming and harvesting practices, as well as our beloved recipes and traditions.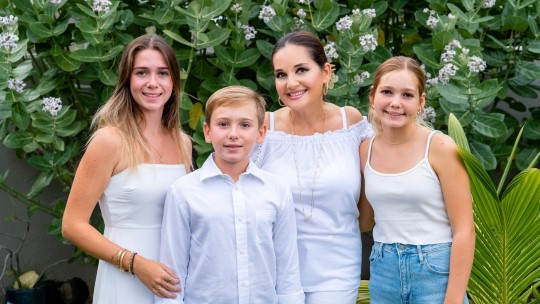 Grandma Nora with her grandkids. Photo courtesy Chrissy Lambert
Growing, preparing, and eating together provides the foundation to sharing cultural traditions, deepening relationships, and nourishing each other. It's important to support our children to help them develop a healthy relationship with food. That means modeling healthy food habits that encourage curiosity, broadening our palate, and encouraging questions about where our food comes from and how it's prepared and disposed of.
This Eat Pono activity will help kids connect with their food story or that of someone they love.
ACTIVITY
Begin by choosing someone to interview – a friend, kupuna, or aunty or uncle. If you have a family member who lives in another country, set up a time to interview them virtually. You'll be surprised at how much you learn. This activity is meant as a cultural and generational exchange so you'll be answering questions along with your interviewee. Begin your interview with both of you answering the following questions:
My name is (name). I am (age) years old. Today is (date), and I'm speaking with (partner's name), who is my (relationship). I am recording this interview in (place, city, state; e.g., "my home in Honolulu, Hawaii").
INSTRUCTIONS
Step 1: Find an adult to interview.
Step 2: Set a time and a quiet place to conduct the interview.
Step 3: Conduct your interview using the following questions as a guide. Feel free to make up your own questions.
Step 4: Write down your answers and prepare your recipe card.
Step 5: Reflect. Share your findings with your family. What did you learn? How did the stories make you feel?
Step 6: Make the recipe and share it with your family to keep your traditions alive!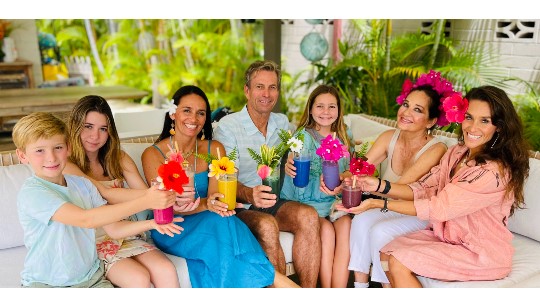 The Gentry family connecting over their food story. Photo courtesy Chrissy Lambert
Interview Question Suggestions

Can you tell me about some of your favorite foods?
When you were growing up, what kind of food did you like? Did you have a favorite meal? How have your food habits changed as an adult?
Were you raised eating dinner together as a family?
How did you learn to cook? Who taught you?
What's the best meal you've ever eaten? What was it? Where was it? Who was there? What made it the best?
Are there any foods you used to dislike, but now enjoy eating? When did your tastes change?
Do you have an herb garden or raised bed garden at home? Do you or have you ever grown your own fruits and vegetables? If so, which ones?
Does anyone in your family fish, hunt, or gather foods that you eat?
Do you know how to cook or bake?
Who is the best cook in your family? Can you recall a special recipe that they make?
Do you know of a food tradition that's important in your culture or your community?
What's your favorite food memory with someone you love?
Who does the food shopping in your house and where are all the places your family shops? Grocery store, farmer's market?
What culture does your family most identify with (e.g., Japanese, Chinese, Hispanic, Indian)? How has that cultural connection influenced the foods you eat?
Can you please share a family recipe? I'd like to prepare a recipe card to preserve our family legacy.
CREATE A RECIPE CARD TO PRESERVE A FAMILY RECIPE
Guidelines for the Recipe Card
Recipe:
From the kitchen of:
Prep time:
Cook time:
Number of servings:
Ingredients:
Directions:
For a free downloadable recipe card and to see more activities, visit their activities page.

Candes and Poet Gentry are the mother son duo who have ignited the Eat Pono community conversation, encouraging ohana of all ages to source local, eat nutritiously, and live sustainably. Join the movement: @eatpono | eatpono.org | The Hawaii Community Foundation Eat Pono Fund