Mail ordering items is not only convenient, it also helps us to stay safe during the pandemic. But what should you do when the cardboard boxes start piling up? Turn a boring box into a new, fun home for your pet in less than five minutes. Recycling boxes is good for the environment and keeping creative is good for your mental health.
Supplies
Cardboard box
Ruler
Marker
Scissors
Packing tape (or any heavy-duty tape)
Instructions
Stand the box up so it's as tall as possible.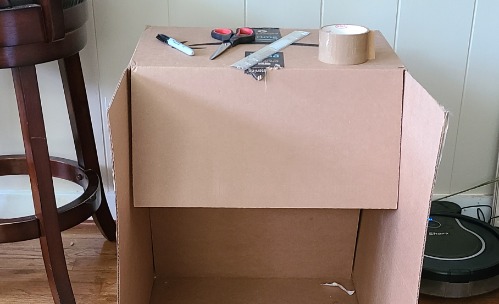 On one of the long flaps of the box, measure approximately 4 inches from the top of the flap and mark it.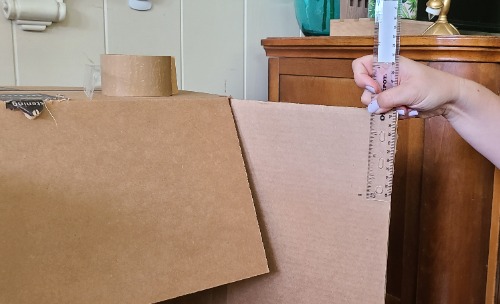 Use the ruler to draw a line from the inside top flap (where the box and flap meet) to the mark you made 4 inches down. Carefully cut the flap on the line. Do the same for the other flap.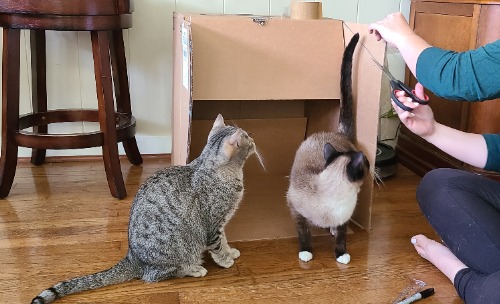 Tape the top flap to the side flaps to create the roof. For additional fun, add embellishments to the house such as flowers. Your pet will appreciate it!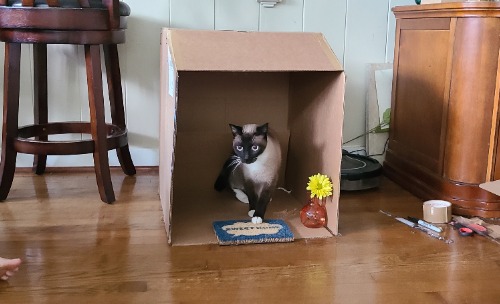 More DIY
If you'd like more creative ways to recycle cardboard boxes, look no further! Here are some easy, inexpensive, and fun ideas:
Art easel – For the artist in all of us.
Display cabinet – You won't believe how nice it looks!
DIY storage solutions – You don't need to spend money on plastic storage bins anymore.
Cat scratcher – Save your furniture and keep your feline occupied.
Mini foosball table – Fun for the whole family.
Playhouse for kids – Keep it simple or make it fancy, it's up to you!
Shoe storage rack – Show off your shoes while keeping them nice and organized.
Skee Ball game – Make and play this classic carnival game in the comfort of your own home.
If you make any of these crafts, please share a picture with us. We love seeing your creativity.