One of the few bright spots of sheltering in place is the time we get to spend with our pets. "Your pet can provide more comfort than you ever know even though you're by yourself," says Suzy Tam, Manager of Community Outreach & Partnerships at Hawaiian Humane Society. "They can be one source of comfort for you. And if you need help feeding your pet, we're here for you."
Pet Food Bank
Difficult economic times mean some pet owners are having to choose between feeding their pets and themselves. Hawaiian Humane's Pet Food Bank has been helping owners feed their fur families for 10 years. "Our program is there to try to ease that burden on people," says Tam. "We give out anywhere from 1,000 to 1,500 pounds a month, so we service quite a number of people here on the island and it really seems to help people get by and be able to hang onto their pets." This April, Pet Food Bank has distributed 7,000 pounds of food to pet owners in need.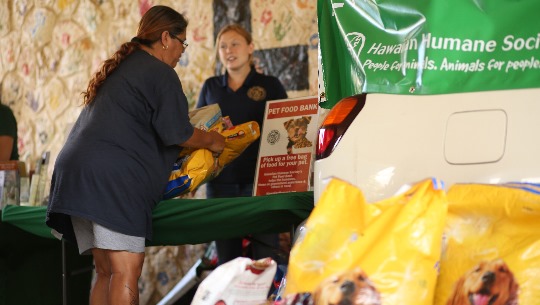 To keep staff and community members safe, they've moved the Pet Food Bank near their Admissions Center with a restricted schedule. Tam says the change of location has put them in a position to intervene when pet owners arrive at Admissions to surrender their pets. "People aren't able to feed their pet, so we've been able to offer them food and they've been able to keep their pets," she says.
In addition to their new location, Hawaiian Humane has temporarily done away with their application process. "We know a lot of people have lost their jobs, their hours may have been cut, maybe their businesses aren't doing well because they don't have customers, so we're trying to help as many people as we can get through this pandemic," says Tam. Right now, they're handing over pet food to anyone in need. All they ask is the owner's name, the number of pets, and the type of animal(s).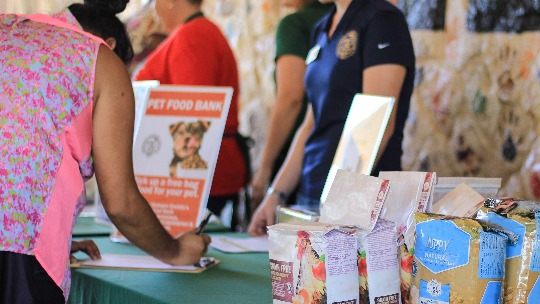 Need pet food? Visit the Pet Food Bank Tuesday and Friday between 10 a.m. and 2 p.m. If you're an agency in need of food for distribution, email outreach@hawaiianhumane.org.
Virtual pet loss support
In addition to providing pet food, Hawaiian Humane knows the importance of support in times of loss. That's why they've moved their Pet Loss Support Group online. "Losing your pet while you're in isolation is even more difficult than a typical time because you can't get away from the place your pet lived," says Tam. "You can't go out to get comfort from your friends and family."
Join the virtual support group May 5, from 6:30 – 7:30 p.m. Email outreach@hawaiianhumane.org for a link to this private event.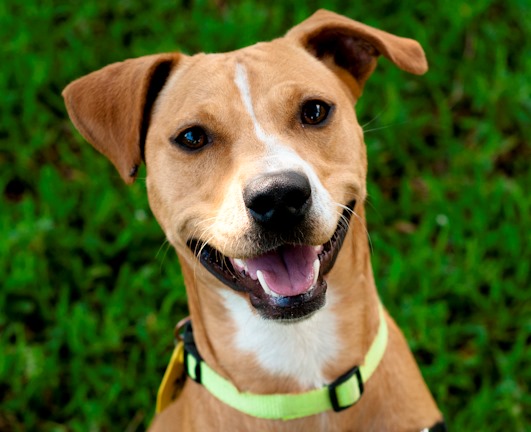 e-Learning for animal heroes
HHS is also working to keep students busy while they shelter in place. They're making their classroom presentations, which focus on animal welfare and responsible pet ownership, available online. Hawaiian Humane educators will host a live Q&A so students can ask questions that come up during the presentation.
Email education@hawaiianhumane.org for more information on virtual presentations.