While the COVID-19 pandemic put many aspects of life on pause, there's no time to wait when a newborn arrives. Despite the challenges of the past 20 months, Kapi'olani Medical Center for Women & Children has not faltered in its role of serving Hawaii's families.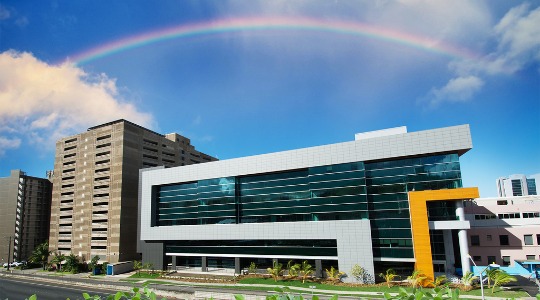 Kapiolani Medical Center for Women and Children (photo credit: courtesy Hawai'i Pacific Health)
Since the beginning of the pandemic in March 2020 through today, Kapi'olani has delivered nearly 10,000 healthy babies. Hawai'i Pacific Health, the health care system that includes Kapi'olani, credits these healthy arrivals to its commitment to high-quality, scientifically driven care.
In this current environment, it's not unusual for expecting parents to be anxious. After all, the decisions they make will affect more than just themselves. Thanks to guidance from theCenters for Disease Control and Prevention, Hawaii parents-to-be can expect to have healthy and safe pregnancies by following some simple recommendations:
Get your vaccine. COVID-19 vaccination is recommended for people who are pregnant, nursing, trying to get pregnant now, or might become pregnant in the future.
Get a booster. The CDC says pregnant people may receive a COVID-19 vaccine booster shot.
Be careful about who you come into contact with. During pregnancy, friends and family want to throw you baby showers and visit to offer their congratulations. Consider having an outdoor or drive by celebration, limiting the number of guests, or maybe asking only vaccinated people to attend.
Protect yourself. Continue to wear a mask, wash your hands often, and social distance.
At Kapiolani, a number of changes were made to address the specialized care needs of COVID-positive patients who give birth and their babies.
Early in the pandemic, the Centers for Disease Control and Prevention recommended separating COVID-positive patients from their babies after delivery. Kapi'olani's Mother Baby Care Unit created satellite nurseries for newborns of COVID-positive parents because these infants often didn't contract the virus. Meanwhile, parents were placed in their own rooms for treatment and recovery. To address the unique needs of these families, the safety procedures related to testing and personal protective equipment for these two patient areas were constantly updated to help keep parents, babies, and staff safe at all times.
Unfortunately, the need to separate COVID-positive parents from their newborns made it difficult for them to nurse and bond. Kapi'olani quickly created a process for those who are nursing to express their milk so the staff can feed the newborns. Our team also adjusted our staffing to support these parents with more focused care with a smaller nurse-to-patient ratio.
Once the CDC guidelines were changed and parents and babies could room together, we observed that the bonding and nursing improved as expected. Satellite nurseries that were no longer used to keep parents and babies separated became a special recovery and procedure space for babies who couldn't be in the regular nursery.
These customized care plans reflect Kapi'olani's overall services that also offer physicians (neonatologists and pediatricians) specializing in newborn care on site 24-hours a day. No one can predict when a baby will be born. At Kapi'olani, physicians are already here to provide babies with immediate care to ensure that pregnancy remains a time of great joy despite the pandemic.
Learn more about Kapi'olani's comprehensive maternity and newborn care.
Shilpa Patel, M.D., is the associate chief quality officer for Hawai'i Pacific Health.