While the COVID-19 pandemic presented its own unique challenges, especially for medical professionals, board-certified Hawai'i dermatologist Carla Nip-Sakamoto, M.D., has experienced the pandemic's effects on a personal level as well. Prior to the pandemic and four months before the state lockdown, Dr. Nip-Sakamoto and her family made the difficult decision to move her mother, Maria Nip, now 97, into an assisted-living senior community in Honolulu.
"I hadn't hugged my mom or held her hand for almost a year," Dr. Nip-Sakamoto says. "I never imagined my mom would be so isolated in her golden years. I sometimes wonder if I should have followed my early plan to move her in with my family. She missed the marriage of my son in February because of the COVID-19 threat. I'm so grateful for her long life and I'm blessed by our spiritual closeness. However, I hoped things would have played out differently."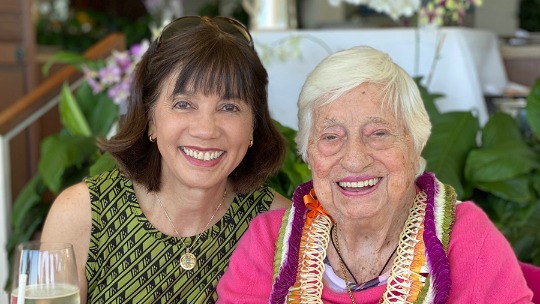 Dr. Nip-Sakamoto and her mother enjoying a pre-pandemic outing.
Before moving Maria to assisted living, Dr. Nip-Sakamoto and her husband, Rick, thought about moving Maria into their renovated home in East Honolulu with ADA-compliant living spaces. "This was always my desire, to take care of her just as she took care of me," Dr. Nip-Sakamoto says.
However, with her mother's increasing needs, which required in-home assistance, Dr. Nip-Sakamoto knew that this wasn't a feasible choice because of her and her husband's long work hours. They looked at senior living options knowing that socialization, physical and mental activity, and 24/7 safeguards were necessary.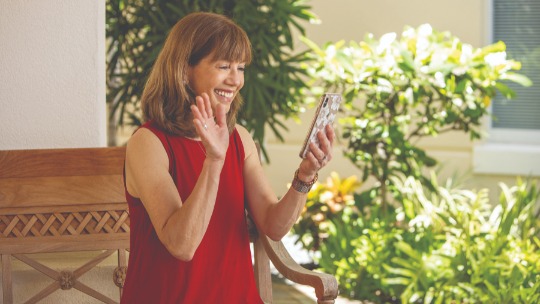 During the earlier stages of the pandemic, interaction was limited to FaceTime calls and masked visits with no physical contact.
"Before the pandemic, my mom engaged in daily group exercises, interactive games, lectures about world cultures, and weekly dinners or outings with me and my husband," Dr. Nip-Sakamoto says. "I visited her at her residence three times a week for hours at a time. We had meals together, talked about the kids, looked at old pictures, and had the blessing of time to be together."
Then the pandemic hit and the closeness that Dr. Nip-Sakamoto had cherished changed dramatically. Activities in Maria's senior community had been sharply curtailed; residents were limited in their movement and socialization to decrease the risk of spreading COVID-19. No outings, except to the doctor, were allowed. No visitors were allowed in the apartments. And group dining was canceled.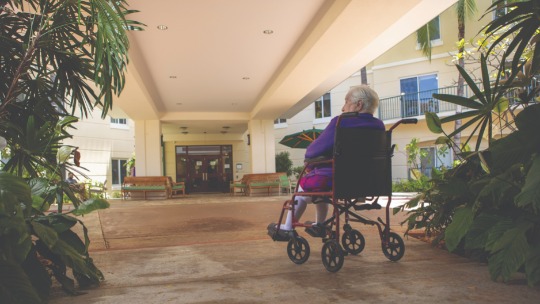 The transition was extremely hard for both of them. "My mom is my guardian angel. She was trying to be positive, always saying she's OK. But, I saw the strain in her eyes and the loneliness hidden behind her struggling smile. She slept a lot more because there was less to do," Dr. Nip-Sakamoto says.
Yet, Dr. Nip-Sakamoto still found hope despite the circumstances. "We celebrated her birthday in November. We had a window party with balloons, cake, and a few family and staff well-wishers. My mom smiled and was beaming when we sang to her," Dr. Nip-Sakamoto recalls.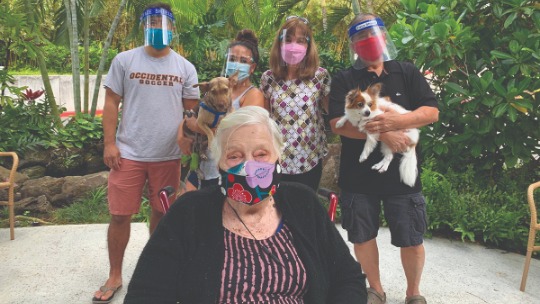 Today, with Dr. Nip-Sakamoto and her mother both vaccinated against COVID-19, there's promise for a bright future.
Dr. Nip-Sakamoto's visits with her mother now consist of three in-person visits a week, each lasting 45 minutes. The transition has been uplifting and Dr. Nip-Sakamoto is grateful to have this time to spend with her mother.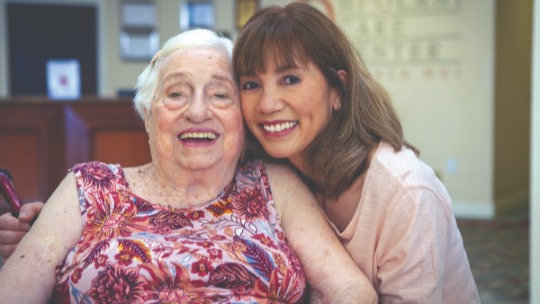 Now that both are vaccinated, Dr. Nip-Sakamoto and her mother can indulge in face-to-face hugs.
"My mom has always had a very positive outlook on life. She wakes up every day, happy to be alive, to watch the colors of the sky and listen to the sound of the rain. She makes the best of any situation. Her life has been defined by resilience."
Dr. Carla Nip-Sakamoto specializes in medical, surgical, and cosmetic dermatology at Oahu Dermatology in Honolulu. She's also a longtime member of HMSA's Board of Directors.
Photos: Romeo Collado