If your holiday meal isn't complete without a beef roast, here's a budget-friendly alternative to rib roast. Tri-tip is flavorful, tender, and doesn't have any gristle or a layer of fat. Best of all, it's usually $10 less per pound than a rib roast.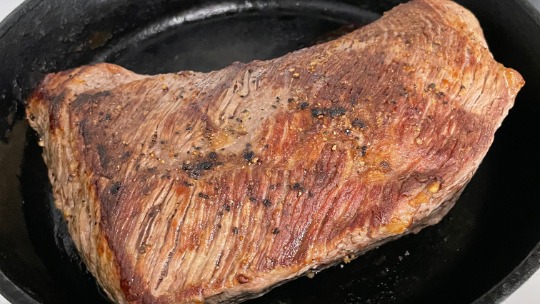 Beautifully browned on one side and ready for the oven.
Ingredients
2 lb. tri-tip roast
Montreal steak seasoning, garlic or alae salt, or salt-free seasoning
Instructions
Remove roast from refrigerator and let rest at room temperature 30 minutes.
Preheat oven to 425 F. Season roast on both sides. Heat a cast iron or other ovenproof skillet on the stovetop over medium-high heat. When drops of water sprinkled in skillet immediately evaporate, place roast in skillet. Sear 4 minutes. Turn roast over and place skillet in oven. Cook 10 minutes per pound for medium doneness. Remove from oven and let stand 10 minutes before carving against the grain.
Pro tip: The grain in a tri-tip roast changes direction, so before cooking, check each part of the roast to see the direction of the "grain" — the long strands of muscle fiber. After cooking and letting it rest, slice the roast in two where the fibers change direction. Carve each piece separately against the grain.