When HMSA Senior Manager Michelle Stefanov went in for a routine mammogram, she didn't think the results would be out of the ordinary. Cancer didn't run in her immediate family and she was only 43. However, the mammogram detected something unusual. That led to a diagnosis of stage 2 breast cancer.
According to the Hawaii Tumor Registry, breast cancer is the most common cancer among women in Hawaii. Find out what Stefanov learned on her journey from diagnosis to recovery. And learn about breast cancer risk factors, prevention, and where to find resources from the University of Hawaii Cancer Center Director, Naoto Ueno, M.D., Ph.D.
A shocking diagnosis
"They saw something unusual during my annual mammogram," Stefanov says. "So I had to get an ultrasound and then a biopsy." Though she was uneasy with the follow-up tests, nothing prepared her for the diagnosis. "I was shocked," she says. "And after the initial shock wore off, it wasn't a question of if I'd get better. It was how."
Stefanov credits her care team consisting of her oncologist and nurses with helping her through chemo, a lumpectomy, and 25 sessions of radiation. She was scared yet determined to be strong. "I had to be brave for my son," she says. "He was only four years old at the time. He knew something was going on, but he didn't understand how serious it was."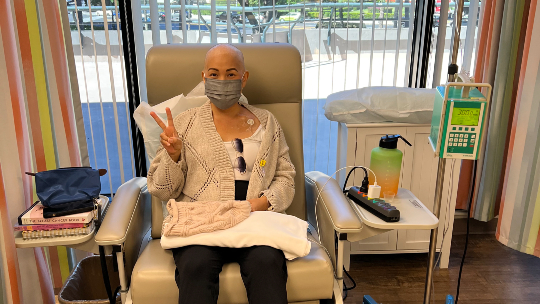 Stefanov receives second round of chemotherapy at Hawaii Cancer Care. Photo courtesy Michelle Stefanov
Tough changes
When chemotherapy caused Stefanov to lose her hair, she was surprised by how sad she felt. "I know it's just hair," she says. "But you really don't appreciate something until it's gone. And it happened so quickly." Once she began pulling clumps of hair out, she knew what she had to do. "My husband, Yovo, played barber and shaved my head. I had to accept that it was just a part of the journey to recovery."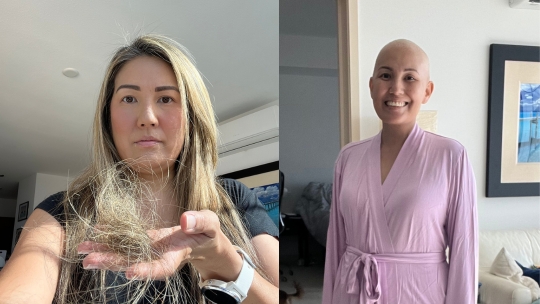 Before and after. Photo courtesy Michelle Stefanov
Stefanov also endured treatment side effects like brain fog, stomach issues, and changing tastebuds. "I always felt a little off," she says. "I was fatigued, everything tasted metallic, and my body ached toward the end of chemo." Her care team recommended staying active even though her body was going through a lot. "I noticed that when I made an effort to go walking, I felt better," Stefanov says. "Things weren't as foggy and I had more energy."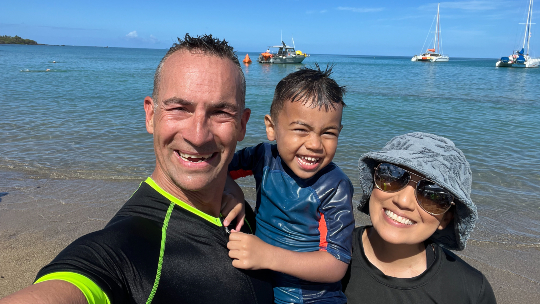 The Stefanov family enjoys some Vitamin Sea. Photo courtesy Michelle Stefanov 
Finding community
One aspect of recovery she'll always be grateful for is the community she found. "It seemed like everyone I talked to knew someone with breast cancer," Stefanov says. "I couldn't believe how common it was. The friends I made through mutual connections were invaluable. It was reassuring to know I wasn't alone."
Stefanov also relied on the love and support of her family and friends. "Yovo took care of the house, our son, Makani, everything, so I could focus on getting better," she says. "And no matter how I was feeling, our son could always make me laugh." When Makani first saw his mother without hair, he said, "Mommy, you look weird." To Stefanov, the situation wasn't sad anymore, it was funny. "Makani was the reason I had to get better," she says.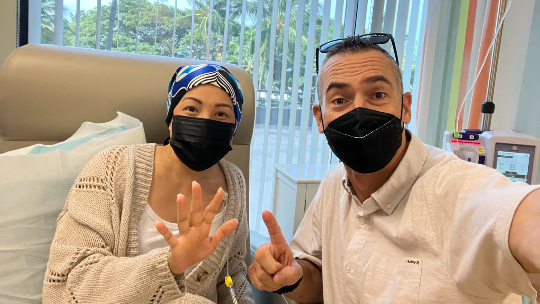 Stefanov and her husband, Yovo, during round six. Photo courtesy Michelle Stefanov
Road to recovery
Throughout her treatment, Stefanov tried to remain positive as she worked with her care team to beat the cancer. She also committed to eating healthy and practicing mindfulness. After her surgery, her doctor had good news. "He told me that the chemo did its job," she says. "Things were looking up."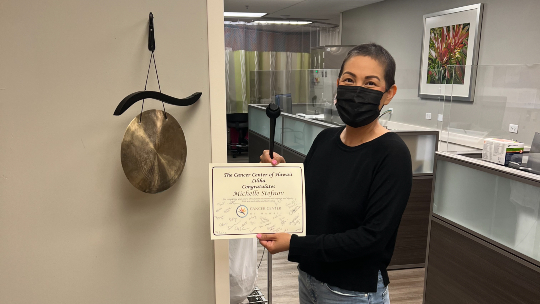 Stefanov with her cancer treatment certificate of completion. Photo courtesy Michelle Stefanov
Today, Stefanov's cancer is in remission. Though it's a reason to celebrate, she wants people to know it could happen to anyone. "Please take care of yourself and get mammograms as recommended by your ob-gyn," Stefanov says. "Getting a mammogram saved my life."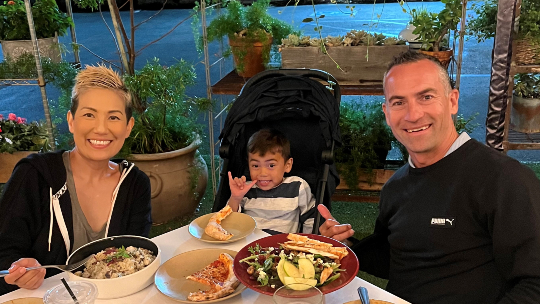 The Stefanovs enjoy a family dinner. Photo courtesy Michelle Stefanov
A meaningful journey
Stefanov shares her breast cancer story and the importance of mammograms.
Q&A with Naoto Ueno, M.D., Ph.D.
Dr. Ueno, an oncologist specializing in breast cancer, is the director of the University of Hawaii Cancer Research Center. "We aim to understand the unique cancer landscape affecting Hawaii," he says. "It's our goal to create impactful diagnostic, preventive, and treatment strategies for our community and patients."
While Dr. Ueno practices for The Queen's Health System and at Kapiolani Medical Center for Women and Children, he's actively involved in developing new treatments through clinical trials and provides highly specialized, expert input for breast cancer treatment. He answered our questions about breast cancer risk factors, prevention, and more.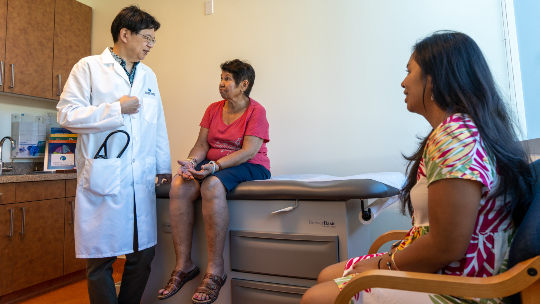 Dr. Ueno meets with a patient. Photo courtesy Jena Funakoshi
What are the risk factors for breast cancer?
Understanding risk factors is critical for prevention and early detection. These risk factors are multifaceted and can be grouped into the following categories:
Genes. A family history of breast cancer, especially among first-degree relatives, significantly increases one's risk. If your parent or sibling had breast cancer, consult your health care provider to determine whether genetic testing is advisable. Knowing your genetic predisposition can guide effective prevention strategies.
Age and gender. Women age 50 and above are more susceptible to breast cancer, though men are not entirely risk-free — they account for about 1% of cases.
Hormones. Hormone replacement therapy or specific birth control methods have been linked to an increased risk.
Lifestyle. Sedentary habits, poor dietary choices, and high alcohol consumption can amplify risk.
Environmental exposures. Exposure to certain chemicals and radiation can elevate the likelihood of developing breast cancer.
Can we prevent breast cancer?
Adopting a healthier lifestyle is key. This includes regular exercise, a nutrient-rich diet, and reduced alcohol intake. Additionally, it's crucial to consult health care professionals for a tailored screening plan. As noted above, certain people should have genetic screening and counseling.
Self-examinations remain essential for early detection, though they shouldn't replace professional screenings. Monthly self-exams may help you become familiar with your breasts, making it easier to recognize subtle changes like redness or swelling, which may not manifest as lumps. It would be helpful to feel the lump but it's more important to know your breasts. If you notice any changes, consult with your primary care provider. Complement this with regular health care checkups.
Mammograms are indispensable for early detection and should be part of a regular health care regimen for women over 40 every other year or earlier for those at higher risk. These scans can identify abnormalities before they're physically noticeable. If you're unclear about your risk for breast cancer, please discuss your concerns with your primary care provider.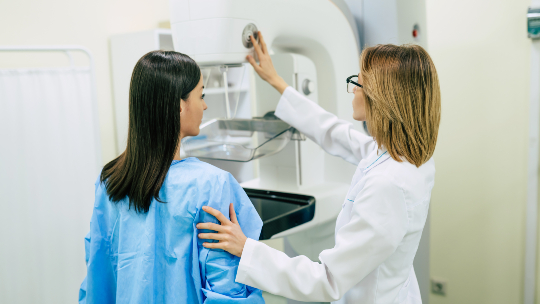 Mammograms save lives.
Where can we find local resources about breast cancer?
All major health care systems in Hawaii offer breast cancer screening and services. Also, the American Cancer Society and the National Cancer Institute offer resources with accurate information.
Additional resources
American Cancer Society Hawaii
Breast Cancer Hawaii
Breast Cancer Research Foundation
Hawaii Cancer Center
Hawaii Department of Health Resources
Hawaii Pacific Health Breast Cancer Support Group
Kokua Mau Cancer Support Groups
Kuakini Health Systems Breast Cancer Screening
Manaolana Pink Paddlers
Susan G. Komen Hawaii
University of Hawaii at Manoa John A. Burns School of Medicine
University of Hawaii Cancer Center