Lia Baltero never thought she'd be living with her parents as an adult. But when she got divorced, her parents suggested she move back to the family home in Kapalama Heights. As a single mother, Baltero thought it made sense.
The house is bigger than the Waikele town house that she was raising her twins in. Her parents take the twins to school and pick them up while Baltero commutes to and from her teaching job at Mililani Middle School.
Beyond the convenience, living together has strengthened family bonds. "It gives my kids quality time with their grandparents, instead of occasional weekend visits," says Baltero. "During the pandemic, we stayed together instead of isolating from each other."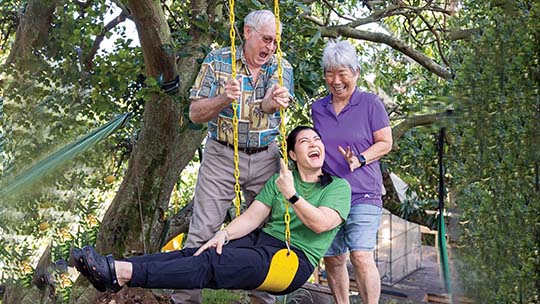 John and Lucy Witeck (back row) with daugther Lia Baltero and grandchildren Skye and Jett (shown in above photo).
In Hawaii, it's not uncommon to see several generations of a family living under one roof. Hawaii's high cost of living is one reason families choose to stay together. They may add a new unit or floor to an existing home to increase living space.
But aside from economics, Hawaii's strong sense of ohana is another reason that keeps them together, spreading love and providing support when needed. Baltero's parents, John and Lucy Witeck, didn't hesitate to ask their daughter to move back home. It brings them closer to their grandkids.
"The kids keep our minds and bodies active," says Lucy. They get to be part of the twins' school functions and activities like hula and choral singing. "We get to see the world through their young eyes. That's special. So much of their imagination carries over to us. It keeps us feeling young."
If there are disagreements, they work at achieving common ground with communication and compromise. "We pretty much share the same values," says Baltero.
"Overall, living together has added a positive, new element to our lives," says Lucy.
Photos courtesy Rae Huo