You've probably heard about Hawaii Community Foundation in the news, online, or from someone you know. They're always up to something good, enriching countless lives in remarkable ways and fostering the spirit of giving. Whether providing resources, partnerships, funds, or advocacy, HCF aims to create a better Hawaii.
Working at HCF is more than a job for Executive Assistant Kawehi Yim and Chief Executive Officer and President Micah Kane; it's a hands-on way to make a difference each and every day.
Strong support
"I love working at HCF because I see the impact that our work is making in the community," Yim says. "From protecting our natural resources to providing funding to help mental health efforts throughout the state, we're able to partner with service providers to meet the needs of our island communities." Yim has been with HCF for 12 years. She currently provides administrative liaison support to the HCF Board of Governors.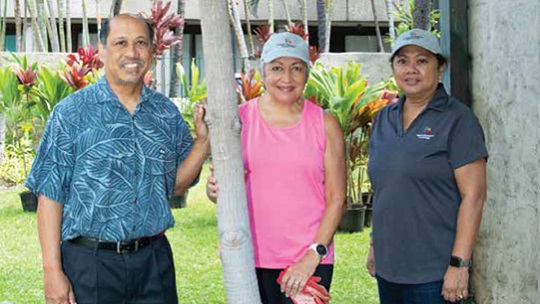 Kawehi Yim (middle) and her HCF colleagues.
Yim appreciates that Kane takes the time to give weekly updates to the staff. "I like hearing how our work is helping to make Hawaii a resilient and thriving place," Yim says. "At the end of the day, I can honestly say that my work is helping my community."
Communication is key
Sharing weekly updates with his staff is important to Kane. "Telling the team how we're directly improving lives is powerful," Kane says. "It helps us keep on track to fulfill our mission of supporting positive change in Hawaii." Whether working with donors and clients to help them give with maximum impact, investing in initiatives, educating other organizations, or helping students and nonprofits find financial support, HCF does it all.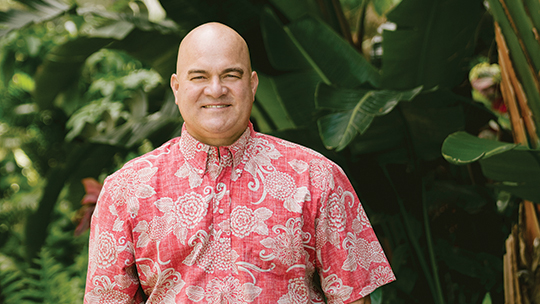 Hawaii Community Foundation CEO and President Micah Kane
Transformative change
HCF makes it easy for employees to give back by providing meaningful volunteer opportunities. "Each month," Yim says, "we're allotted two hours that can be used toward volunteer activities." After every quarterly all-staff meeting, HCF employees participate in a volunteer activity together. Efforts have included community workdays at Kakoo Oiwi, volunteering at Kokua Kalihi Valley, delivering Meals on Wheels, and cleanups at Kaloko Beach, the Institute for Human Services, and Hawaii Nature Center. They also have various drives throughout the year, including collecting school supplies for students in need, household supplies for families facing difficulties, books for kupuna, and food drives for the Hawaii Food Bank. "If everyone gives a little of their time, talent, or treasure," Kane says, "the effect would be transformative."
For more information about Hawaii Community Foundation, visit hawaiicommunityfoundation.org or call (808) 537-6333.