Getting back into shape can feel like a lot of work. It requires a lot of discipline to sleep and wake up earlier, show up and push yourself harder than the day before, and consistently make healthier eating choices.
It's easy to be discouraged and sometimes, many times, I've found myself wanting to quit. It's still a definite work in progress but I've found that incorporating variety can be a great way to spice things up and stay on track.
That's the idea behind Yelp Hawaii's "Yelp Kicks Butt" events, which feature unique workouts in a fun and social environment. (For those who don't use Yelp as their go-to resource before checking out a new restaurant, the site publishes user reviews of almost every business imaginable. They also host social events such as mixers and workouts.)
"We've been doing Yelp Kicks Butt for a few years now and each year more and more people are interested in attending," said Emi Hart, Community Director at Yelp. "These events are a great way for people to experience a new workout that they might not have tried on their own."
On Sunday I joined a group of about 30 Yelpers for Yelp Kicks Butt: City Running Tours, a four-mile guided running experience through urban Honolulu. The tour was led by Yovo Stefanov (pictured below), Honolulu Manager of City Running Tours.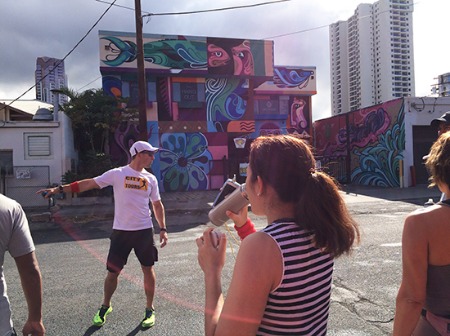 Yovo first experienced a City Running Tour on a New York City business trip and was struck by how great it was to experience the city on foot. He's a fast runner (7 minute-something half-marathon mile pace) but also is the type of person who volunteers to hand out water at the Honolulu Marathon. He doesn't show off his running experience, which is great for leading a group of runners at various fitness levels.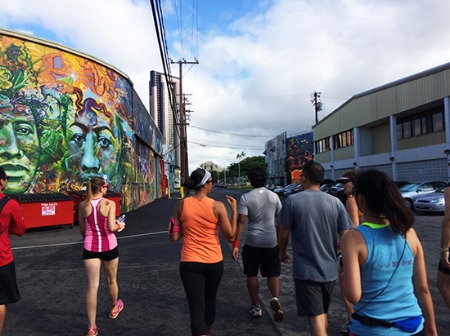 The tour took the group through Kakaako and to sites such as Kawaiahao Church, Iolani Palace, Honolulu Hale, and the observation deck at Aloha Tower. The view from Aloha Tower was gorgeous and many of us didn't even know there was such a thing.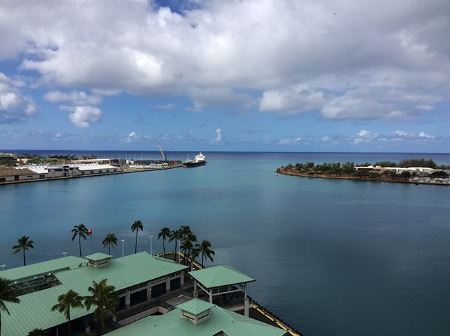 Although we stopped many times, we still broke a sweat and enjoyed working out with others. It could be a great team bonding event or good option for mixing up your workouts. City Running Tours also offers group running tours through Diamond Head and Magic Island, as well as personalized tours.
If the concept sounds cool to you, note that Yelp Hawaii will be launching a full month of fitness events in January 2016. Anybody with a Yelp account can RSVP on Yelp's events page. We'll see you there!