It's nearing sunset at Maunalua Bay. Paddlers of Hui Nalu o Hawai'i canoe club haul their outriggers into the water for a practice run to the buoy offshore. The women's crew takes their assigned positions in the canoe – from the stroker in seat one to the steerswoman in seat six.
The paddlers come from as near as neighboring Hawaii Kai to as far away as Makakilo and Aiea. They have different athletic skills, body shapes, backgrounds, and professions. But in the canoe, they paddle as one.
"We come together to share our love of the ocean and work together to move the canoe," says Rome Stein, a longtime club member. "Because if we don't work together, the boat doesn't move. One canoe, one ocean."
After battling the headwind, the paddlers settle in to find their groove. The canoe glides out to open ocean. They take a short break to enjoy the sun setting on the horizon with Diamond Head to the west and the moon rising in the east above China Walls before paddling back to shore. "Moments like this make paddling worth the effort," says Stein. "We look forward to our times together in the canoe. Lots of aloha for each other."
Founded in 1908 by legendary Hawaiian waterman and Olympic champion Duke Kahanamoku, Hui Nalu ("Club of the Waves") is one of the oldest canoe clubs on Oahu. For many of its mebers – from keiki to kupuna paddling is more than just a sport. Aside from the physical health benefits and thrill of competition, pad­dling is a way to build and con­nect community.
"It's the waa (canoe) vibe," says paddler Emilia Cazin, who joined Hui Nalu after moving to Hawaii from Tahiti. "When you have six people in one small waa, you create a society."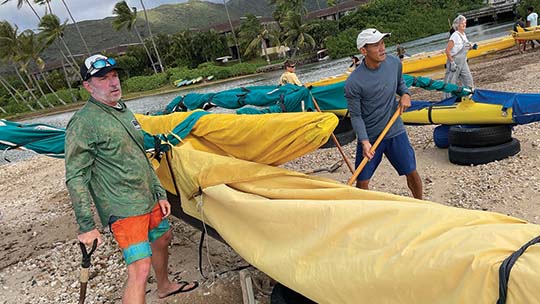 Hui Nalu's beach cleanup day
In addition to their time spent to­gether in the canoe, they get together to clean the park that houses the boats. They rig and re­pair the canoes. During off-season, members get together on weekends for recreational paddling and invite family and friends to participate. After paddling sessions, they have potlucks and talk story.
The club is also involved in commu­nity activities and programs, includ­ing the Kai Iwi Coast Run and Walk fundraiser and Malama Maunalua's ef­forts to restore the bay's ocean life. The club's Malama O pio program teaches a variety of activ­ities to youth during the summer, including paddling, water safety, CPR, weaving, and Makahiki games.
Paddling in open ocean can be dan­gerous during high wind and surf. But Cazin says the bond among fellow paddlers makes her feel safe even during the worst ocean conditions.
"Oh yeah, we huli (flip) sometimes. But we know how to work together to save ourselves and the canoe. We communicate with our movements and effort," she says.
Cazin got her two young daughters involved in the club and they got their friends to join, too. "It's a good bonding experience for families," she says. "It's beautiful to see how pad­dling builds character in children."
For Anuschka Faucci, who moved to Honolulu from Switzerland to attend the University of Hawaii, paddling became a way to integrate into local culture and lifestyle. "People look at me funny when they hear my unfamil­iar name and accent. But when they find out I paddle, we make an instant connection," she says.
Paddling has led her to participate in other ocean opportunities, includ­ing sailing on Hokulea's World Wide Voyage.
"Through paddling, I've met people and have gone to places that I would otherwise not have experienced," she says.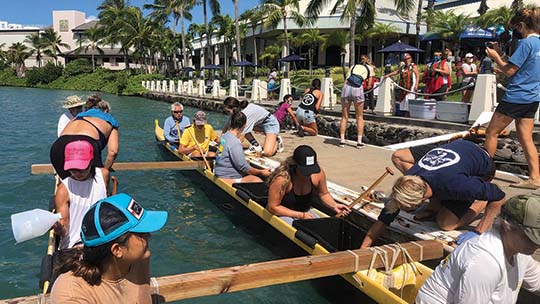 Hui Nalu club members volunteer to restore coral reefs at Maunalua Bay.
PHOTOS COURTESY HUI NAL

Hawaiian Canoe Racing Association
Want more canoeing adventures? Read about a women's 70+ outrigger canoe crew.