Deep in Waimea Valley on Oahu's north shore, sweaty volunteers are busy removing invasive plants from the lush tropical rainforest that spans the sacred 1,800-acre conservation area. They pull weeds, plant saplings, and lay mulch to help restore the natural habitat.

It's hard but rewarding work for the participants of the state's post-pandemic voluntourism program called "Malama Hawaii," in which visitors are encouraged to connect with our island community in a regenerative and culturally authentic way. The Hawaii Tourism Authority believes the best type of trip is one that makes meaningful memories through enriching experiences, like the volunteer opportunities to "malama" – give back – offered by Waimea Valley and HTA's other nonprofit partners.

"The idea is to leave the place better than when you got here and to respect Hawaiian culture," says Richard Pezzulo, executive director of Waimea Valley. "We have limited resources in Hawai'i and lots of visitors. If we don't practice sustainable tourism, there's not much for future generations of locals and visitors to enjoy."

As part of its new carbon offset program, Waimea Valley accepts $30 donations toward planting one new tree. Pezzulo says over time, planting five trees is enough to offset one person's domestic flight to-and-from Hawaii.

Mindful travel
On Kauai, Surfrider Foundation welcomes visitors to help protect the ocean, beaches, reefs, and marine life. Barbara Levin manages their Ocean Friendly Visitors Program that invites volunteers to join one of their beach cleanups. The program spreads ocean-friendly advice through social media and hotel partners that provide educational fliers and cleanup kits.

"There are reefs, beaches, and trails around the islands that have been loved to death," Levin says. "People need to stop looking at Hawaii as if it were Disneyland and instead look at it as a fragile set of ecosystems that everyone needs to take care of."

Levin adds that the mindful tourist that Malama Hawaii aims to attract has seen a positive response. Eager volunteers remove an average 5,000 pounds of marine debris each month and visitors who want to participate continually reach out to the chapter.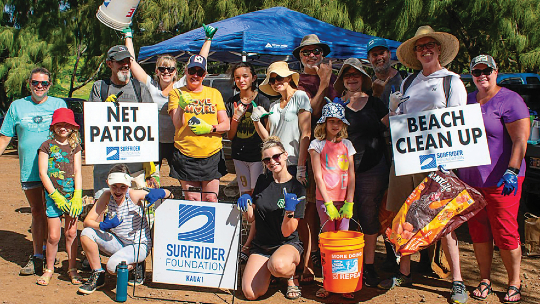 Ocean Friendly Visitors Program volunteers help remove an average of 5,000 pounds of marine debris from shores every month.
Ultimately, education is a crucial part of transforming visitors into stewards and imparting the Hawaiian values of kuleana (right, privilege, concern, responsibility) and pono (moral, fitting, proper, righteous). "It may be a visitor's first time seeing the ocean and they don't know that some types of sunscreens kill the reef or that you're not supposed to walk on the coral," Levin says. "People want to come here to experience the unique beauty and nature of Hawaii and it's up to all of us to protect it."

Hopefully, those who visit with purpose will walk away understanding what it means to mālama our earth, each other, and ourselves.
Photos courtesy Waimea Valley and Surfrider Foundation Kauai