Now that the weather's coming in cooler, it's a good time to break out your favorite soup and stew recipes. Before you do that, however, may we suggest you try this one-pot wonder of warm, satisfying kabochaness? It's vegan!
You'll need to invest some time in peeling and cubing the kabocha, unless you're fortunate enough to find it packaged and pre-cubed at a farmers' market or big box store. If you want to save even more time, don't bother peeling the thing because the skin is edible. Just cut off any woody bumps or blemishes.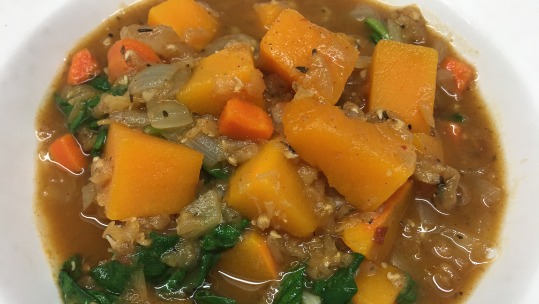 VEGAN KABOCHA AND RED LENTIL STEW
Ingredients
1 lb. kabocha, peeled, seeded, and cut into cubes (smaller than 1 inch)
1 onion, chopped
1 carrot, peeled and diced small
3 garlic cloves, minced
1 Tbsp. olive oil
3/4 cup dried red lentils
3 Tbsp. dried mushroom powder (optional)
32 oz. vegetable stock
1 tsp. dried thyme
2 tsp. paprika
1/2 tsp. pepper
1/4 tsp. red pepper flakes
5 oz. baby spinach
Instructions
In a Dutch oven or other large saucepan over medium heat, sauté onion and carrot in olive oil about 5 minutes or until onions are soft. Stir in garlic and sauté about 1 minute. Add remaining ingredients except spinach. Bring to a boil, then cover and reduce heat. Simmer, stirring occasionally, about 20 minutes or until kabocha is tender. Add spinach and stir gently until wilted. Makes 6 servings.