The contributions of the University of Hawaii to the state's health care landscape are well known.
The John A. Burns School of Medicine, for example, is a leader in educating the medical professionals of tomorrow.
But there's much that UH does for the health of Hawaii that you may not be aware of, such as efforts to reconnect with Indigenous health practices, new and emerging technologies for future nurses, and in-depth programs that teach kūpuna how to live healthier lives.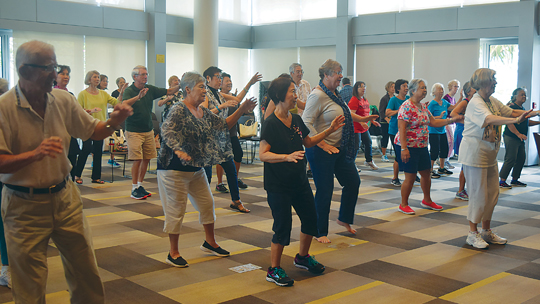 On the move in a physical activity class (Photo courtesy UH Mini Medical School on Healthy Aging)
Lessons for healthy living
Hawaii enjoys the highest longevity rate in the nation. Chalk it up to the weather, our aloha spirit, the right genes, or the embrace of our close-knit families and friends.
Hawaii residents over 60 years of age make up one fifth of our population and have another resource to help them live longer: knowledge. And that's thanks to a program called the Dr. Rosita Leong Mini-Medical School on Healthy Aging.
Every spring and fall at the UH medical school, these seniors spend five consecutive Saturday mornings learning how to keep themselves healthy as they age. It's the same type of information taught to UH medical school students but tailored for the general public. The goal is to teach and encourage seniors to be mentally engaged, socially connected, physically active, and nutritionally balanced.
Previous topics have included preventing falls, improving sleep habits (and not falling asleep in front of the TV), managing chronic pain, and practicing good dental hygiene. Participants also learn about the latest treatments for cancer, arthritis, and Parkinson's disease.
HMSA was the initial sponsor of the program that began in 2014. Dr. Leong, a UH Foundation board member and president and CEO of Bunker Hill Developments Inc., later endowed the
program that was then named after her. Because of this endowment and generous donations by participants, community members can take part in the program for free.
New topics and speakers are introduced every spring and repeated in the fall. Before the pandemic, the courses were held at the UH Cancer Center, but now they're offered online on Zoom.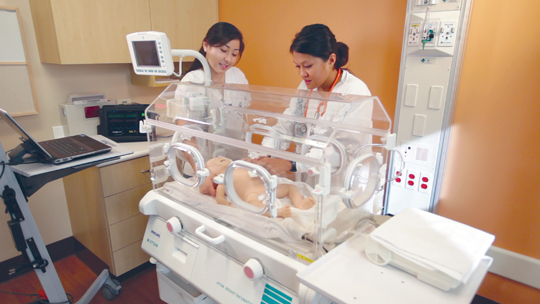 Learning the process of conducting an infant evaluation on a mannequin (Photo courtesy UH Manoa Nancy Atmospera-Walch School of Nursing)
Nursing Hawaii to good health
When telehealth use skyrocketed at the start of the pandemic, UH went into high gear to train nursing students to use new technology.
"Telehealth is here to stay, and we need to make sure our students are prepared," says Lorrie Wong, Ph.D., R.N., interim associate dean for Academic Affairs, HMSA distinguished professor of the UH Manoa Nancy Atmospera-Walch School of Nursing, and director of the UH Translational Health Science Simulation Center.
The school acquired TytoClinic™, small hand-held devices with a camera that nurses can use to examine a patient's ear, mouth, eyes, or skin. The up-close video images are transmitted to a provider who can diagnose conditions, prescribe medications, or instruct the nurse on treating the patient. The device can transmit sounds of the patient's breath and heartbeat to detect lung or heart problems.
Technology is nothing new for the nursing school. Students already get hands-on training with life-sized mannequins that simulate breathing, eye movement, and childbirth. Students check the mannequins' pulse, heart, lung, eye, and stomach activity. They also practice with student actors from UH Manoa's Department of Theater and Dance who act out real-life medical scenarios.
To enhance telehealth learning, students use robots on wheels in simulated activities to examine patients from other locations. Students from UH Health Sciences programs learn to collaborate with each other using telehealth technology.
"Our students need to know how to provide care that's both routine and a matter of life or death," Wong says.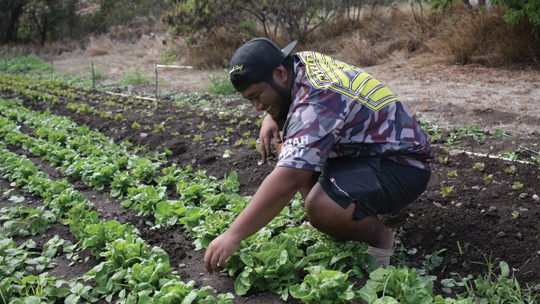 Lending a hand weeding a field of produce (Photo courtesy Mao Organic Farms)
Culture as health
Long before high rises dotted the Waikiki skyline, before Captain Cook landed in Waimea, Native Hawaiians and Pacific Islanders were healthy and thriving. By all accounts, including Cook's, they were physically fit, ate a healthy diet of fish and plants, and nurtured deep spiritual connections.
The new UH System Center for Indigenous Innovation and Health Equity seeks to reconnect Native Hawaiians and Pacific Islanders with precontact practices as a tool for improved health. "It's an equity issue," says Kamuela Enos, director of the UH System Office of Indigenous Innovation.
"For people who have lived here for thousands of years, the sense of loss of people and landscape is physical."
The center is new, but Enos and Aimee Malia Grace, M.D., director of the UH System Office of Strategic Health Initiatives and lead of the UHealthy Hawaii Initiative, are already working with communities to find out how Indigenous practices can lead to better health outcomes and build equity. The initiative is based on research that shows increased connection to organic farming can decrease incidence of type 2 diabetes by 60%, dancing hula can reduce hypertension, and ceremonial cleansing has the potential to reduce PTSD symptoms.
"We're trying to expand this idea of seeing Indigenous practices as health interventions," says Dr. Grace. "Where are the barriers? Are they related to policy, funding, or research? How do we expand these practices so that we can improve the health of Native communities?"
Enos says being immersed in Indigenous practices shifts people's mentality and behavior. "We want to make sure that this can happen not just in Hawaii, but across the Pacific and for Native Americans and Alaska Natives. We're building a broad movement to reposition our Indigenous communities as experts in their own healing and to provide a counterpoint to the narrative of loss," he says.
HMSA has been a strong UH supporter over the years with a $1 million donation to establish the HMSA Distinguished Endowed Professorship in Health Economics at the UH Economic Research Organization and a $1 million donation to the nursing school for team-based care training. In addition, the HMSA Foundation donated $5 million for learning communities in the Office of Medical Education.