Tourism is vital to Hawaii's economy. In 2019, the state saw an all-time high of 10.4 million visitors, which accounted for nearly $18 billion in visitor spending that supported 216,000 jobs and accounted for enough state tax revenue to pay for Hawaii's public schools. Some would say it was tourism's best year. Others would call it the worst.
The COVID-19 pandemic meant residents suddenly saw a Hawaii without visitors thanks to lockdowns and travel restrictions. For many, it was a pleasant change with less traffic and less damage to our natural resources. For others, it meant furloughs and layoffs. Tourism's return has left many wondering if there's a better way.
Hawaii Tourism Authority has been working with communities across the state since the travel boom in 2019 to reimagine the industry. They started with introducing visitors to the concept of malama, or to care for, nurture, and protect. It's a value that's often at the root of tensions with visitors who may be perceived as careless.
"When I think about our well-being as residents, our mental health, our physical health, emotional health, all of the things that make living in Hawaii special, need to be protected," says Kalani Kaanaana, chief brand officer at HTA. "We understand that as an industry and as a sector of the economy. If we're not thriving as people and our land and environment isn't thriving, then why do we do this?"
The goal is a more curious and responsible visitor engaged in a mutually beneficial exchange of culture and experience. "Very simply put, when you come to visit, we invite you to join us in caring for this place that we love," says T. Ilihia Gionson, public affairs officer at HTA.
Malama aina
The Kipuka Olowalu cultural reserve has welcomed visitors and kamaaina alike to help restore 74 acres of land on Maui. They're one of many local organizations that have joined HTA's Malama Hawaii program. They support their community with food and take part in cultural practices like hula, kalo farming, and canoe building.
"It's a cool, unique place where not only are you engaging with the land, but now you're engaging with people from all over the world who are like-minded," says Duane Sparkman, Kipuka Olowalu project manager.
Volunteers remove vegetation and invasive species and, depending on their timing, may get to plant native species. Sparkman says it's important to put back as much as they can the pono way, which provides visitors with a unique opportunity to learn about the Native Hawaiian planting calendar. "You get to plant that tree in the ground. In a year or two years, you can come back to visit us and visit that tree and see how it's doing. There's the kuleana, or responsibility, but it also gives them the privilege to have that responsibility," he says.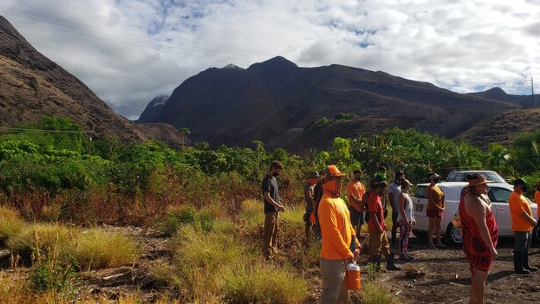 Volunteers ready for a day of service at Kipuka Olowalu.
Malama Hawaii
In addition to learning about Hawaiian culture and making personal connections, HTA offers incentives for kamaaina and visitors who participate in the Malama Hawaii program. In the case of Kipuka Olowalu, visitors can get 10% off their stay at participating hotels.
But HTA wants to bring something more to Hawaii residents − the ability to welcome responsible visitors with aloha and the opportunity to learn more about their island home. It's also an opportunity for local businesses and nonprofits to attract new patrons and volunteers.
"In its simplest form, tourism has this altruistic virtue of bringing people together. As we travel, people can learn and experience other cultures. And that brings us closer together as a global community," says Kaanaana.
To learn more about the Malama Hawaii program, visit their website or call 1-800-Go Hawaii (464-2924). For information about Kipuka Olowalu, check out their website or email info@kipukaolowalu.com.
Photos courtesy of Malama Hawaii.