For some, stress may appear as a physical ache or pain, while others might experience decreased energy and motivation.
"Stress is your body reacting to something you think is threatening or dangerous," said James Westphal, M.D., medical director at Carelon Behavioral Health. "For example, my neck muscles tense up when I'm stressed, which is a physical response to stress. I also tend to overthink or have many scattered thoughts which is a mental response to stress."
Despite its differences in appearance from person to person, one thing remains the same - chronic stress can cause serious physical conditions such as heart disease, stroke, digestive problems, and more.
Chronic stress can keep our bodies from responding to rest, an important component to combat stress.
"Our bodies need repair days from stress just like our muscles need it after a week of exercise," said Dr. Westphal. "If we're chronically stressed, our body — vital organs, gut, skin, and muscles — can't rest and repair themselves. Stress robs us of the ability to heal."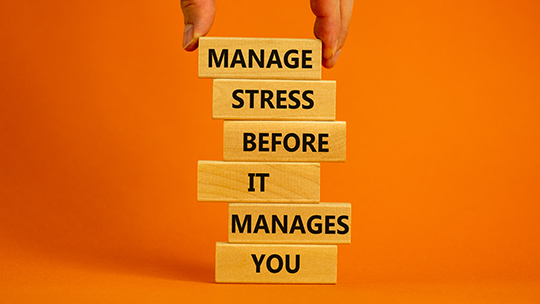 What are the best ways to unwind and unplug from stress? Dr. Westphal shares two tips to manage stress.
Practice slow breathing. One of the simplest ways to manage stress is to practice slow breathing. How to do it: Sit comfortably in a chair or on the floor and take five to six deep belly breaths per minute. This will help slow your thoughts, turn off the stress (i.e., fight or flight) response, and turn on the healing and feelings of rest and relaxation.

In his stress workshops, Dr. Westphal suggests that participants do at least two to three minutes of slow breathing before they go to bed at night. "It's a two- or three-minute investment that can improve your sleep, which can help your body repair itself," said Dr. Westphal.
Practice mindfulness. According to Mayo Clinic, mindfulness is a type of meditation where you can be fully present at the moment without judgment. Practicing mindfulness can direct your attention away from overthinking negative or random thoughts so you can be present to engage with those around you. How to do it: One way to practice mindfulness is through meditation. An easy meditation is the body scan meditation. Lie on your back with your arms and legs extended and your palms facing up. Take a couple of deep breaths and focus slowly and deliberately on each body part, from head to toe or toe to head, and notice any sensations, emotions, or thoughts associated with each body part.
If you feel like your stress is starting to overwhelm you to the point where you feel anxious and worried and you can't fall or stay asleep, you might want to consider counseling.
"There are many ways to manage stress, but you may need help deciding the best method for you," says Dr. Westphal. "Call your primary care provider or talk to a behavioral health specialist for their recommendations."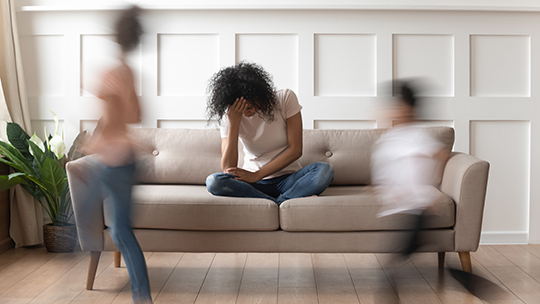 If you or someone you know is struggling with chronic stress that's affecting their mental health, consider calling the following resources:
National Suicide and Crisis Lifeline: 9-8-8
Hawaii Mental Health Crisis Line
Oahu: 808-832-3100
Kauai, Lanai, Molokai, Maui, and Hawaii: 1-800-753-6879
HMSA Behavioral Health Assistance
808-695-7700 or 1-855-856-0578
Or make an appointment with a behavioral health specialist on HMSA's Online Care®.
Amwell is an independent company providing hosting and software services for HMSA's Online Care platform on behalf of HMSA.
Discover more
Check out these articles about destressing and relaxing:
color me calm
facing depression and suicide
learn to downshift and stress less
meditation in times of chaos
mental well-being
mental wellness month
yoga for anxiety and depression