Success in school is often measured by academic achievement. However, physical and health education are important, too. Studies show that children who exercise regularly can improve their cardiorespiratory fitness, build strong bones, and do better in school. Regular exercise can also reduce the risk of developing type 2 diabetes, obesity, and more.
In the fall and spring every year, the Hawaii Department of Education Honolulu District puts on a fitness test for fifth graders. Denise Darval-Chang, a Health and PE resource teacher for the district, invited us to the spring Roosevelt Complex 5th Grade Fitness Meet to see the kids in action. We also caught up with Vinson Diep, M.D., a former Kaimana Scholarship winner who's now a pediatrician, to discuss how to keep the whole family healthy and active.
A change of pace
Everyone – students, teachers, organizers, and volunteers – enjoys attending the 5th Grade Fitness Meet. "You can see the joy on kids' faces even though they're technically taking a test," Darval-Chang says. "It's nice to get them out of the classroom."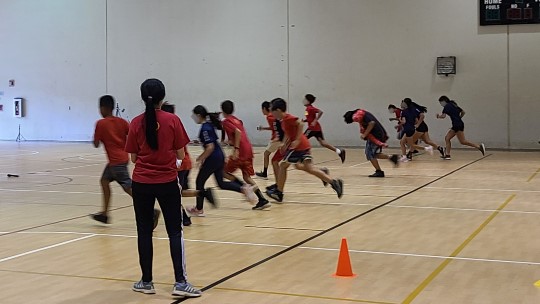 Students running the 20 meter pacer.
Pauoa Elementary School fifth grade teacher, Jeanne Oliveira, appreciates initiatives that promote good health and well-being. "The pandemic definitely took a toll on the students," she says. "I'm committed to helping them improve their health and happiness. Events like the Fitness Meet are more important now than ever."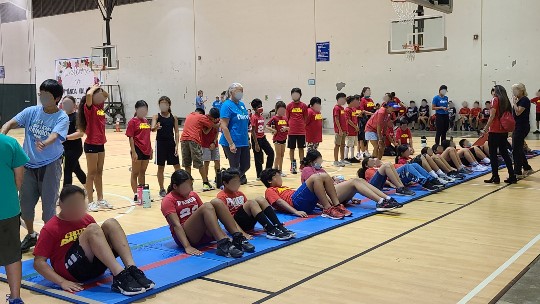 Oliveira's students doing sit ups.
Focusing on the whole student
Students participate in six events covering the health-related components of fitness, which includes body composition, aerobic capacity, muscular endurance and strength, and flexibility. Though there's excitement in the air as the students run and do as many pushups as they can, it's not really a competition. "They encourage one another and cheer their classmates on," Darval-Chang says. "They're doing their best and having fun."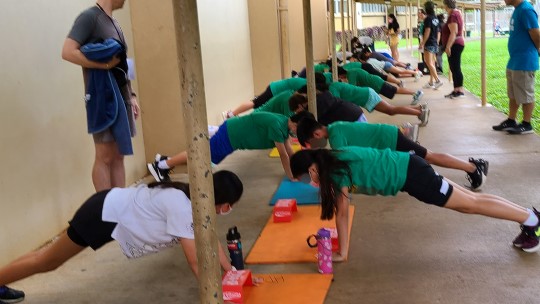 Fifth graders at the pushup station.
Students also get their height and weight measured. "Understanding their body composition is so valuable," Darval-Chang says. "Now they know that everything they do and everything they put into their bodies affects them. That's power." She's seen firsthand how this knowledge helps students make better decisions. "They're less likely to vape since they know how it can hurt their body," she says. "They're more mindful of what they eat and how much activity they get. And when you're healthy, you're in school learning. You're not sick at home, missing lessons."
After testing in the fall, Darval-Chang visits each fifth-grade class. "I provide students with their own individualized FitnessGram Report," she says. "It includes scores for each component of fitness and suggestions to help improve scores in the spring." Darval-Chang also encourages students to share their fitness reports their families. "Getting the whole ohana involved can be a fun activity," she says.
Building perseverance
As a former student athlete who still keeps active playing volleyball, Oliveira can see how athletics can positively affect her students academically. "There are some who excel in sports, but struggle in the classroom," she says. "And I tell them that if they can persevere in the field or on the court, they can do the same thing when it comes to their studies." Oliveira believes that if her students can develop a growth mindset, they can overcome any obstacle. "Once they give themselves the grace to grow and never give up," she says, "they're capable of anything."
From athlete to doctor
When he won a Kaimana Scholarship in 2009, Dr. Diep's goal was to become a doctor. "I was so excited to win," he says. "It helped me fulfill my dream of going to the Mainland for college." His years of running cross country and track served him well even after he stopped competing. "Running competitively helped me build mental and physical stamina," Dr. Diep says. "That helped me through college, medical school, my residency, and all the mentally and physically trying times."
Start young
It's never too early to introduce good habits to keiki. Even if they're learning about fitness, health, and nutrition at school, it's important for parents to get involved, too. "Parents are role models for their kids," Dr. Diep says. "When you take the family on a walk after dinner or go to the park to play, you're setting a good example."
Starting good habits at a young age can help children develop a lifelong love of spending time outdoors and being active. "They play sports, which can help them with their studies," he says. "Playing sports can also open doors to scholarships for college and other opportunities."
Tips for active families
If you're not sure where to start when it comes to keiki activity and nutrition, Dr. Diep recommends the 5-2-1-0 guideline:
5 or more servings of fruits and vegetables a day.
2 hours or less of screen time a day.
1 hour or more of physical activity a day.
0 sugar-sweetened drinks a day.
"We don't expect anyone to be perfect," Dr. Diep says. "Using 5-2-1-0 as a general guideline is a good place to start. The key takeaway is that healthy kids grow up to be healthy adults. And that benefits everyone."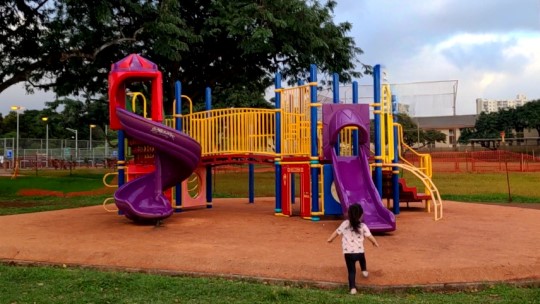 Taking the kids to the playground is a good way to get them moving.
See the 5th graders in action
The gym at Manoa District Park was full of fitness and fun. Check out our video of the day's activities. Plus, get nutrition and activity tips from Dr. Diep.