Wes Oda knows how to make a comeback.
In 2001, he was cycling on Kahala Avenue when he was hit by a car that fled the scene. The impact knocked him off his bicycle and rendered him unconscious. A friend who was also cycling saw him on the route and called 911. To this day, Oda can't recall the details of the incident that injured his left arm in particular. But he knows he wasn't resentful then and isn't now.
Eager to return to training for marathons and triathlons, Oda started physical therapy and water therapy on his own at Ala Moana Beach Park. At first it was too painful to swim but he gradually built up his strength. Then he returned to running.
The next year, at 40, Oda ran his best marathon in three hours and 37 minutes. He says he was in the zone the entire time. Every year since then, he's been a Honolulu Marathon and running event regular, averaging a few races a year.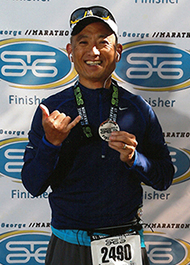 In 2014, Oda ran seven races (including two marathons) from April to December. By the end of the year, he was experiencing the effects of overtraining including fatigue, loss of motivation, and a dramatic drop in performance. He knew he wanted to take a break but needed a lower-impact activity to help maintain his fitness.
Already familiar with the basics of yoga, Oda started going to hot yoga more frequently and eventually began practicing daily. The occasional discomfort, prolonged heat, and sense of accomplishment are familiar to him from his years of running. Yoga has also helped him to maintain strength, improve his flexibility, and relieve stress.
Oda hasn't given up on running and says he'll return to racing when he's ready. His usual training shoes are waiting for him and he knows the Honolulu Marathon route. Until then, he's immersed in the well-being benefits of yoga.