May is National Water Safety Month. According to the American Red Cross, the goal is to spread awareness of water competency. That means knowing how to swim, staying afloat, being able to move positions in the water, and helping others if needed.
There's no shortage of ocean activities in Hawaii. You'll see swimmers, snorkelers, and paddlers at beaches across the Islands. But surfing is perhaps most synonymous with Hawaii culture.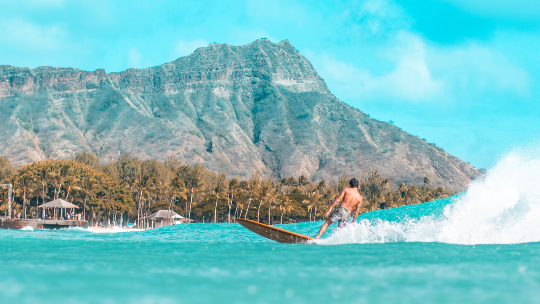 That's why so many people are motivated to learn how to surf when they visit Hawaii. Waikiki is a popular spot for beginners. Not only are there stretches of coastline with little current and calmer waters, but it's also where Hawaiian legend and "father of modern surfing" Duke Kahanamoku grew up swimming, surfing, and canoeing. But whether you're a first-time surfer or regularly shred, staying safe is important.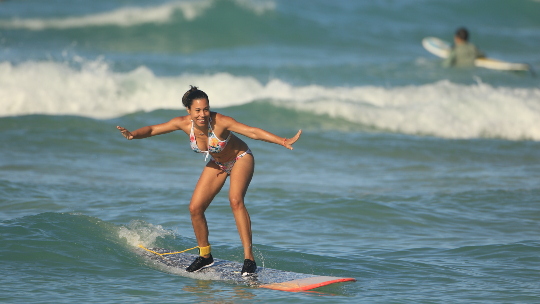 Catching a wave in Waikiki. Photo courtesy Star Beach Boys
Safety tips
Before his surf students can even go near the water, Aaron Rutledge asks them if they know how to swim. The owner of Star Beach Boys says only then can the learning begin, but it all starts on the sand. He goes over safety tips on paddling and maneuvering the board and how to get up and back down.
"All of our instructors teach the same way, with safety as the main point," Rutledge says.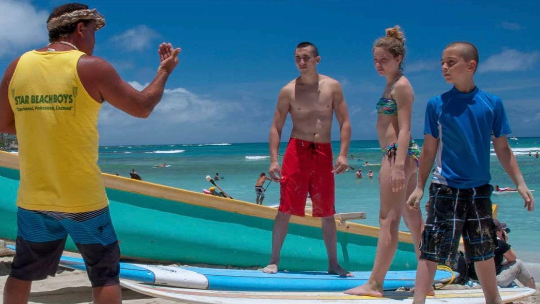 Longtime Star Beach Boy Mike Kuakini teaching a surf lesson. Photo courtesy Star Beach Boys
One of the most important things they teach is how to fall in the shallow waters of Waikiki.
"A lot of people have an instinct to dive off a surfboard, which is a no-no," says Rutledge. "You never want to jump in feet first either. Because it's shallow, you want to fall off the side of the board and let your butt hit the water first."
The ocean can be unpredictable, even for the most experienced swimmers and surfers. Rutledge says you need to assess the water before going out.
"Is the wind blowing? Are the waves choppy? Don't go if it's going to be a waste of time. You'll be doing a lot of paddling and fighting the current instead of surfing," says Rutledge.
Once you're out on the water, watch out for groups of people. Being in a spot with many people, especially beginners, can be dangerous because you could get run over. On the other hand, Rutledge notes that can also be one of the good things about surfing at Waikiki.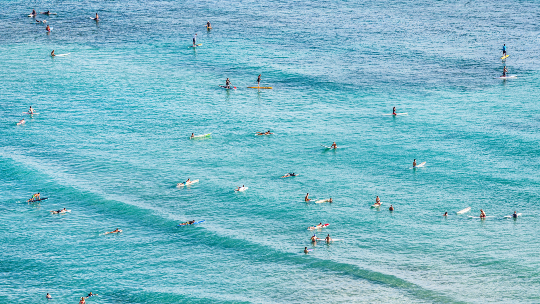 "If you get into trouble, someone is right there next to you to offer help," he says. "You're never alone, even if you're surfing by yourself. There's someone out there always willing to help."
Waikiki Beach Boys
Rutledge knows all about helping others. He's made it his goal to preserve the tradition of the old-time Waikiki Beach Boys – watermen who made a living by teaching visitors how to surf while entertaining them, showing them genuine hospitality, and spreading the aloha spirit. Duke Kahanamoku was one of the original Waikiki Beach Boys.
"We're kind of stewards of the beach," says Rutledge. "We're there to greet people and talk story with them. We keep the beach clean and pick up rubbish even though it's not ours. We treat the beach as our home."
Rutledge also makes sure that hospitality is extended when he's out on the water, teaching a lesson. It's not uncommon for him to help someone who's not his student.
"We call them over, tell them what they're doing wrong, give them a couple of pushes, and get them surfing," says Rutledge. "The Waikiki surfing community is strong. We don't want to see anyone struggling. We help them whether we're getting paid or not. You want them to have fun, do it again, and maybe become a lifelong surfer."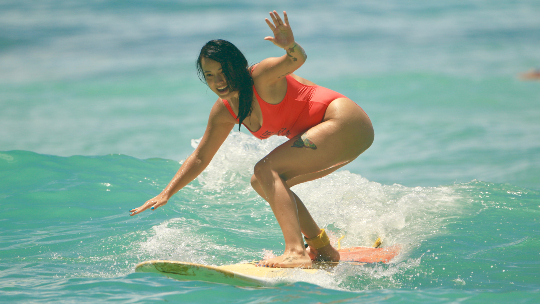 First-time surfer catches a wave in Waikiki. Photo courtesy Star Beach Boys