Surfing is something I always wanted to learn, but never had the opportunity until I was in my 40s. After a few sessions, including one with a professional instructor, I fell in love with the sport.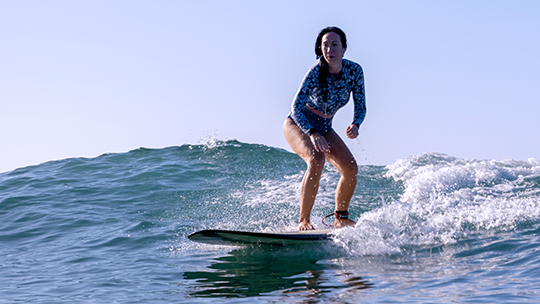 The more I went out, the more I realized that surfing was much more than just fun. For these reasons, I wanted my 12-year-old daughter, Ari, to experience the same joys and life lessons I learned from being on the water.
The ocean is energizing and cathartic. It's a good way to hit the reset button on your brain.
Learning something new forced me out of my comfort zone. It takes courage to do something that doesn't come easy. In this case, the frustration of missing a wave or wiping out in front of others, especially around people you know.
I've learned the importance of humility. I've had my share of bad etiquette while learning the ropes and have had to apologize for unintentional mishaps. When a fellow surfer demonstrates understanding and compassion, I remember that gesture and try to pass it on when I have the same opportunity.
It's a great activity to ditch the screens and live in the real world. You gain a newfound respect for Mother Nature while learning about the tides, winds, and the multitude of other factors that allow us to catch waves.
Surfing is transgenerational. My college-age nephew and 20-something niece are always down for a surf sesh!
Surfing has become a medium for me to make new friends and reconnect with old ones, including a high school classmate I hadn't seen in over 20 years.
Perseverance. If you really want to do something, it takes work and commitment.
A few sessions in, Ari realized that maybe she's not as passionate about surfing as she thought. But that's OK – it's more about the personal growth and connection we gain when we take up an activity together.
And while I love surfing, Ari doesn't have to love it. We may still surf on occasion, but we can also look for other interests to do together.
Whatever the activity, I look forward to the lessons and memories to come.
Photos courtesy Matt Heirakuji